Buying Guide: Shop for Butcher Block
Published on May 24, 2022
Using wood as a cutting surface dates back to the days when tree stumps provided convenient surfaces for cutting and chopping without dulling knife blades. Over the centuries, these surfaces have evolved into the butcher block we see today—first common in butcher shops and professional kitchens, and now adding style and practicality to everyday households.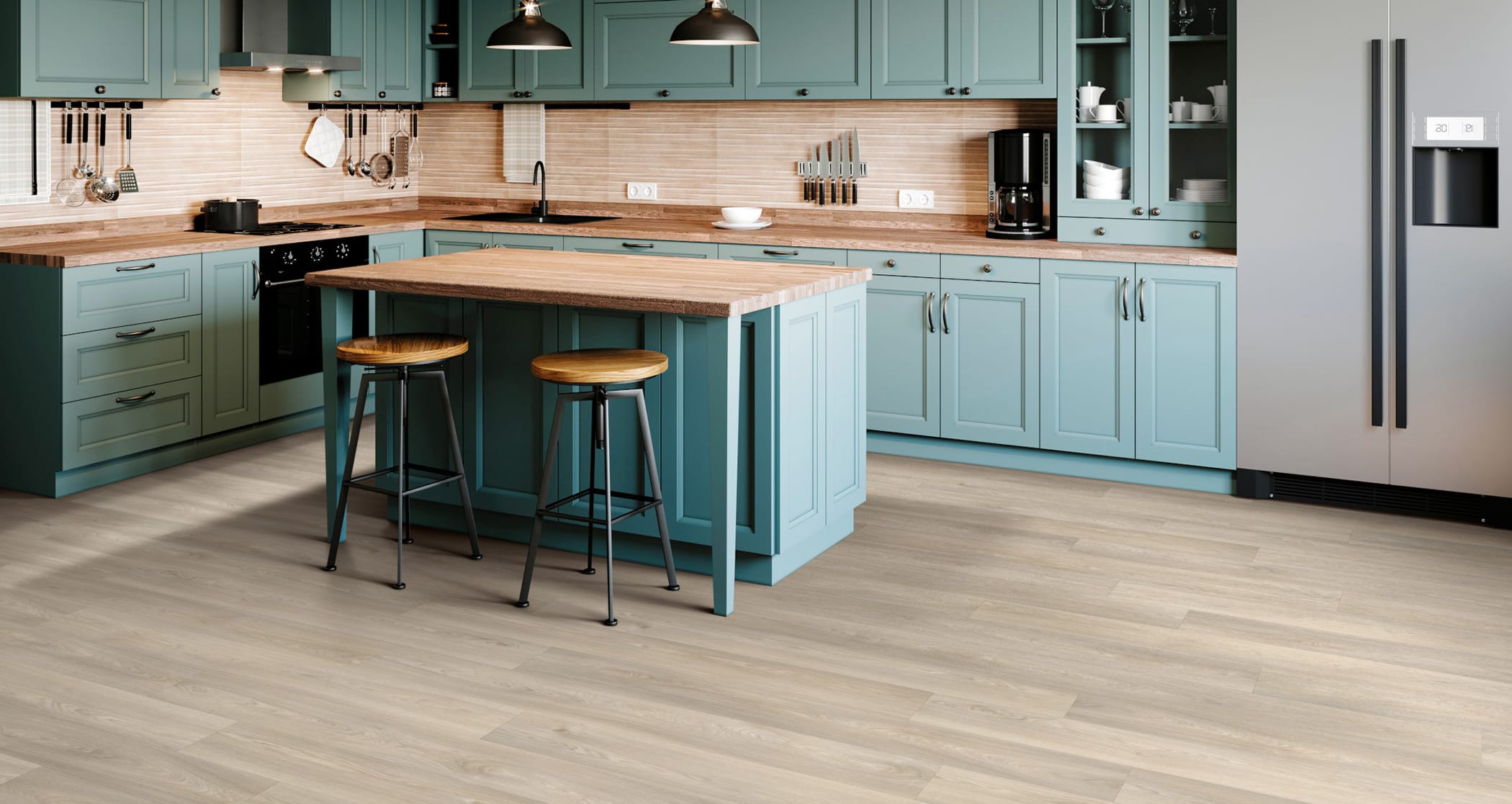 At LL Flooring, you can find butcher block countertops, island tops, backsplashes, and cutting boards in wood species and tones that complement a broad range of kitchen designs. Butcher block brings the beauty of nature into your kitchen and can be a budget-friendly alternative to natural stone products. It is hard-wearing, easy to maintain, and renewable after years of use by simply sanding it down.
Butcher block, made of solid wood strips bonded together, is an attractive countertop option that makes for a classic design choice. It's also easier to shape around sinks and other kitchen features than natural stone. Our unfinished, pre-sanded countertops are 25 inches wide and come in lengths of 8 feet and 12 feet. For kitchen islands, we offer butcher block that's 36 inches wide and 6 feet long.
Backsplashes
Butcher block backsplashes, crafted from the same wood species as our countertops, will complete the look of your kitchen design. Our 4-inch high backsplashes extend from the back of your countertop to protect that area of your wall from splatters. Choose from 8-foot and 12-foot lengths.
Cutting Boards
Although one benefit of butcher block countertops is their dual use as cutting boards, some people prefer to use a separate cutting surface to keep the countertop in perfect condition. We offer a collection of cutting boards to complement your countertop or kitchen island. Even if you don't have butcher block counters, they'll make a lovely accent to your kitchen.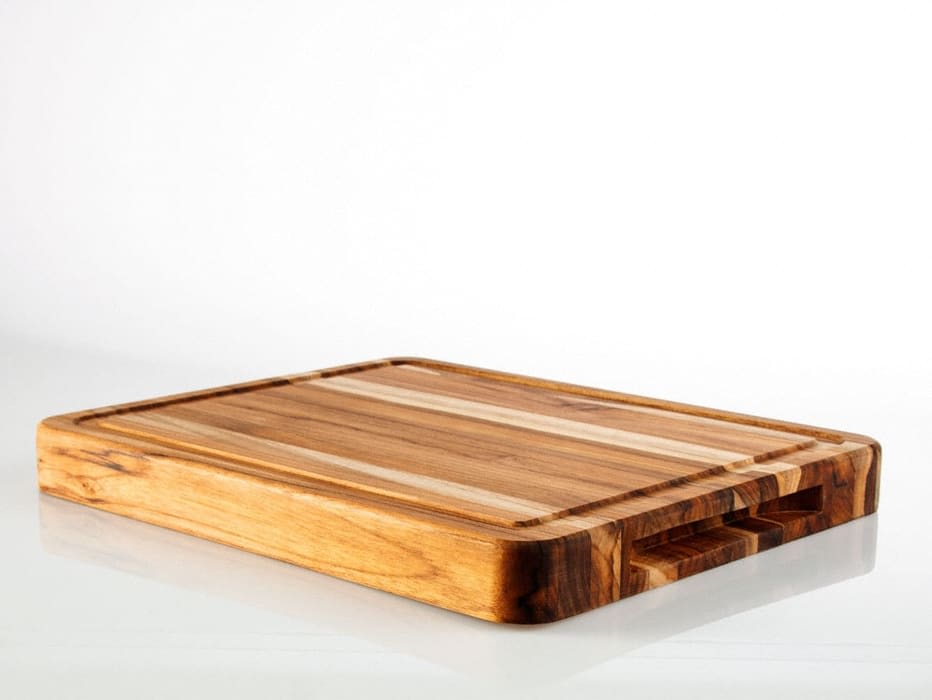 At 15 inches by 20 inches, our larger boards provide you with ample space for big tasks such as quartering or deboning meat. A groove around the perimeter prevents juices from spilling over. These boards also make striking serving trays, creating a natural, warm backdrop for meats and cheeses. We also carry smaller sizes in the same stunning looks.
From Traditional to Contemporary
As a natural wood product, each butcher block item is unique and will add its own aesthetic depending on the species of wood. Consider the color, warmth of tone, and grain pattern of the wood when incorporating butcher block into your kitchen décor. Light and cool tones generally complement contemporary décors, while rich and warm colors tend to favor a more traditional aesthetic.
Maple offers a smooth, clean look with its fine grain and more uniform texture. On the other end of the spectrum, exotic hardwoods like acacia and teak feature eye-catching contrasts. American walnut is known for its striking grains and deep chocolate coloring, while white oak has lighter brown and beige tones. You'll also find variations within species. For instance, maple butcher block countertops can range from very light and creamy to a light reddish-brown.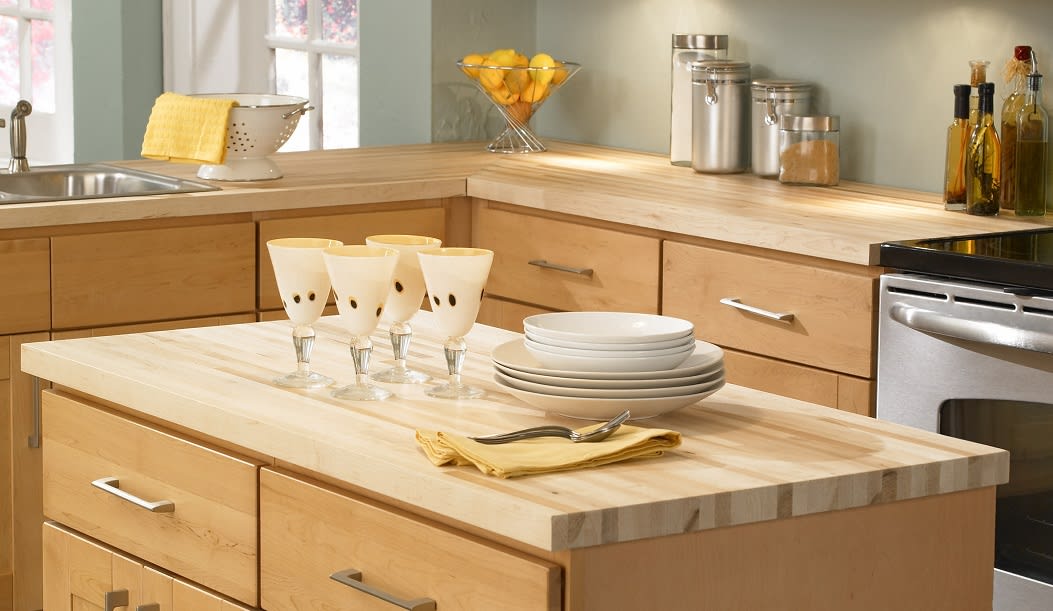 Installation Tips
When installing butcher block, it's important to first acclimate the product to the temperature and humidity levels in your home. This will stabilize the wood to avoid any shifts and warping in the future. For backsplashes, use a flexible 100% silicone adhesive on the back and a clear silicone sealant along the wall and seam between the backsplash and countertop. Consult your product's warranty, installation, and care guide for additional details on installing your butcher block.
Cost
Butcher block countertops and islands can vary in cost depending on the wood species. They are generally lower in cost per square foot than natural stone countertops.
Caring for Your Butcher Block
Our butcher block countertops are unfinished and ready for you to seal as you choose. If you plan to cut items directly on your countertop or island, use food-grade mineral oil to protect the surface and prevent drying or cracking. Use food-grade mineral oil on your cutting boards as well—as the oil absorbs into the wood, it creates a barrier against moisture and bacteria.
Follow it up with a food-safe butcher block conditioner for additional sealing and protection. This conditioner contains natural waxes that will minimize the appearance of marks. You'll find both oil and conditioner at LL Flooring. If you choose to seal your countertop with a film finish such as polyurethane, then it's best not to use it as a cutting surface. Wash your butcher block with warm water and mild detergent. Although wood has natural antibacterial properties, you can use vinegar as a disinfectant. And if you should happen to get stains or burns on the surface, just sand them out and re-seal them for instant renewal.
Butcher block is not only on-trend; it seamlessly combines function and form. Whether you're looking for a light-colored island top for your contemporary kitchen or a rich walnut countertop for your rustic cabin, you'll discover a stunning assortment of quality butcher blocks to choose from at LL Flooring.