Embrace the Gothic Design Trend
A modern take on the traditional Gothic style is in right now. Learn how to incorporate it into your home with these tips.
Published on June 14, 2022
Oh My Goth
Back to Black: Embrace the New Gothic
If you've seen a lot of dark shades creeping into interior design lately, your eyes aren't playing tricks on you. The "New Goth" trend—featuring dark hardwoods, Gothic-inspired furniture, and midnight-colored accessories—is blowing up across social media and home interior design magazines.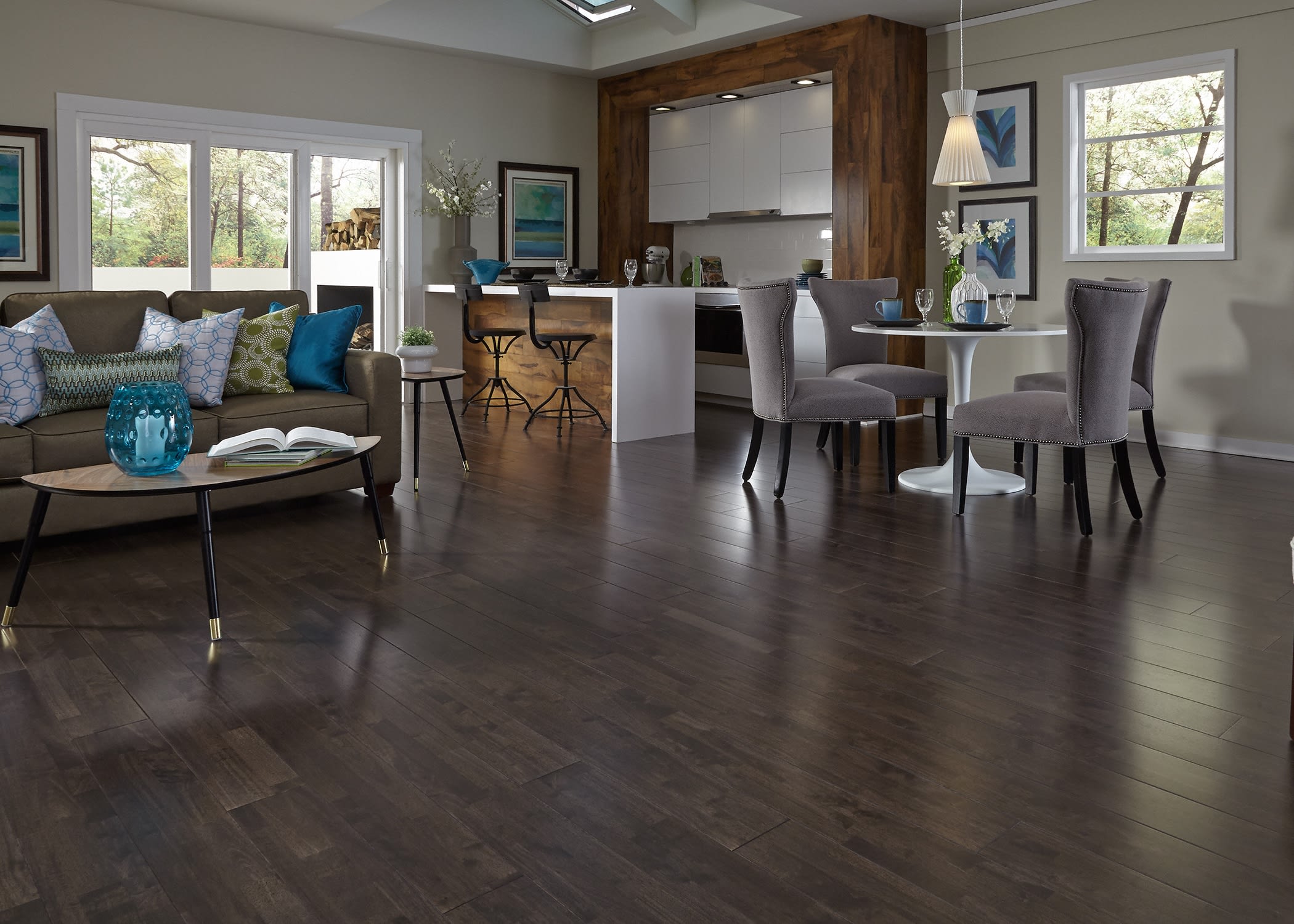 This interior style is ideal for people who want a break from the traditional neutral or bright white shades that have been popular over the past decade or so. Let LL Flooring show you how to bring a touch of Gothic to your space.
What is the "New Goth" Trend?
Gothic style has its roots in the Medieval Period, when dramatic elements such as pointed arches, intricate carvings and stained glass windows came into fashion. It experienced a revival in the Victorian era, when homes were filled with dark, ornately carved wood furniture and heavy fabrics. The palette featured deep colors such as purple, black, ruby red, and ochre. In more recent times, Goth Culture has referred to an aesthetic that gained popularity in the early 1980s, dominated by black clothing, dark makeup and black nail polish. Clothing styles often took their cue from the Victorian era, but adapted to fit the punk scene that was emerging at the time. In terms of interior design, today's Gothic-inspired trend is a blend of the old and new, featuring a more pared-back and minimalist aesthetic than the Medieval or Victorian eras, while also maintaining drama and elegance.
The first thing you might notice about the Gothic trend is that it's dark. That's true, but it's a common misconception that going goth means limiting yourself to black. This updated version of the trend incorporates lots of dark shades, but in a way that's multidimensional and eye-catching.
How Can I Create a Modern Goth Style?
The overall theme of gothic interior design is a dramatic darkness, but that doesn't mean your space needs to look gloomy. You should know that the modern goth style is happy to incorporate a bit of color. For instance, a black four-post bed might contrast with a light gray or purple-toned floor. Bright white or red lamps, chairs, and décor can add small pops of color without going overboard. Metallic accents also add a luxe finish. And even though modern gothic styling is less ornate than Victorian gothic, a few pieces of intricately carved furniture—especially antiques—will enhance the gothic mood of the room. Also, upholstery, drapes and other textiles in rich and contrasting textures are an excellent way to bring drama and dimension into your space.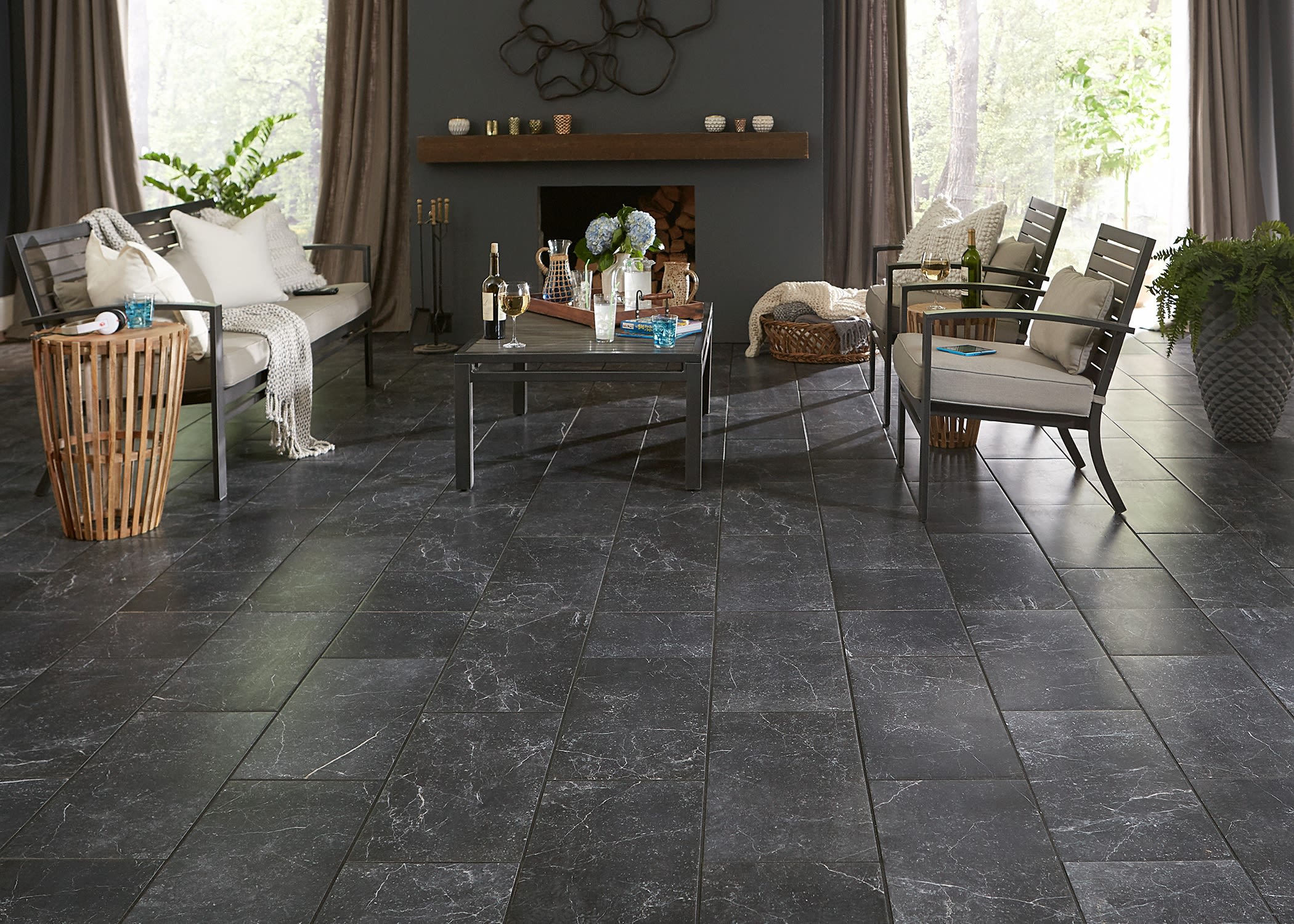 What Flooring Works Best with a Gothic Style?
If you want to go with a dark foundation, choose from a number of dark flooring options in materials from solid hardwood to laminate, vinyl and more. Stone-look porcelain tileis another excellent option for this interior design trend. A smooth gloss finish can bring in some light and provide just the right contrast to darker elements. If you'd rather add drama through texture, try a distressed hardwood. This works particularly well to create a Gothic look with a vintage feel. Smoky and cool grays can also complement this design, with lighter tones providing a nice backdrop to more dramatic accents such as black kitchen settings. Also look for patterned flooring as a nod to the intricate designs featured in the Gothic and neo-Gothic eras.
Bringing the New Goth Style to Your Home
Modern Gothic's dark hues and contrasting textures provide a unique alternative to more traditional home designs. This style can be incredibly fun to play with, especially when it comes to accessorizing your space. Check out LL Flooring's broad selection of flooring styles that can fit seamlessly into your goth-inspired interior design. We offer dark gray vinyl plank and tiles and laminate, vinyl, and hardwood planks in various patterns to help you achieve your dream look.