LL Style Report: Rustic Homestead - Make old meet new
Published on September 10, 2021
Between the explosion of trendy flea markets and online shops, secondhand goods are having a heyday with millennial decorators. Depending on where you shop or how much DIY work you're willing to do, buying vintage or thrifted home goods is an extremely budget-friendly move that gives unique items a second life. It might take a little more hunting, but that can be part of the adventure—it's a great chance to get to explore your area's local antique stores and make your space completely your own.
But as to not make your home feel like the inside of an antique store, one way to tie in funky or classic thrifted goods is by keeping other elements of your design distinctly modern. With this grand-millennial style, the juxtaposition of traditional and modern can play extremely well, and make for a room that feels both personable and exciting.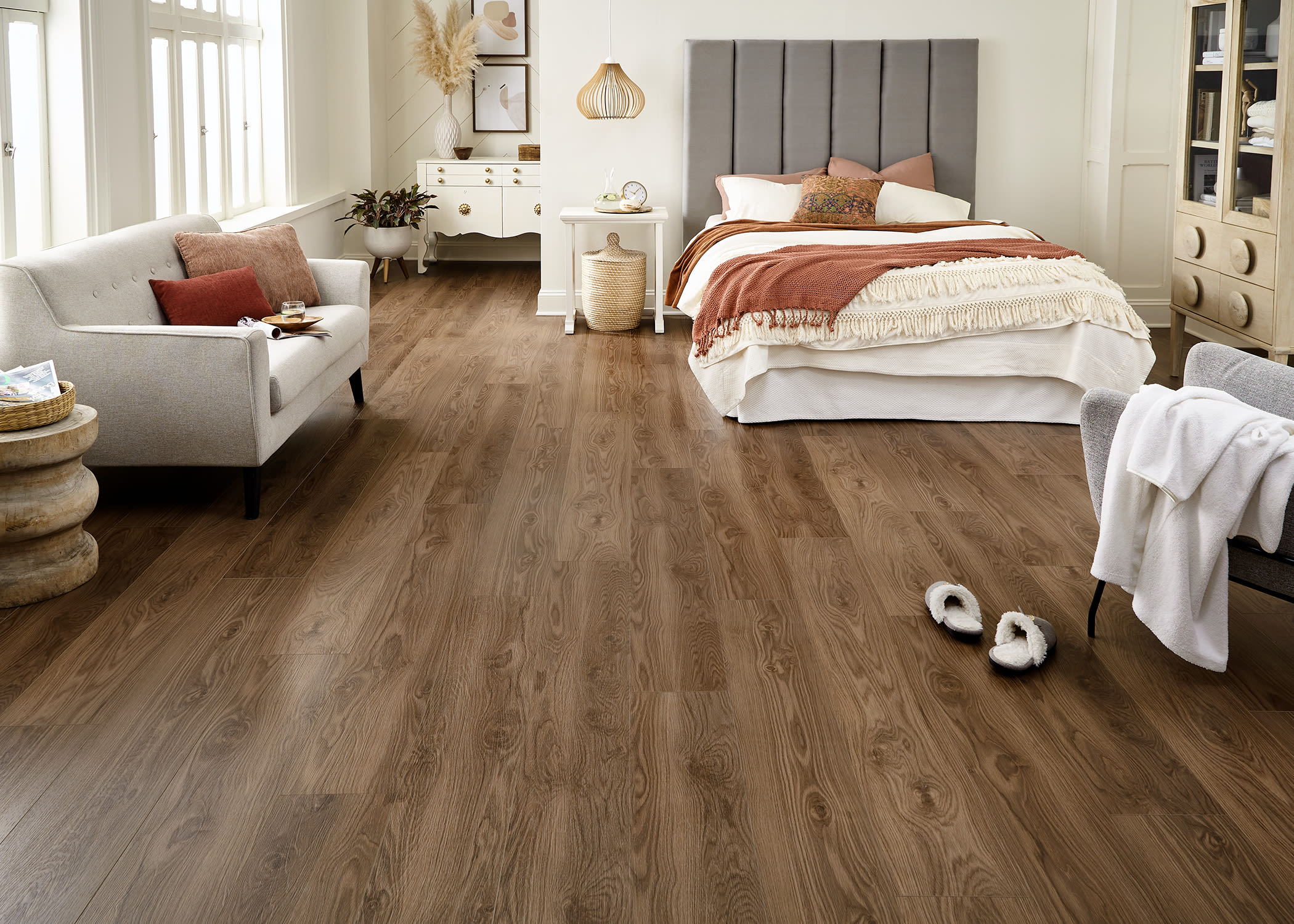 The Hunt for Hidden Treasure
The key to thrifting secondhand decor is to be very selective with your purchases. Shopping with a sharp, focused eye can keep you from overloading on clutter and getting lost among the piles of stuff. If you move slowly and keep your eyes peeled, you may find that a stuffy, overcrowded antique mall or sprawling flea market holds the item you've been looking for. And don't fret if you walk away empty-handed—the best part of antique or thrifted decor is that there are always more gems to find, so take your time and hold out for the items that speak to you. 
Bright couch has a mid-century color & texture, paired with industrial coffee table for a balance of styles. Duravana 'Foggy Bottom Oak' Hybrid Resilient Flooring.
Prices can vary widely between secondhand stores and vintage boutiques, so determine ahead of time what you're willing to splurge on and where you want to score a bargain. By starting with bigger investment pieces, like a mid-century chair or a vintage Turkish rug, you open up more room in your budget to experiment with smaller bargain items—like glassware or small decor—that can be a dime a dozen in antique stores.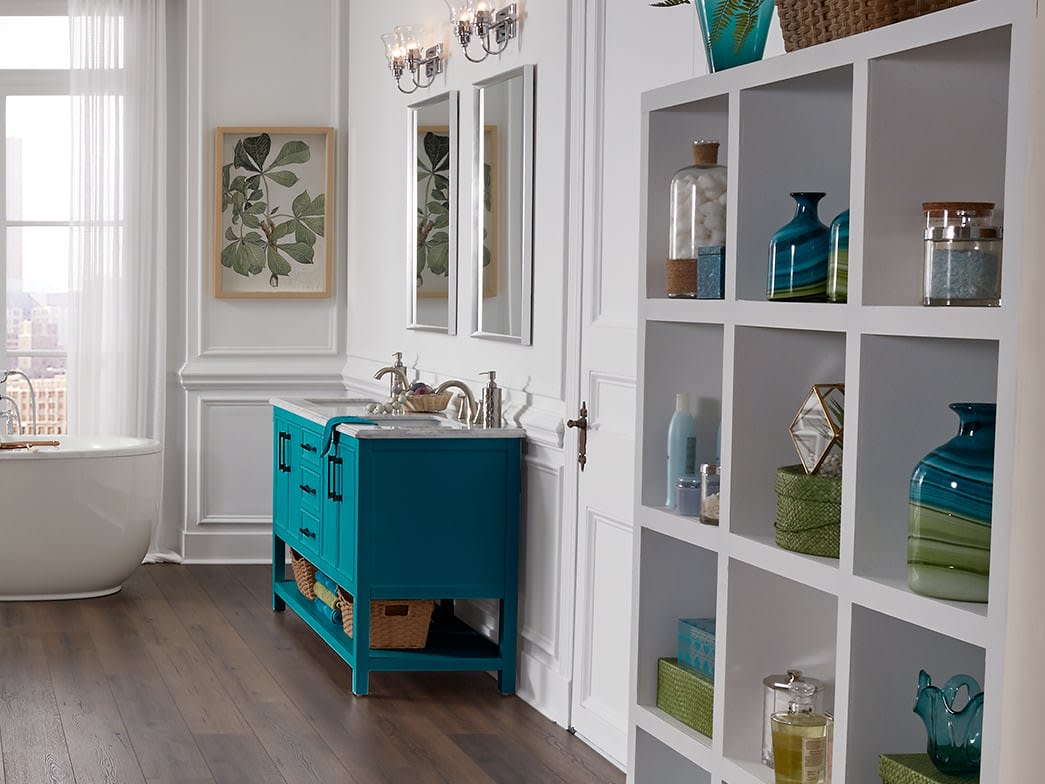 Mixing the old with the new
The juxtaposition of traditional and modern styles can work extremely well, and make for a room that feels both timeless and exciting. For example, pair the brightly colored vintage rug you scored at the flea market with a modern couch or coffee table—or vice versa, pair your patterned mid-century couch with a simple, neutral rug. Keeping a balance between vintage pieces and more modern features is key to striking a perfect harmony between old and new. 
Good design is all about balance. Antique stores can be great resources, but at the end of the day you don't necessarily want the inside of your home to feel like one. The way to avoid vintage overkill is to marry older pieces with fresh, new elements in your design. Leaning into classic, neutral staples like hardwood floors and light-colored walls sets a timeless style foundation to build upon. Bright, light flooring like LL's Bellawood Select Red Oak Solid Hardwood is a great base to keep the room from feeling too heavy.
Balancing your vintage pieces with something more modern is key to striking a perfect harmony between old and new. Lean into classic, timeless elements like hardwood-look flooring like the San Tropez Walnut Rigid Vinyl Plank and light- colored walls to soften the room and tie it all together.
Do you have a favorite rustic find? Tell us—and tag us—on Facebook or Instagram at @LLFlooring and use #LLStyle.