Step by Step: Installing Stairs with Josh Temple
Published on March 09, 2022
We met up with our partner, licensed contractor Josh Temple, at a project site in Los Angeles just as he was about to start installing stairs at a client's home. So, what better time to tread into the topic of installing stairs?
LL: First off, why is hardwood or hard surface flooring a great option for stairs?
Josh Temple: I am not a carpet guy in the first place. It wears out quicker. It's bad for allergies. It collects odors. It stains easily, and it's a slip-and-slide down stairs. My feeling is that you spent time and money adding new beautiful floors, so let the wood show! Whether it's hardwood or laminate on stairs, I just like the way it looks and feels. I'm also a fan of the monolithic aesthetic of stairs matching the floor. 
LL: How challenging is it to install stairs — does it translate with flooring installation? Or are they two different beasts?
JT: If you can lay a floor, you can lay stairs. It's the same process, it just takes a little more effort. 
There are three things you have to remember:
1.  You have to cut the sides tighter. From side-to-side on a floor, you will cover up the gap at the sides with baseboard. Typically, with stairs, there is no baseboard so the cuts have to be tighter and the angle is not always 90 degrees. There's less margin for error. [Use a measuring tool for treads to get width & angles correct...each step can be different, so always measure each as you go.]
2.  With stairs comes nosing. So, there's a little more math and planning on laying treads. It's important to properly support the underside of the nosing or you risk damaging it.
3.  Stairs are more confining; there's less room to install. You are boxed in on every tread. 
LL: Is there any sort of necessary prep work for the stair install — how do you go about getting started?
JT: Always walk your stairs several times to listen for creaks and squeaks. Most staircases sit on two or three stringers — which means the only anchoring points are on the sides or the sides plus one in the middle. If you hear squeaks, throw a screw or two in it. Squeaks come from the framing wood flexing and rubbing on the shank of a nail. Screws are threaded so they don't allow the rubbing. If you hear creaks, most likely that's bad wood and needs to be replaced.
Finally, know your measurements (by using an easy tread measuring tool) —the height of your riser and the depth of your tread. Make sure the width of your boards won't leave you with a sliver at the end. Do the math!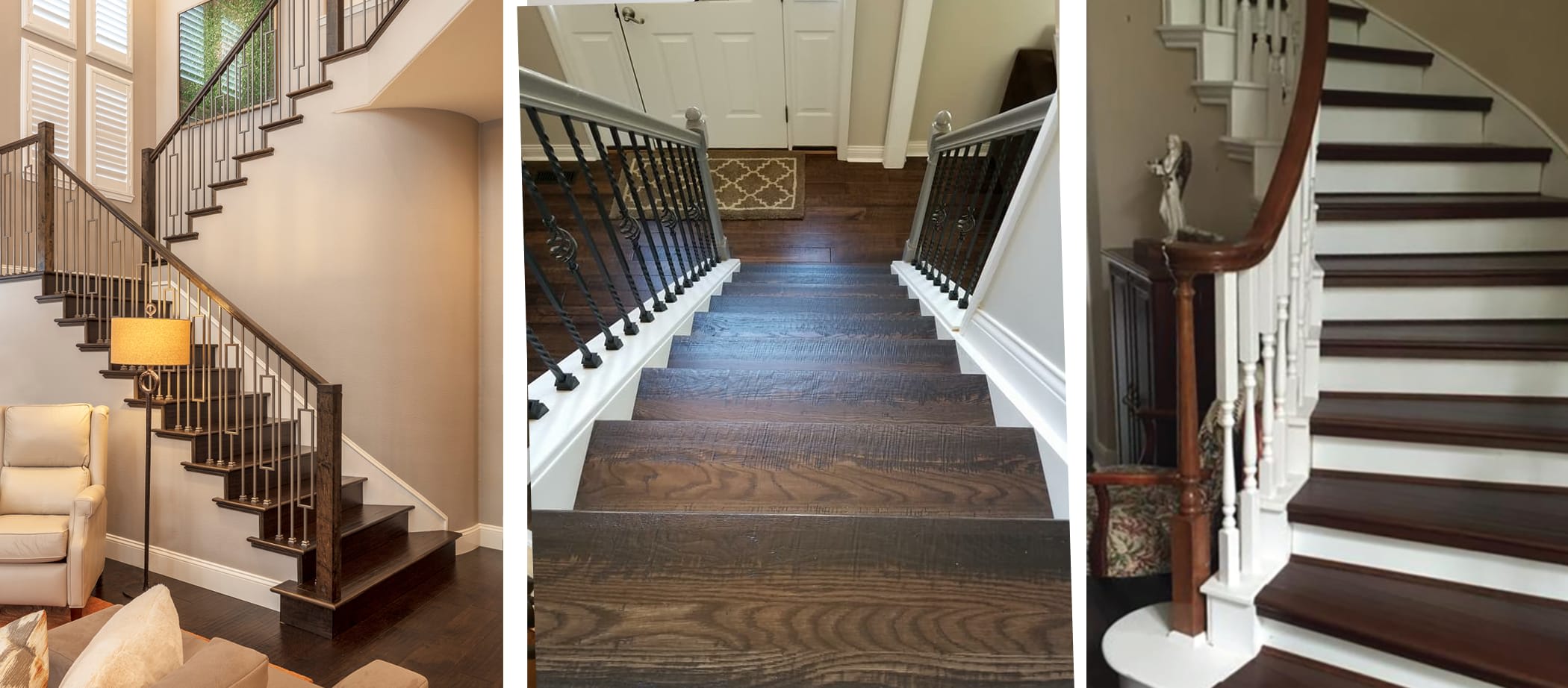 Share your stairs project with us, we'd love to see photos before, after, or both! Tag #LLStyle. 
Follow LL Style on Instagram & Pinterest
ALSO, do you learn about home improvement and design with fun and informative videos? Subscribe to the LL Flooring YouTube Channel to learn more, leave comments or ideas that helped you, and join the community!
In this Short video, installation experts Mark and Louie share decades of hands-on experience to show a dramatic damaged plank replacement in under one minute!
Don't forget to smash the subscribe button and notification bell!