Retro Design: Back to Color and Style
Because of the aesthetic differences between decades, it's hard to pick a single style and say, "This is retro.."
Published on June 13, 2022
Retro Style Flooring: Add Bold Color to Your Room
For many, the term "retro" refers to cultural styles or trends from 20-40 years ago, but it can also reference earlier decades. For example, you'll often see black-and-white diner checkerboards of the 50s and stone-look terrazzo floors of the 70s in old-school retro designs. Because of the aesthetic differences between decades, it's hard to pick a single style and say, "This is retro." Something is retro if it follows a specific trajectory: It is popular during one historical period, goes out of style, and then becomes trendy once again, years later.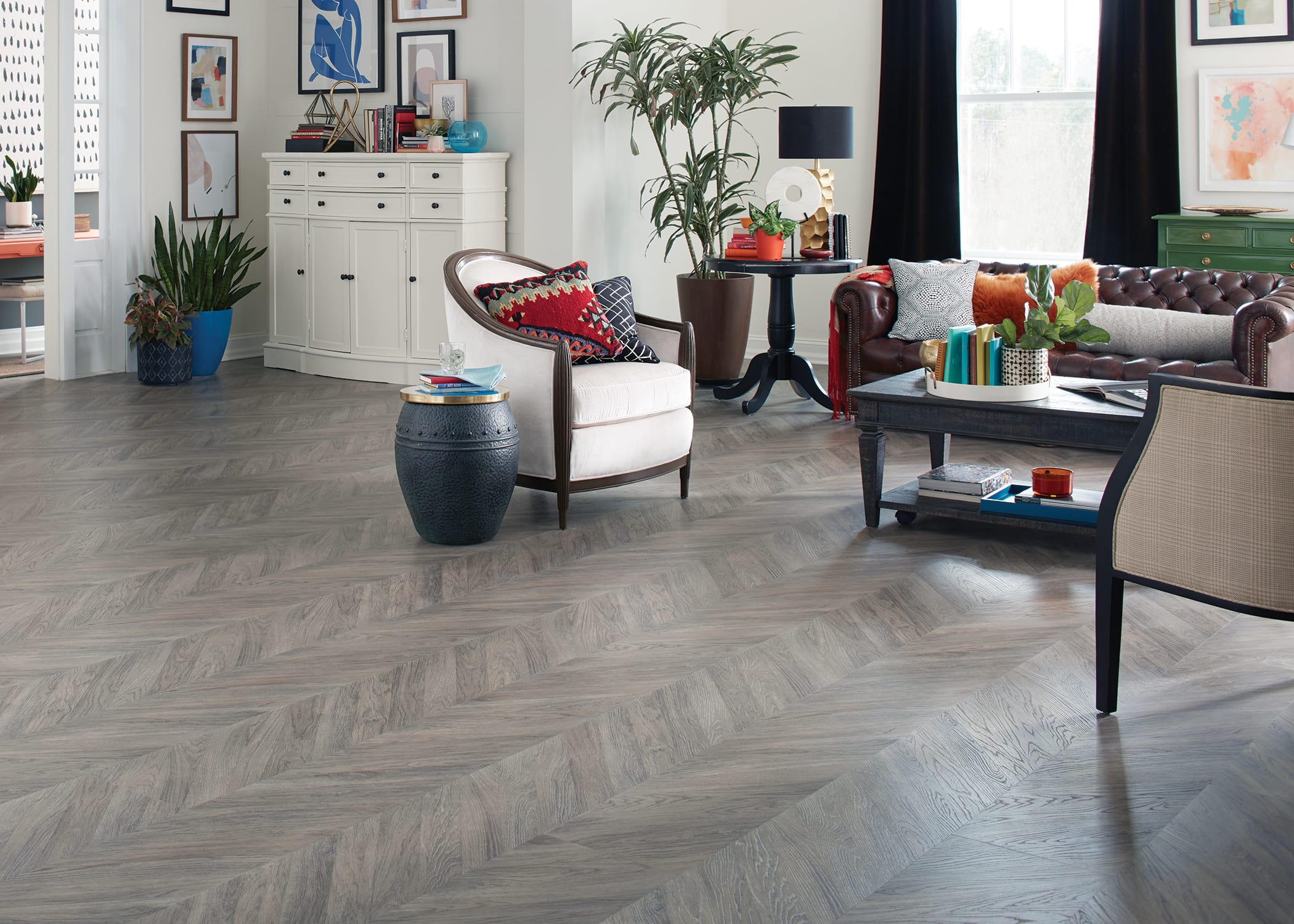 Retro refers to a new reproduction of an old object like a modern MP3 jukebox. So, when you buy retro flooring, you're not buying original (potentially asbestos-filled) vinyl or tile, you're buying modern flooring that's made to look like it comes from a certain era. We're pleased to say that retro is back in style.
Today's retro flooring is better than ever, as you get the classic colors and designs paired with the functionality of modern flooring.
Retro revival flooring often incorporates specific colors and patterns, which help to create a unique atmosphere in any room. From toned-down colors with old-style patterns to jazzed-up colors that radiate with personality, retro flooring fits most designs.
What Styles are Retro?
Retro flooring is about design and color, but not all of it is bold and bright. This depends on the decade you're choosing from. For example, the multicolored 60s feature different colors and patterns than the more understated 50s. You'll find retro designs that feature contrasting colors like black and white, or that use similar shades that complement each other, like light green and cadmium green.
Patterns are also important
You can find geometric classics like herringbone and Emser or bolder patterns like wave or houndstooth. Picking the right patterns for your flooring depends on the other stylistic elements in your rooms as well as the room's purpose and function.
What Rooms are Suitable for Retro Flooring?
You can install retro flooring in any room. However, you'll want to pay attention to flooring type when doing so. Water-resistant and waterproof materials like vinyl work well in bathrooms and laundry rooms. Engineered hardwood gives a more formal look to lounges and dining rooms. And the construction of multilayered laminate makes it hard-wearing enough for busy rooms like living rooms and entryways.
How Versatile is Retro Flooring?
Retro flooring not only looks great on floors, but also on walls, too. If you want to make a statement with a bold accent wall, consider using retro flooring on your wall. You can also use it on countertops and backsplashes to give your kitchen a unique aesthetic.
How do I Style a Room with Retro Floors?
How you style a room with retro flooring depends on the type of design you choose for your floor. Here, the keyword is accessories. You can take advantage of your furniture, rugs, throw pillows, appliances, and even hardware, like kitchen cabinet handles, to bring your room to life. For flooring with bold colors and designs, you'll want to emphasize accessories with solid colors. This is so you don't overwhelm your senses with too many distinct colors and patterns, as that can be quite disorientating. For the quieter colors and designs, find complementary patterns and colors in your accessories to highlight the features of your flooring.
Is Installation for Retro Flooring Difficult?
Installing retro flooring doesn't have to be difficult. LL Flooring stocks several easy DIY materials with float-and-click or peel-and-stick installation methods. We also offer professional installation services to help you tackle more challenging installations and several guides for when you do the installation yourself.
What Does LL Flooring Have to Offer?
At LL Flooring, we bring you some of the best retro-style flooring options, including vinyl, laminate, and engineered hardwood. These come in float-and-click installation as well as glue-and-nail installation. Vinyl and laminate are waterproof and easy to install. Vinyl comes in a variety of types, including plank and rigid core. In our retro revival collection, we offer rigid core in Pacific Coast Oak. Laminate has an inner core and layers that give it a hardwood look and feel.
We offer laminate with a retro flair in the Tapestry Oak and Park Avenue Chevron options.
Engineered hardwood is part hardwood and part plywood. This gives it the same look and feel as hardwood, but with a plywood base to make it more stable, affordable, and easy to care for. In our selection, you'll find engineered hardwood in Manhattan Chevron.
LL Flooring offers the flooring and the tools and accessories you'll need to realize your retro vision. Browse our catalog of retro flooring to find your inspiration.