What Is the Best Floor for a Mudroom?
Published on June 10, 2022
Your mudroom provides a convenient spot to leave the mess behind when you come home so the rest of your space can keep looking spotless. It may be a functional area, but you can absolutely stylize a mudroom to feel welcoming and homey, just like the rest of your house. An excellent way to start is by choosing flooring that will ground your design. You'll want to select something that's hard-wearing and easy to clean as well as beautiful.
This guide explores the various flooring types suitable for a mudroom to help you find your best fit.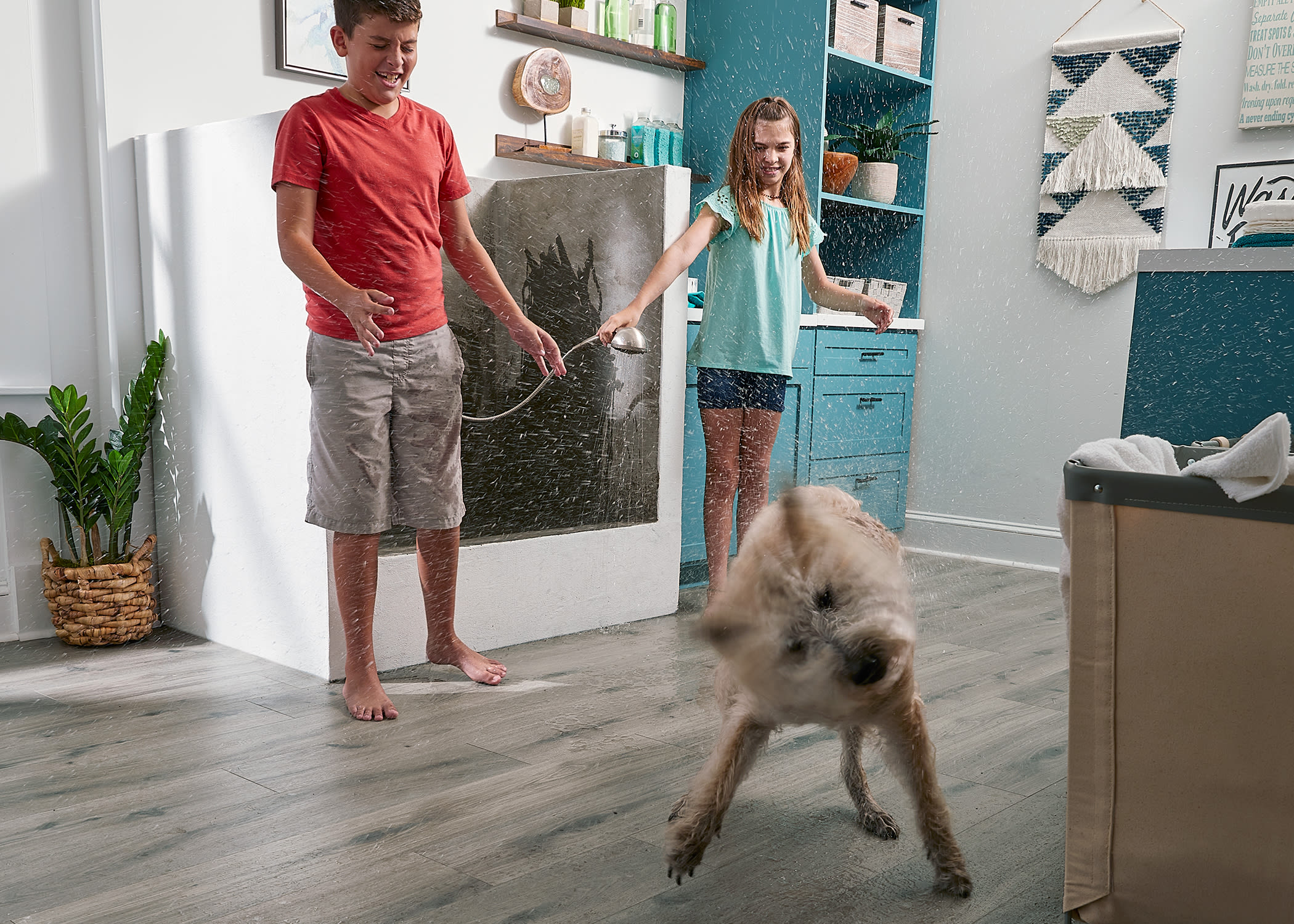 What to Look for in Mudroom Flooring
Mudrooms require hard-wearing flooring that you needn't worry will get scratched or dented, or damaged by moisture. Here's what to consider when searching for your mudroom flooring.
Water-Resistance
Water-resistance is crucial for mudroom floors. Kids, pets, and other family members track through the space with muddy boots, wet coats, and damp backpacks. With water-resistant flooring, you can help prevent wetness from damaging your flooring and subfloor. Some types of flooring, such as laminate, vinyl, and hybrid resilient, offer excellent protection against water. Be sure to look for flooring specifically marked as waterproof or water-resistant. Tile is another contender, with waterproof properties that make it popular in wet areas like bathrooms and kitchens, too.
Strength
Mudrooms see some of the heaviest foot traffic in the entire home, so it's crucial that they can handle it. Bamboo flooring is one of the toughest kinds, noted for its incredible hardness and strength. Laminate flooring is also a great choice for long-lasting flooring as it features a protective top layer that helps prevent scratching and fading. This will help keep your floors looking great even with heavy daily use.
Cleanability
Mudrooms can get dirty quickly, and your flooring can make a big difference in how easy yours is to clean. Look for flooring with protective, sealed layers that offer a smooth surface for simple cleaning. Fortunately, several types of modern flooring allow for this, including vinyl and laminate.
Color and Pattern
While functionality is a prime consideration for mudroom floors, your flooring design should also be something you love. Whether you choose tile, laminate, vinyl, or something else altogether, you'll have an ample selection of colors and patterns to choose from. Consider the overall style of your mudroom before choosing a floor. What color palette will you use? Are you going for a specific type of interior design for the space? These questions can help you narrow your options to find one that fits your dream look. If you need help, call one of LL Flooring's experts.
Space
Whether you choose tiles or a type of plank flooring, you'll need to decide the size of material that works best with your space. Large tiles and planks can make a small space feel more open and airy, but smaller ones can make a room flow better, especially if you have a lot of storage areas in your mudroom. Before you commit, order a few samples of floors you love to see how each one can change the look of your mudroom.
How Do You Make Your Mudroom Floor Last?
Once you find your ideal mudroom floor, you'll want to protect your investment by keeping it clean and looking its best. Here are a few tips to help keep your new flooring dent-, dirt-, and moisture-free.
Storage Solutions
The best floors for mudrooms can withstand heavy foot traffic, moisture from wet shoes, and mud that's tracked in from outside. Still, preventing dirt from making its way to your floors can help them last even longer. With the right storage solutions, you can do just that. For example, place baskets or trays on the floor along the walls to store wet shoes. You can also make cubbies with hooks to keep coats and backpacks off the floor.
Accessorizing Your Floor
Your flooring doesn't have to shoulder all the responsibility for your mudroom's cleanliness when floor accessories can do the brunt of the work. Place floor mats in areas where dirty shoes or moisture collects, such as underneath drying coats and right in front of the doorway. Consider placing a washable carpet runner in the high-traffic zone of your mudroom to catch most of the grime. You can always give it a quick wash to keep your space looking fresh.
Cleaning and Maintenance
Most mudrooms could benefit from weekly cleanings to prevent dirt from building up and tracking through the rest of your home. Depending on your flooring type, you might also need to add a protectant every few weeks to make it easier to clean and help prevent dings, scratches, and buildup. Read our flooring maintenance guides for your particular floor type to learn the best techniques.
Choosing the Best Floor for a Mudroom
Finding the best floor for a mudroom can help you get years of stylish reliability from your entry space. Explore LL Flooring's hybrid flooring for water-resistant, hard-wearing floors that are as eye-catching as they are functional in high-traffic areas like the mudroom.