How to Get the Best Performance From Your Flooring
Published on June 16, 2022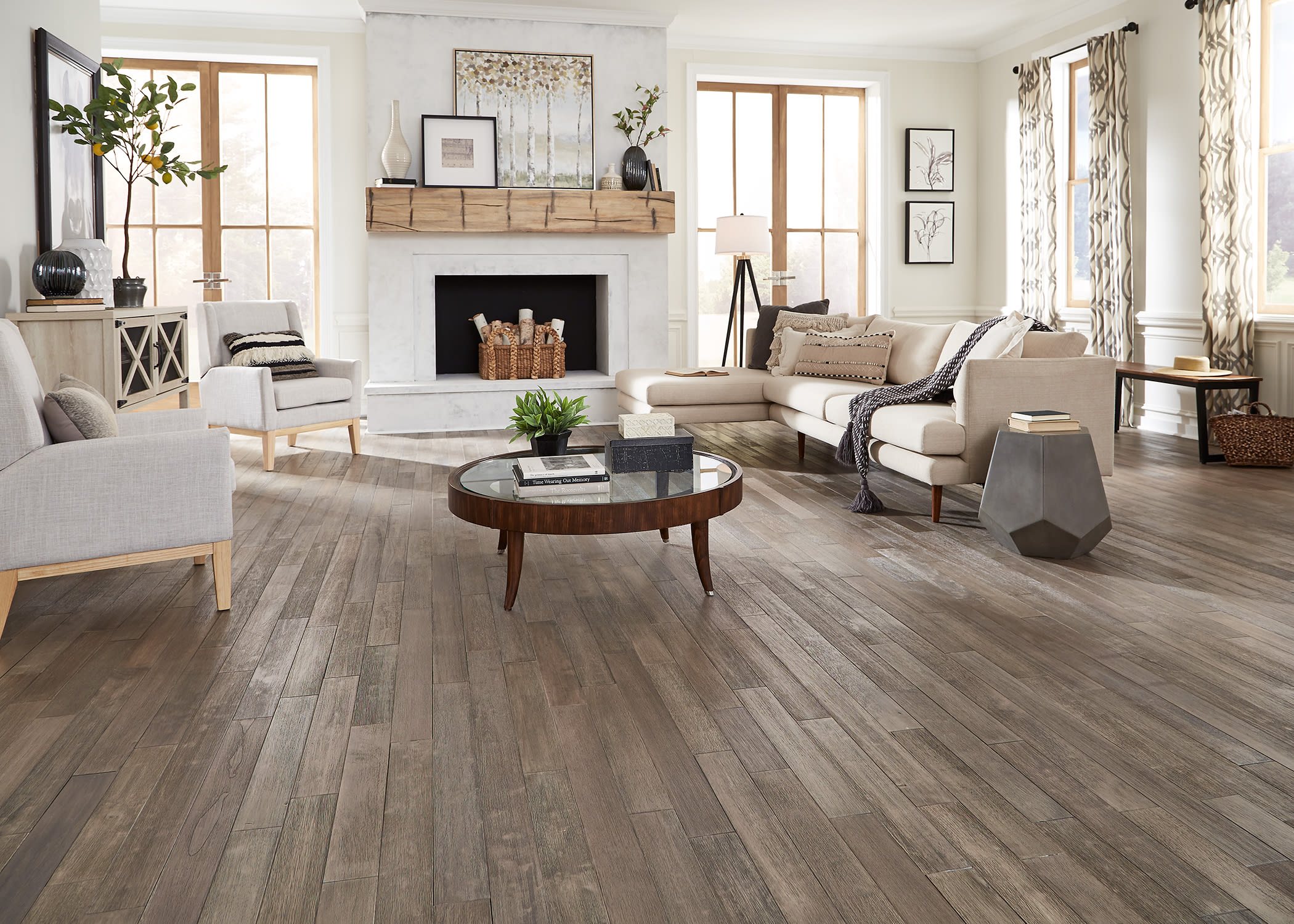 New flooring. It can be one of the biggest home improvement projects you undertake. So..just imagine the disappointment if any imperfections were to appear after all that hard work and expense. Flooring issues can occur for a variety of reasons—from lack of preparation to improper installation and care—but we're here to help make sure that they don't happen to you. Here, we take a look at some of the common issues that can affect the performance of a floor and the steps you can take to avoid them.
The best way to avoid these problems is to be mindful of the particular requirements of the flooring material you've chosen—be it hardwood, laminate, or one of the many other products you'll find here at LL Flooring. Another important step is to carefully review the individual product's accompanying Warranty, Installation, and Care Guide. LL Flooring is one of the industry leaders in bringing you the latest flooring technology, so please be aware that, although you may know how to install a certain category of flooring, new innovations or regulations may change how a product performs, is installed, or how installation accessories like adhesive are applied.
Check Your Subfloor
What lies beneath your new flooring can play a huge role in how it performs. In most homes, you'll find that the subfloor, also known as substrate, is either plywood or concrete. Issues arise if you don't properly prepare your subfloor to accept your flooring material.
Ensure Your Subfloor is Compatible With Your Flooring
One example of a subfloor that's unsuitable for a particular flooring material is plywood under tiles. This is because plywood can be too flexible and can cause tiles to crack when pressure is applied to them. This doesn't mean you can't install tiles in a room with a plywood subfloor. In that case, you would just have to take the common extra step of installing a cement backerboard over the plywood to create a more stable surface for your tiles. Some subfloors are made with gypcrete that may not be strong enough for a glue-down installation, and in others the joist spacing may be too wide for the thickness of plywood, which allows for deflection to occur.
Another example is particle board, which is not suitable for nail-down installations because it won't hold a fastener. In all cases, if installed over such a subfloor, your flooring will fail. In above-grade areas, you could first install plywood over a concrete subfloor before nailing down your planks. But for on-grade installation, you'd still need to use a moisture barrier under the plywood.
Check Your Subfloor is Flat
A smooth and flat subfloor surface is important for the stability and overall performance of a floor. A self-leveling compound is one product you can use to smooth out and flatten that surface. Certain fiber and foam underlayment options can also smooth out minor subfloor imperfections (although they will not level the floor).
Mitigate Moisture
As mentioned above, moisture barriers are particularly important when installing flooring over concrete substrate. Use products such as 6mil poly sheeting as a barrier when installing flooring such as laminate, vinyl, and engineered hardwood over concrete. You can also find underlayment options that have a built-in moisture barrier, but take care: certain underlayments have limited moisture protection, so you'll need to install a 6 mil poly underneath them as well.
Consider Your Underlayment
Not all flooring requires underlayment, but using it can enhance your floor's comfort and performance. Depending on the underlayment type, it can add cushioning as well as sound and thermal insulation. Some flooring is also compatible with radiant heat underlayment. These mats will send heat up to your floor, which in turn radiates into your living space to warm it. When considering underlayment, be sure to choose the product appropriate for the type of floor. For instance, you could install a high-density underlayment with a high degree of sound mitigating properties under the floating floors in an apartment or condo to help it meet any sound requirements.
Acclimate Flooring That Needs It
Some flooring materials require a period of acclimation to the room environment before installation. This is mainly to ensure that the moisture content of the flooring is in tune with its surroundings. It is also important to maintain these levels during the life of the flooring. Failure to acclimate and maintain the environment within the flooring's acceptable limits can result in warping, cupping, buckling, and gaps. Solid and engineered hardwood, laminate, cork, and bamboo are examples of flooring that requires acclimation. Check your Warranty, Installation, and Care Guide for details for your specific product.
Use the Correct Installation Method
There are many different ways to install flooring. These include—but aren't limited to—nail-down, glue-down, nail with glue assist, peel-and-stick, and click-together. And in the case of tile, mortar and grout. Some flooring products offer more than one method of installation, and the particular steps for each will be outlined in the accompanying guide. It is very important to choose the right method for the application or use of the product and the inherent limitations of the environment or building it is being installed in.
Watch Out For Common Installation Mistakes
Carefully following installation instructions will go a long way toward ensuring a properly performing floor. For instance, make sure you leave the proper amount of expansion and contraction space for all flooring. Even properly acclimated floors will shrink and expand due to temperature and humidity changes, and that gap between your flooring and the wall will allow your floor to expand and contract without concern. Use baseboards and quarter round molding to conceal the space.
Also take note of recommendations. For instance, underlayment is highly desirable under the majority of floors. Your installation guide will also recommend the tools, hardware, and materials you should use for your project—much of which you can find at LL Flooring.
Choose Suitable Flooring
Think carefully about the requirements of your space before you choose your new flooring. We recommend being particularly careful with splash-prone areas like bathrooms and kitchens, where waterproof or water-resistant options may be a great choice. You also want to be careful when extending your flooring outdoors. For instance, tile is popular for decks and patios, but if you want a tile that will perform in nature's extremes, you should choose porcelain.
Consider the Aesthetics
While they might not affect the physical performance of your floor, some installation oversights can diminish the look of your finished design. For instance, we recommend staggering the seams of hardwood planks when installing to direct the eye to the floor as a whole rather than the seams. This is also important for any wood-look flooring material, including vinyl laminate and tiles. For wood-look tiles, be sure to leave smaller seams and use a matching color grout instead of white in order to replicate the look of hardwood. Another aesthetic mistake involves grain patterns. Not mixing wood planks evenly before installation can result in any natural patterning being concentrated in one place, which draws the eye and causes a distraction.
When going from one floor to another, be sure to use the proper transition molding. This is not just for decoration, though. Improper flooring transitions between floors of different heights can create a tripping hazard.
Give Your Floors the Right Care
Follow your Warranty, Installation, and Care Guide for your particular flooring product to find out the best way to keep it looking good and performing as it should. For instance, wet-mopping flooring that doesn't have water protection is a big no-no. Also, you should generally avoid using scouring pads or steel wool because of their abrasiveness. Cleaning agents using wax, oil, or polish could dull your flooring over time, so it's important to use specially formulated floor cleaning products. It's also important to keep a stable environment in your home. Large swings in temperature and humidity can cause issues with natural flooring such as hardwood.
Think: Is This Truly a DIY Project?
If you're at all concerned about whether you can properly install your chosen flooring yourself, then professional installation may be the route to take. You'll be able to rest assured that a professional has examined the factors related to your project and has the skills and knowledge to ensure the work is performed right. If you feel comfortable installing your own flooring, be sure to follow any instructional materials that came with your product.
Also feel free to browse our Flooring 101 page for additional installation guides and tips, flooring basics, care and maintenance tips, and planning advice. At LL Flooring, we want to make your new flooring journey as easy and worry-free as possible. You can get a wealth of information and many answers to your questions from our website. Also feel free to talk to one of our flooring experts on the phone at 1-800-227-4036 or visit an LL Flooring location near you to speak to an associate.