What is Engineered Hardwood Flooring?
Published on April 19, 2022
When browsing upgrades for your flooring, it's common to come across the terms "engineered wood" or "engineered hardwood". While you might be familiar with traditional solid hardwood flooring, engineered hardwood sounds like something else entirely. But is it any different? Just what is engineered hardwood, and is it suitable for flooring? How does it differ from solid wood? Let's get into some details.
What is Engineered Hardwood Flooring?
Like it sounds, engineered wood flooring consists of planks that have been specially designed and manufactured for improved performance. The top layer is in fact a veneer of real, quality hardwood—such as oak, maple, walnut, or cherry—so creates the same look and feel as your favorite solid hardwood floor. This top layer of true hardwood is then attached to a layered core, often constructed from plywood or high-density fiberboard, where each layer's wood grain has been laid crosswise to those adjacent to it. This cross-graining provides even greater stability than you'd find in natural wood, where the grain runs all in one direction. It also makes the plank less susceptible to seasonal changes in humidity and temperature—things that cause natural expansion and contraction in solid hardwood and can eventually lead to warping or gapping. This makes engineered hardwood flooring a hardy option for living room flooring as well as for hallways, bedrooms, and more.
Is engineered wood real wood? Yes. And it is made with other specially designed components as well, giving engineered wood its many advantages.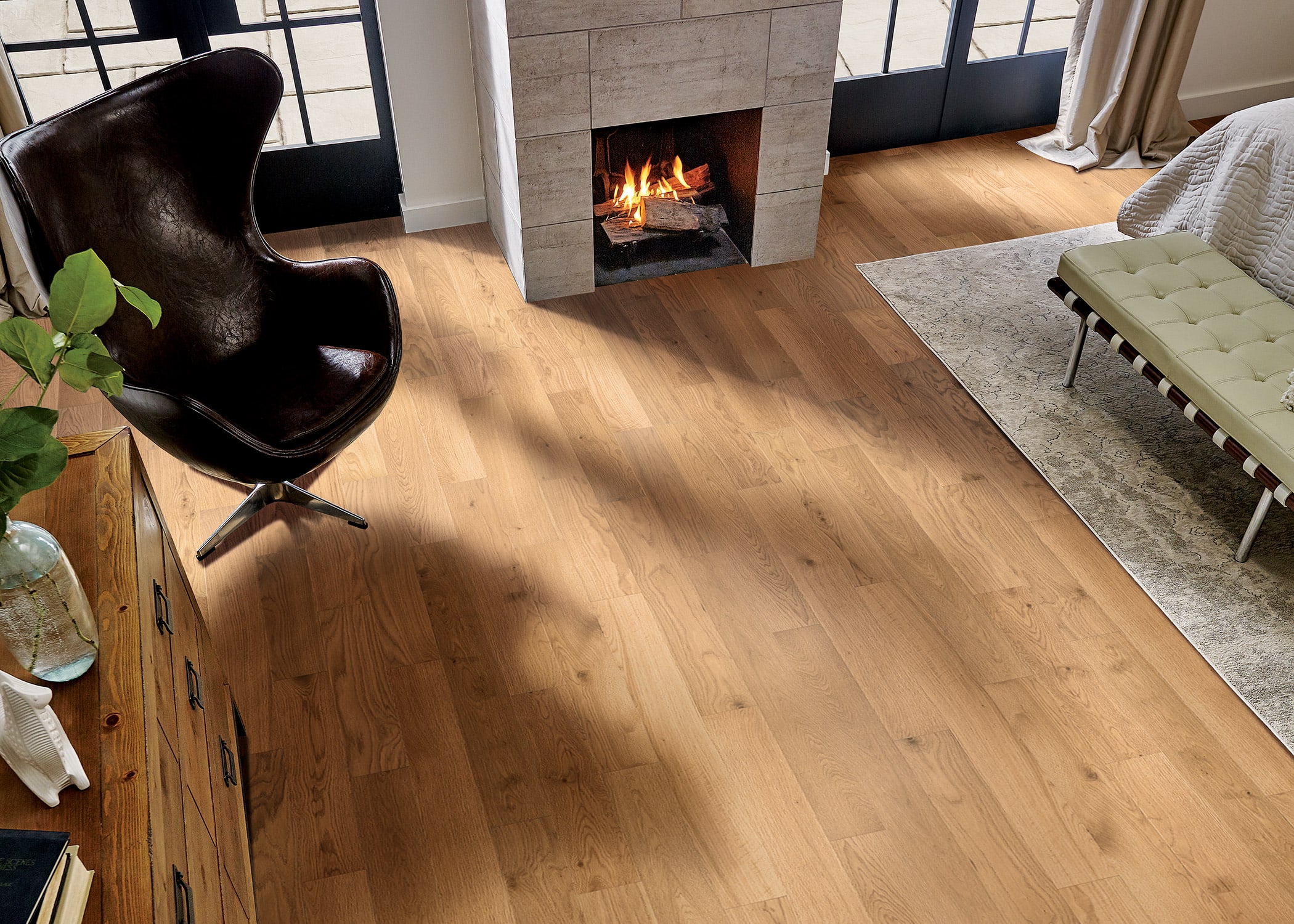 Considerations for Engineered Wood
Before you decide whether engineered hardwood is the flooring for you, you'll want to consider some of the practicalities of the project before you make a commitment. There's no doubt that top of most people's top concerns is cost. But in fact, engineered wood flooring can be a cost-effective choice and generally runs cheaper per square foot than solid hardwood, due to the smaller amount of hardwood that the planks contain. While choices such as laminate are even less expensive, when comparing engineered vs. laminate flooring, an important difference is that laminate lacks this authentic hardwood layer altogether.
You'll also want to think about how much flooring you'll need to buy. To do so, you'll first need the square footage of the area over which you—or your professional installers—will be laying it. The square footage is figured by multiplying the length of the flooring area by its width. Will you be using engineered wood for your stair treads, too? If so, be sure to include that footage in your calculations. As the square footage and your engineered wood flooring will most likely not match precisely, you'll need to purchase more flooring than you will use. This is an expected additional expense for flooring, and for engineered wood, it's usually recommended that you purchase 15% over your area's square footage.
It's also wise to consider underlayment. This is a thin sheet of plywood, hardboard, or even foam that lays between the subfloor and your flooring surface that can provide additional stability, and help your engineered hardwood planks lay evenly. It's also worth thinking about the finishing touches you might want to add once your flooring's been installed, such as the trim and baseboards. These are placed where your engineered wood planks meet another type of flooring, such as carpeting or tile, or your walls, respectively. Both come in a range of materials, so you'll be able to find an option that ties your whole look together.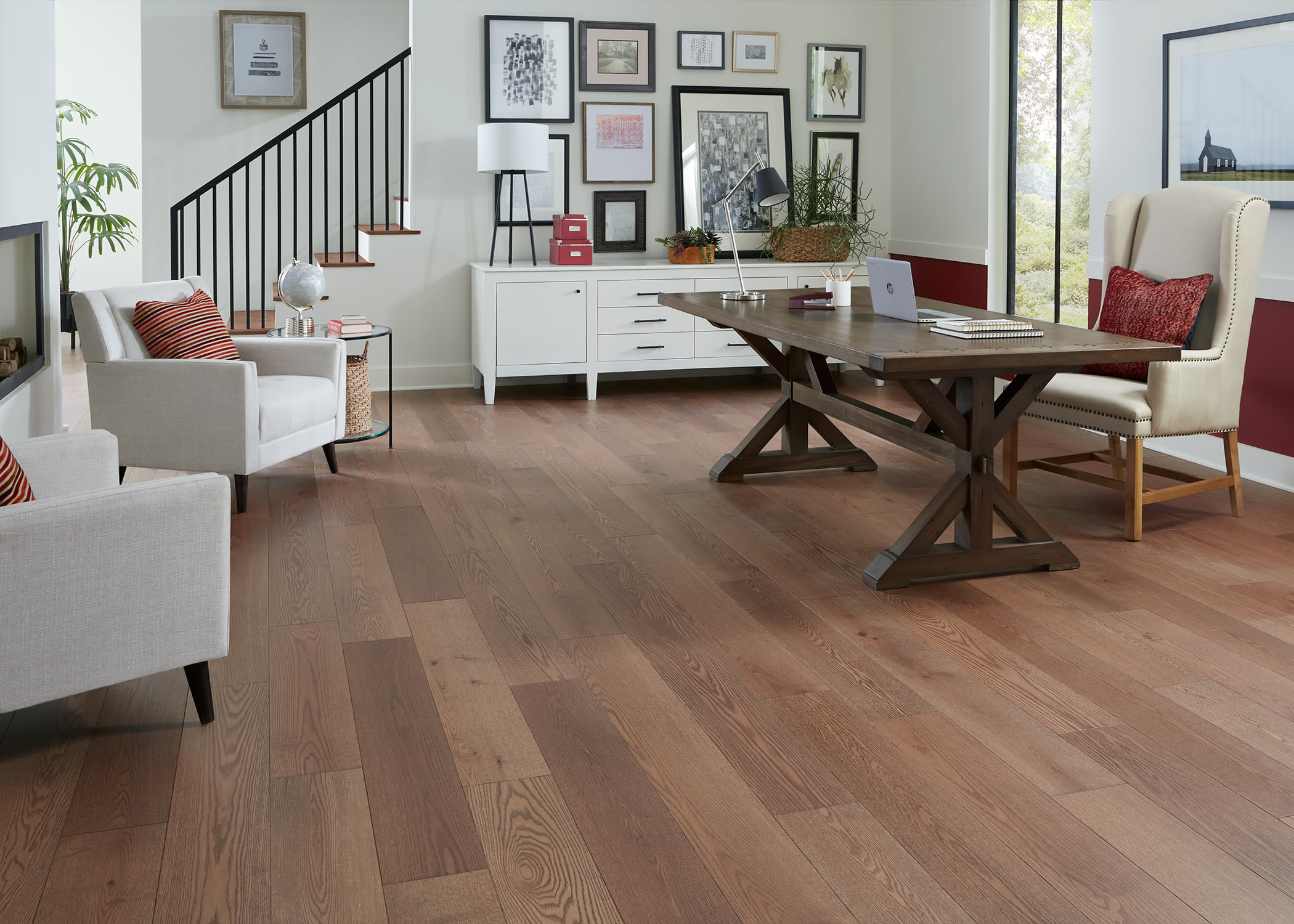 Engineered Wood Floors vs. Traditional Wood Floors
Although engineered hardwood floors look very much like traditional solid wood floors, there are key differences between the two. Solid wood is valued for its warm, natural tones and delicate graining that bring the beauty of nature into your home. But nature has flaws as well as beauty, so hardwood planks may contain imperfections. This means you'll have to buy more solid wood flooring to account for the flawed parts that can't be used. Engineered flooring, on the other hand, has had any imperfections removed during the manufacturing process, so you won't have to buy as much.
In addition, engineered wood's layered core gives it greater strength than solid wood, which has its grain facing in one direction. This cross-graining lends the boards greater stability and resistance to seasonal fluctuations that might cause solid wood flooring to warp. What's more, some types of engineered hardwood feature innovative core technology that makes the boards water resistant for up to 72 hours. If you love the look of wood but are worried about splashes or spills, the AquaSeal range could be the solution you're looking for.
One of the main differences between engineered wood vs hardwood is that engineered wood can be installed on any level of the home—from the basement to the attic—whereas solid wood can only be installed on the ground floor or above. Combine that with the water-resistant options available, and you could enjoy engineered hardwood in almost every room of your home.
Engineered wood planks tend to be wider than their hardwood counterparts, so could be the better choice if you're looking for ultra wide planks of ten inches or more. Wider planks are a luxury trend—they mean fewer seams interrupting your surface, giving an open feel that's great for modern and open concept spaces. Wider planks also means fewer boards to lay!
How is Engineered Hardwood Flooring Installed?
When it comes to installation, there are a few options, including nails, glue (if your subfloor is concrete), and a locking system where the flooring edges are designed to fit together to create a kind of floating floor. This particular installation is within the reach of an experienced DIYer, though generally we'd suggest getting some professional assistance.
By contrast, installing solid hardwood requires more technical skill to do properly, so really is best left to the pros.
Engineered wood's unique qualities do tend to favor the use of specific cleaning products that will treat their protective coating more gently than lower-grade options. Additionally, engineered wood is best suited to one or two refinishes before exhausting its surface, while solid wood flooring typically can be refinished multiple times during its lifespan.
How long does engineered wood flooring last?
When it comes to longevity, both types of flooring will last a long time, and provide years of beautiful service to your home. Engineered hardwood flooring will generally last about 20 to 30 years after installation. Solid wood flooring can also last 30 years, but with additional sanding and refinishing might even last up to 100 years. Whichever type you decide is right for you, you'll find an array of high-quality choices at LL Flooring.

Shop all hardwood and engineered hardwood floors online, or find an LL Flooring store near you. If you have any questions we would be happy to speak with you at 844-455-3566.
Join our Style and Inspiration journey on Instagram at @LLFlooringOfficial, and tag photos of your floor, decor, and more using #LLStyle.
LL Flooring