Revamp Your Home With Engineered Wood Flooring for Kitchens
Can I Install Wood Kitchen Floors?
Published on September 27, 2023
Yes, you can install hardwood floors in your kitchen—but there are a few things to know first. Explore engineered wood flooring for kitchens at LL Flooring.
Revamp Your Home With Engineered Wood Flooring for Kitchens
Contrary to historical trends, you're not limited to tile or ceramic floors for your kitchen. Hardwood can be a cozy and welcoming choice that can elevate your space. But before you begin browsing or putting together a mood board for your dream kitchen, there are a few things to consider. Do hardwood floors go under kitchen cabinets? Is wood paneling for kitchen walls required? We answer these questions and more. Read on to learn everything you need to know about engineered wood flooring for kitchens.
Image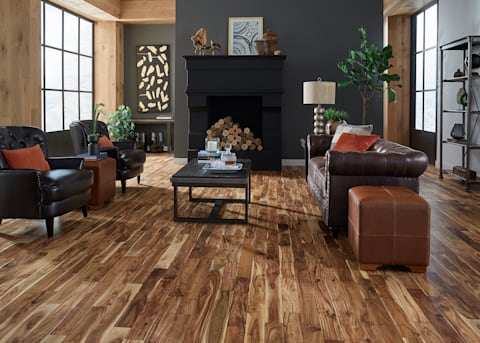 Water Exposure

A key concern when installing wood flooring in a kitchen is water exposure. Kitchens are a high-traffic area of the home where spills and splashes are common. If water is left sitting on a hardwood floor for an extended period of time, it can cause the wood to warp or swell, leading to permanent damage. AquaSeal-engineered hardwood flooring is an excellent option if you're worried about spills. The top layer of engineered flooring is made of a hardwood veneer glued to a stable MDF or SPC core. This design makes it less susceptible to water damage, but cleaning up spills as soon as possible is still a good idea to prevent any long-term damage.
Activity Level

Another factor to consider when installing hardwood flooring in a kitchen is the level of activity in the room. Kitchens are high-traffic areas, and the floors need to withstand the constant movement of people and pets, as well as the weight of the furniture. Engineered wood flooring is designed to withstand wear and tear, making it an excellent choice for a busy kitchen.
Level of the Home

Consider the level of your home when installing wood flooring in a kitchen. If your kitchen is on the ground floor or basement, you may have to deal with moisture issues that can affect the stability of your floors. In this case, opt for engineered hardwood boards, which are more dimensionally stable and may cope better with these environmental changes if acclimated properly. Acclimation allows the boards to adjust to a room's climate before installation. For rooms above ground level, solid hardwood would be an attractive option.
Temperature, Humidity, and Sun Exposure

The temperature, humidity, and sun exposure in your kitchen can also affect the longevity and appearance of your hardwood flooring. To get the best performance from your floors, be sure they are acclimated. This simple step involves moisture content adjustment that helps ensure your floors stay beautiful for years to come. We recommend checking the Warranty, Installation, and Care (WIC) guidelines before installation.
Direct sunlight can cause the wood to change over time. But don't worry; this is a natural process that only adds charm to your floors. Styles like Brazilian cherry and walnut may develop a richer hue as they age, while red oak can take on a lighter tint.
Style and Matching

Hardwood flooring comes in a wide range of styles and finishes, making it easy to find a floor that complements your kitchen's existing décor. Consider a wider board for a clean look if you want to create a more modern or eclectic style. For instance, white oak is a stunning option for modern kitchens.
Measuring and Installation

When installing engineered wood flooring in a kitchen, measure carefully to ensure a proper fit. You'll need to account for any existing cabinets, appliances, or fixtures and any necessary cuts around corners and doorways. Whether it's a floating floor or glued down, choosing the right installation method is important. If you're DIYing it, be sure to follow the WIC guidelines carefully and take the time to prepare the subfloor properly. 
Kitchen Hardwood Flooring FAQs

By now, you're probably ready to start your new kitchen renovation project. To ensure your installation goes smoothly, here are a few questions to consider:
How do I prepare my kitchen floor for installation?

Prepare your space by removing any existing flooring. Next, ensure the subfloor is debris-free, level, and dry before installing the new flooring. This will help to ensure the flooring is strong, long-lasting, and properly installed. Also, don't forget to allow the new flooring to acclimate to the room. Doing this will ensure that the boards adjust to the room's climate, which helps to prevent any uneven surface areas or buckling.
How much does it cost to install flooring in my kitchen?

The cost of installing new flooring in a kitchen can vary depending on several factors, such as the type of flooring installation—like click, glue down, nail down, or tongue and groove, the size of the kitchen, and whether or not you hire a professional independent contractor for the installation. While calling in an expert can save time, taking on the project yourself is cost-effective and can be pretty fun too. We also recommend exploring our flooring options to get an idea of which style fits your budget.
Do you put hardwood floors under kitchen cabinets?

When installing engineered hardwood flooring in your kitchen, the common practice is to install the flooring around the kitchen cabinets rather than under them. This is because it's much easier and more practical to install the cabinets first and then install the flooring around them rather than trying to fit the cabinets over the flooring.
Do you need wood paneling for interior walls?

Adding wood paneling is not a necessary step when installing new floors. Paneling is a decorative option that enhances the look of your walls and can also cover gaps between the floor and the wall.
Discover the Possibilities at LL Flooring

Engineered hardwood for kitchen floors can take your décor to new heights. From modern to classic, LL Flooring has the floor you're looking for. Browse our wide variety of textures and colors and find what speaks to you. After you've found the perfect style, envision how it will look in your kitchen with our Picture It! Floor Visualizer.