Get Modern Style Flooring With Wood
Looking for modern-style flooring to complement your aesthetic? Look no further than LL Flooring's selection of wood flooring.
Published on September 27, 2023
How to Get a Modern-Style Flooring With Wood
It might surprise you that although it's practically the oldest style of flooring there is, hardwood flooring is still a popular choice in homes with a modern aesthetic. The variety of colors, finishes, and textures available means that wood flooring can provide the foundation for any interior design style. Are you looking for ideas on how to get a modern style with wood flooring? Here are some design tips that may work in your home.
Image
What Is Modern Style?
A "modern" interior design generally features clean lines, a minimalist feel, sharp edges, and monochromatic colors. You'd typically expect to see a lot of natural materials, like marble, slate, wood, and leather. Cool neutral tones, with occasional warm accents, are often the basis of a modern design. Since hardwoods like oak, maple, pine, walnut, and exotics are full of natural beauty and character, they make exceptionally good flooring choices to complement a contemporary feel in your home.
Using Wood Flooring to Get a Modern Style
Your flooring acts as a canvas to help complement your desired look and feel in any space in your home. The following are great ways to create a cohesive look in your living spaces.
Light-Colored and Medium-Colored Wood Flooring
Wood flooring in light and medium shades helps any home achieve modern floor styles. You can choose from white boards to hardwood the color of honey. Lighter-colored wood floors stay with the neutral color palette popular in modern designs. This flooring adds warmth to your space; the light color can help brighten darker rooms. Additionally, it can make smaller areas feel more spacious. Before selecting light or medium shades of wood flooring, check the grain. A visible grain can help to bring more character to the room.
Image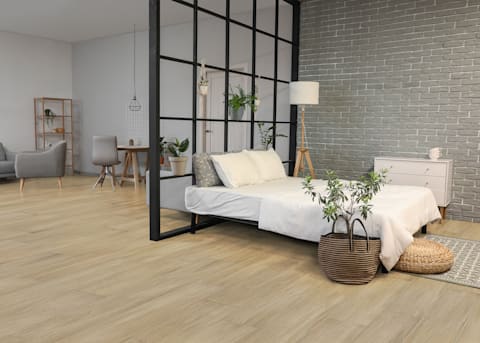 Dark-Colored Hardwood Flooring
Dark-hued wood flooring, like you'll find among our exotics line, makes a statement while staying true to modern style. Dark wood flooring provides depth and moodiness for a dramatic effect. Furthermore, why not pair dark wood with lighter, neutral colors on the walls?
Adding Texture
Whatever shade of floor you choose, you'll also want to think about its texture. A popular design trend to consider is highlighting the wood's natural grain. It's this kind of detail that helps build your room's unique character.
Use Wider Wood Boards
Wider wood boards are a popular option, giving the floor a clean appearance. These can make a room seem larger and help create a trend-forward feeling.
Modern style flooring trends for 2023
We're always sharing our latest style tips and trends to help give you the inspiration you need for your project. You can also check out our Picture It! Floor Visualizer to get a sense of how our newest flooring styles will work with your unique space. If you'd like additional help finding the right flooring for your modern redesign, visit an LL Flooring location near you.