Engineered Hardwood Flooring vs Hardwood Flooring
Can't decide between engineered hardwood flooring vs hardwood flooring? Let LL Flooring guide you through the differences between these hardwood floor options
Published on September 27, 2023
Solid Hardwood Flooring Versus Engineered: What's the Difference?
Engineered hardwood flooring versus hardwood flooring—both products feature natural wood and look and feel almost identical on the surface. Deeper down is where you'll see the difference, which will help you decide what's best for your flooring project.
Discover how solid and engineered hardwood compare in performance, installation methods, cost, and design options. Once armed with this information, you'll have an easier time narrowing down your hardwood flooring selection and be one step closer to realizing your flooring dreams.
Hardwood—The Natural Choice

Solid or engineered, there's nothing like the timeless beauty of hardwood floors. With its long history and stellar reputation, hardwood instantly upgrades your space, adding character and peerless sophistication. This natural product has stood the test of time and now offers various looks to suit any taste.
Image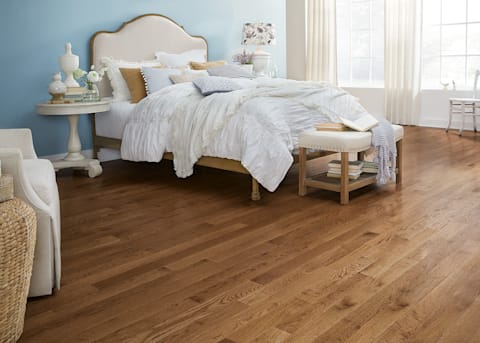 What Makes Engineered Hardwood Different From Solid Hardwood?

Solid hardwood is just as its name suggests: each board is one solid piece of unique wood through and through. Engineered hardwood, on the other hand, is made up of several different layers. The top layer is real hardwood, which is why it has a look and feel that's almost indistinguishable from solid wood. That top layer is often referred to as a veneer. Underneath the veneer is where the engineering comes in—here you'll find a dense, high-quality core designed to deliver enhanced performance features.
Types of Engineered Cores

Common engineered hardwood core types include plywood, lumber, MDF, and stone-plastic composite (SPC). Each material has its unique properties and benefits.

●    A plywood core is made of layers of plywood compressed in a crisscross pattern for increased strength. This helps increase the structural integrity of the flooring. 

●    Lumber cores are strips of lumber that are edge-glued into a solid slab. This brings strength and integrity to the flooring and helps make longer and wider planks possible. 

●    MDF is made of wood fibers that are compressed with resin and glue under extreme heat and pressure. This process makes the board stronger and more stable and helps reduce reactivity to high humidity.

●    Finally, an SPC core combines stone dust and plastic, adding to the flooring's resiliency and stability under temperature and moisture changes. On top of that, an SPC core is water resistant, helping your floor better withstand household splashes—whether that's spills in your kitchen or dripping umbrellas in your foyer.

Head-to-Head Comparison

While knowing how solid and engineered hardwood differ in structure is helpful, you're probably wondering what this all means for your flooring project. Let's get into the nitty-gritty of how these differences might affect your choice.
Performance

Both options are high-quality, hard surface flooring known for longevity. In addition, all of our pre-finished hardwood products come with a premium finish and coating to enhance and protect the natural wood.
Keep in mind, however, that wood is a hygroscopic material—meaning moisture content will change depending on the humidity it is exposed to. This means that any hardwood floor will expand and shrink a little according to environmental changes. This is a perfectly natural property of hardwood and nothing to worry about. You will get less reaction from engineered hardwood since its construction creates a more dimensionally stable product. In both cases, you must acclimate your hardwood boards according to the Warranty, Installation, and Care guidelines accompanying your product.
On a related note, since hardwood is hygroscopic, you'll want to be sure to clean up spills as soon as possible. This is particularly important to do before any liquids can seep between the seams.
To help put your spill and splash worries at ease, we offer a water-resistant engineered hardwood product called AquaSeal. With AquaSeal technology, you get water resistance. So, if you have pets who like to play out in the mud, or children (or adults!) who have a habit of knocking over drinks, why not try our AquaSeal-engineered hardwood?
Installation
While solid hardwood is appropriate for ground level and above, engineered hardwood can be installed below grade (such as basements) due to its unique construction. You can also install engineered or solid hardwood over concrete as long as you take the proper moisture mitigation measures. Wherever you plan to put your flooring, it's important to employ proper moisture mitigation methods (such as installing over an appropriate underlayment or all-in-one adhesive) and acclimate your boards for the recommended time before installing them.
In terms of installation techniques, solid hardwood boards—which have a tongue-in-groove profile—can be either nailed down or nailed with glue assist. This is almost always a job for a professional. Engineered hardwood can have either a tongue and groove or a click profile. Click profile boards lock together without nails or glue, creating a floating floor. These make them easier for a DIYer to install, though we'd recommend only taking on the task if you're confident in your skills!
Whether solid or engineered, LL Flooring can help with your installation needs through our network of professional independent contractors.
Maintenance and Cost

Since the surface of both engineered and solid hardwood is identical, you would clean and maintain both floors the same way. The great news is that both are easier than carpet to keep free of dust and dirt—simply sweep as needed. For occasional damp mopping, use a cleaner specially designed for hardwood, like Bellawood floor cleaner, which you can find among our care and protection products.
Help keep scratches and dents away by fixing felt pads under table legs and chairs. You can also place mats on either side of entryways to avoid tracking in dirt. Keeping the temperature and humidity levels stable is also a good idea. Most hardwood floors perform best when humidity is between 30% and 50% (you can check this with a simple, inexpensive hygrometer) and temperatures are between 60 and 80 degrees Fahrenheit.
What about engineered hardwood versus solid hardwood cost? Both options are good long-term investments since hardwood is a prized flooring option that can add value to your home. Among our selection at LL Flooring, you'll find pricing similar.
What About Style?

With respect to color and wood grain, the look of solid hardwood and engineered hardwood is indistinguishable.
You'll find classic browns, as well as tones from the deepest espresso to vibrant cherry red, to grays, blondes, and whites.
Choose smooth options for a clean, crisp look or distressed textures for a more casual feel. Some species will have a strong grain pattern, adding to the drama, while some are subtler for a quieter style. We offer a variety of domestic and exotic hardwood species to choose from, such as red oak, white oak, hickory, and maple.
Where you'll find a distinction between the two is in board size. Because of its construction, engineered hardwood allows for more variety. That means you can find extra-wide boards that can be the foundation of a range of contemporary or farmhouse looks.
We also supply the trims that you'll need to complete your look. In addition to various transition moldings and baseboard options to frame your floor, we offer coordinating stair treads and noses, as well as vents, grills, and registers.
Take the Next Steps

As you can see, solid and engineered hardwood are both quality natural flooring options for your home. Solid hardwood would be your choice if you're looking for the most natural option in line with traditional wood flooring. But if you're interested in the look of classic hardwood flooring but with added dimensional stability and moisture resistance, engineered hardwood may be best for you.
Now that you know the difference between the two categories, it's time to start choosing the hardwood flooring of your dreams! Shop LL Flooring's solid and engineered hardwood options, and look for our Picture It! Floor Visualizer to help you see what a particular style, color, and width of flooring will look like in your room. You can also visit an LL Flooring location near you for an in-person look. Still have flooring questions? Browse our Flooring 101 for tips on style, installation, and more.