Create a Chevron Hardwood Floor
Creating a chevron hardwood floor blends a trend-forward look with a dash of classic elegance. Find the perfect chevron flooring for your home at LL Flooring.
Published on September 27, 2023
A Chevron Hardwood Floor for a Modern Look
A chevron hardwood floor gives your home a distinctive, elegant appeal, while the bold design still offers trend-forward charm. It's a look that works with any number of beautiful hardwoods—both solid hardwoods and engineered wood boards. The eye-catching pattern enriches already luscious flooring, so it's no wonder the style continues to gain fans worldwide. Let's take a look at some of the benefits of installing chevron-patterned flooring.
Image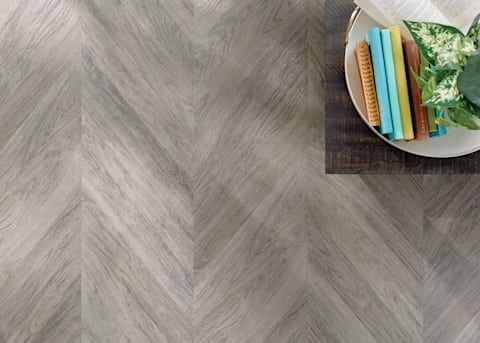 A Classic Symbol

Chevron hardwood floors have elevated homes for centuries, but the unique pattern often required the most skilled artisans to achieve the look. Today, it's more popular than ever as new technologies improve construction and allow for a broader reach.
The design features an inverted-V shape. Traditionally, this was achieved by joining two rectangular blocks at mitered 45-degree angles. LL Flooring now offers innovative, pre-patterned chevron engineered hardwood flooring that you can install like any other hardwood boards. Combined with other boards, you can achieve an arresting zigzag pattern—creating an alluring, energizing effect.
A Bold Look

Chevron-pattern hardwood floors have seen a contemporary revival with the chevron parquets, once seen as a symbol of opulence, now livening up dining rooms, kitchens, bedrooms, and more. After all, doesn't everyone deserve a little luxury?
Chevron hardwood gives your home a memorable modern style with a geometric pattern that can make a room appear larger than it is. This can help smaller spaces feel more spacious and more comfortable. 
Chevron is sometimes compared with herringbone, another floor pattern that creates an intricate zigzag design. There is one important distinction to make when considering chevron versus herringbone hardwood floors. The detailing of the patterns is different, and herringbone is a more intricate pattern than chevron, and rooms with herringbone may feel more intimate.
Showcase Your Style

At LL Flooring, you'll find a wide selection of pre-patterned hardwood chevron flooring options that can now be installed like other hardwood boards, reducing the need for careful lining up of mitered corners. That means you can now achieve the look once reserved for palaces and chateaus. Make the look your own and include distressed or wire-brushed texturing for a more rustic feel, or select a matte or medium-gloss finish for a smoother look. You can see how a chevron style would look in your home—before you purchase—by using LL Flooring's Picture It! Floor Visualizer.
Whatever look you choose, your chevron-pattern flooring will highlight and enhance the wood's natural beauty with a timeless look and a modern touch. Find your chevron-pattern hardwood floor at LL Flooring.