Beginner's Guide to Large Format Tile
Published on June 09, 2022
Large Format Tile 101: Benefits, Uses, and Installation
Have you been looking for a unique style for your kitchen, bathroom, or laundry area? If so, large format tile could be the perfect fit for your space. This eye-catching flooring is available in various designs, colors, and patterns, and its diverse range of sizes brings one-of-a-kind style to any home.
What Is Large Format Tile?
While many tiles are no larger than 12 inches wide by 12 inches high, some tiles far exceed those measurements. When they do, they're known as large format tile. Large format tiles can come in various sizes, including 18-inch or 24-inch squares and 24x48-inch rectangles. Some are even larger than 48x48, offering a striking look with ample covering for large areas.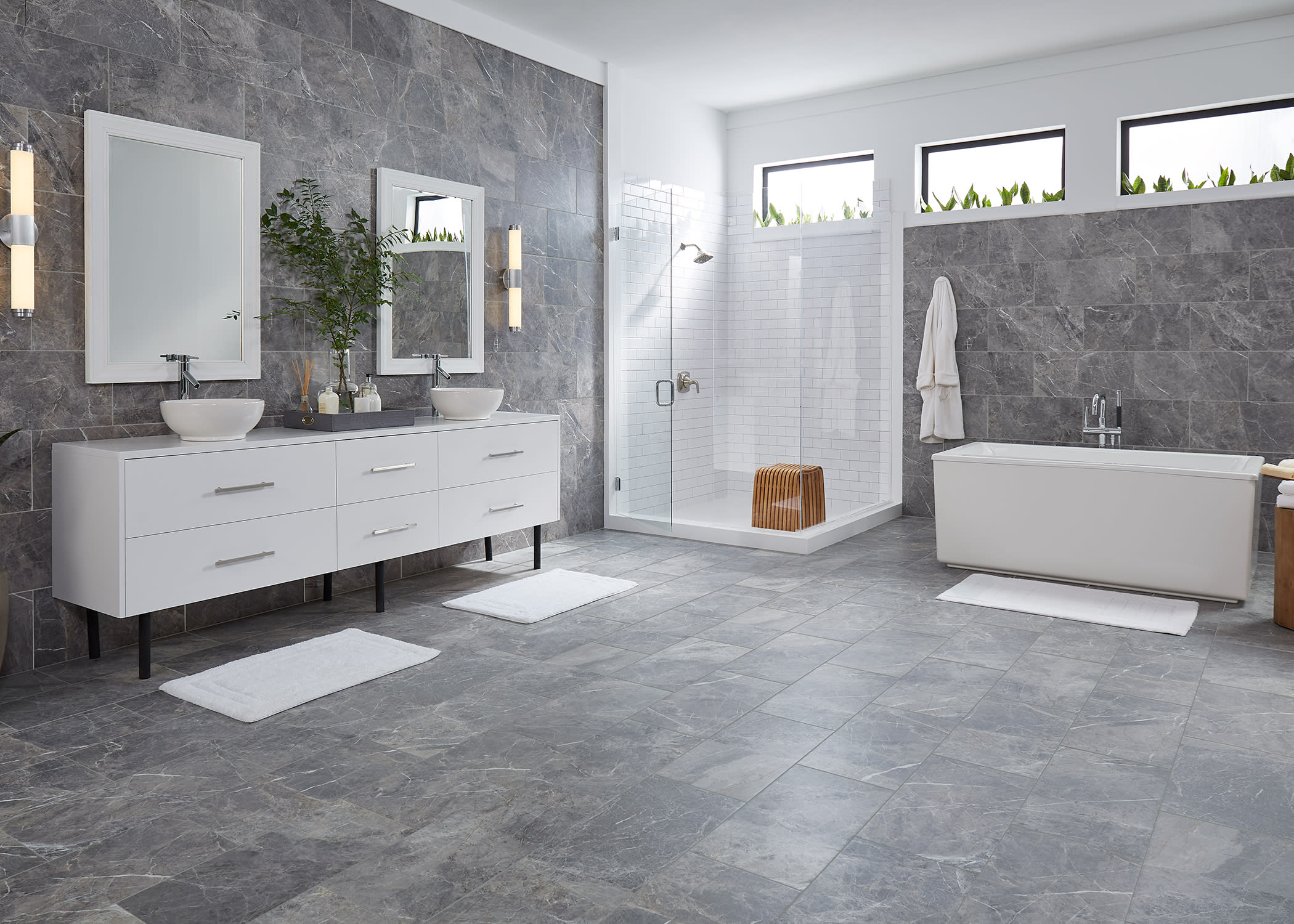 What Are the Benefits of Large Format Tile?
Large format tile is one of many types of flooring to consider for your home. Here are a few reasons why it might work best for your space. Opens small spaces: Large tiles create an optical illusion in small spaces.
Because of their larger size, there are fewer breaks in your flooring. Therefore, the tiles can open up a small area, like a bathroom or galley kitchen, better than smaller tiles, which can sometimes crowd or overwhelm a smaller space. As a bonus, large tiles can fill up a small space quickly, making installation relatively straightforward compared to installing smaller tiles.
Clean, Polished Look
Large tiles are sleek and sophisticated, creating an upscale look regardless of the pattern or color. Although large format tiles can provide a polished aesthetic, they are still available in a variety of price ranges, allowing you to fit them into your renovation budget.
Virtually Endless Styles
Find wall and floor tiles that mimic marble, onyx, stone, wood, and multiple other materials. Homeowners can easily match their tile to their home décor by browsing tile flooring patterns, colors, and price ranges to find the perfect fit.
Long-Lasting and Low-Maintenance
Tiles give the look of stone and wood flooring along with the toughness you'd expect from either option. They're long-lasting and reliable, giving you confidence in your choice. Large format tile is also relatively easy to maintain. Its smooth surface allows for simple routine cleanings. You can also seal most tiles to protect them against staining and scratches.
Where Should I Install Large Format Tile?
You can lay large format tile in almost any area of the home, but there are some spaces for which it's an ideal fit. For example, tile works well in kitchens, bathrooms, and laundry rooms because these areas are more prone to leaks and spills than other spaces. Waterproof tile can help protect your subfloor from water damage when accidents occur. Large format tile is also an excellent choice for high-traffic areas, like hallways and living rooms. The many styles of tile can bring a warm and cozy feel to your space while offering long-lasting wear resistance in the rooms that you use most.
How Do I Install Large Format Tile?
For best results, only install large format tile over flat and well-supported subflooring. Reliable support gives tile the foundation it needs to maintain its look and prevent cracks from small shifts in the subfloor. Homeowners with uneven subfloors may choose to install a self-leveling compound, or a tile backer board over wood subfloors. Not only can this addition help create a flat surface to lay your new tiles, but it can also help the installation to go smoothly.
Before laying tiles, determine what pattern you'd like to use. You can lay tiles in straight lines or opt for diagonal, staggered, or other patterns to play with the finished look. For example, wood-look tile generally looks best when staggered like hardwood planks usually are. To lay the tile, use correctly mixed mortar and appropriate trowel, determine your grout joint width, and use a spacer/lippage kit for a great looking install. Follow the instructions for your grout. The guidelines will explain the best width to keep between each tile and how to best use the grout and mortar installation to add to your flooring's longevity.
How Can I Clean Large Format Tile?
Large format tile is relatively easy to keep clean, especially when you have a consistent routine. Aim to do a deep-clean every week, with quick daily sweepings in between using a dry microfiber mop. To clean your tiles, mix a small amount of mild detergent with warm water in a bucket. Use a microfiber mop to mop the tiles. Change your water bucket as needed for large areas and before mopping a different room. Your choice of grout will determine how you need to maintain it. Some require no sealer and are very easy to maintain. Standard grout requires initial sealing and regular renewal of the sealer. For this cementitious grout, scrub it with an approved grout cleaner and a small toothbrush about once a month.
Consider Large Format Tile for Your Space
If you're looking for flooring that opens small spaces, fits with virtually any home-interior design, and is long-lasting, consider large format tile. Additionally, it's easy to clean and priced to fit various budgets. Explore LL Flooring's collection of tile flooring and wall tiles in an array of colors, patterns, textures, and styles.
Do you like ideas and how-to videos about design and decor on YouTube? SUBSCRIBE to the LL Flooring YouTube Channel and get notified about new videos!
">