Buying Guide: Shop for Engineered Hardwood
Published on May 23, 2022
Engineered hardwood is a type of hardwood flooring, with a full range of colors—golden honeys, luscious creams, deep mochas—and the same beautiful graining as solid hardwoods. In fact, most people cannot tell the difference between solid and engineered hardwood floors by sight alone.
The difference lies beneath the flooring's surface. While solid hardwood is made of a single, solid piece of wood, engineered hardwood features a veneer of real hardwood that is then bonded to an advanced core. This layered core brings greater strength and stability, making engineered hardwood a beautiful and long-lasting flooring choice.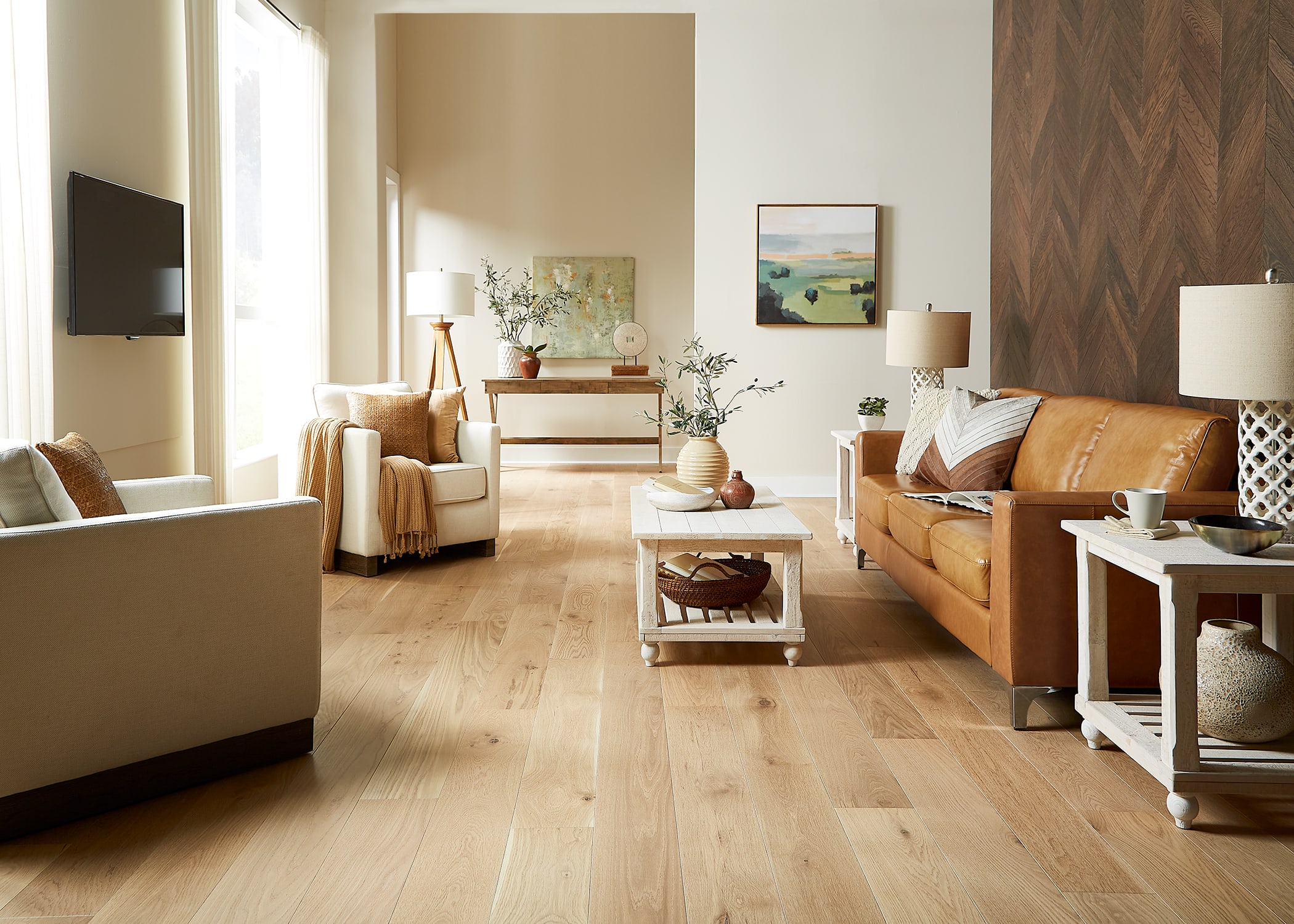 Discover Your Engineered Hardwood Flooring Options
Engineered hardwood gives you many of the same options as solid hardwood. You can choose from the same variety of wood species, colors, and textures, coupled with impressive technical benefits. With so much choice, you're bound to find the right combination to fit your desired look.
Wood Species
For your engineered hardwood flooring, you can choose from an array of wood species offering a spectrum of warm, natural colors as well as distinctive graining and textures. We offer maple, with its coffee-and-cinnamon coloring. Consider an exotic wood such as Brazilian koa, with deep sunset colors and streaks of dark graining. Or choose planks of natural Maple, with its light creams and subtle lines.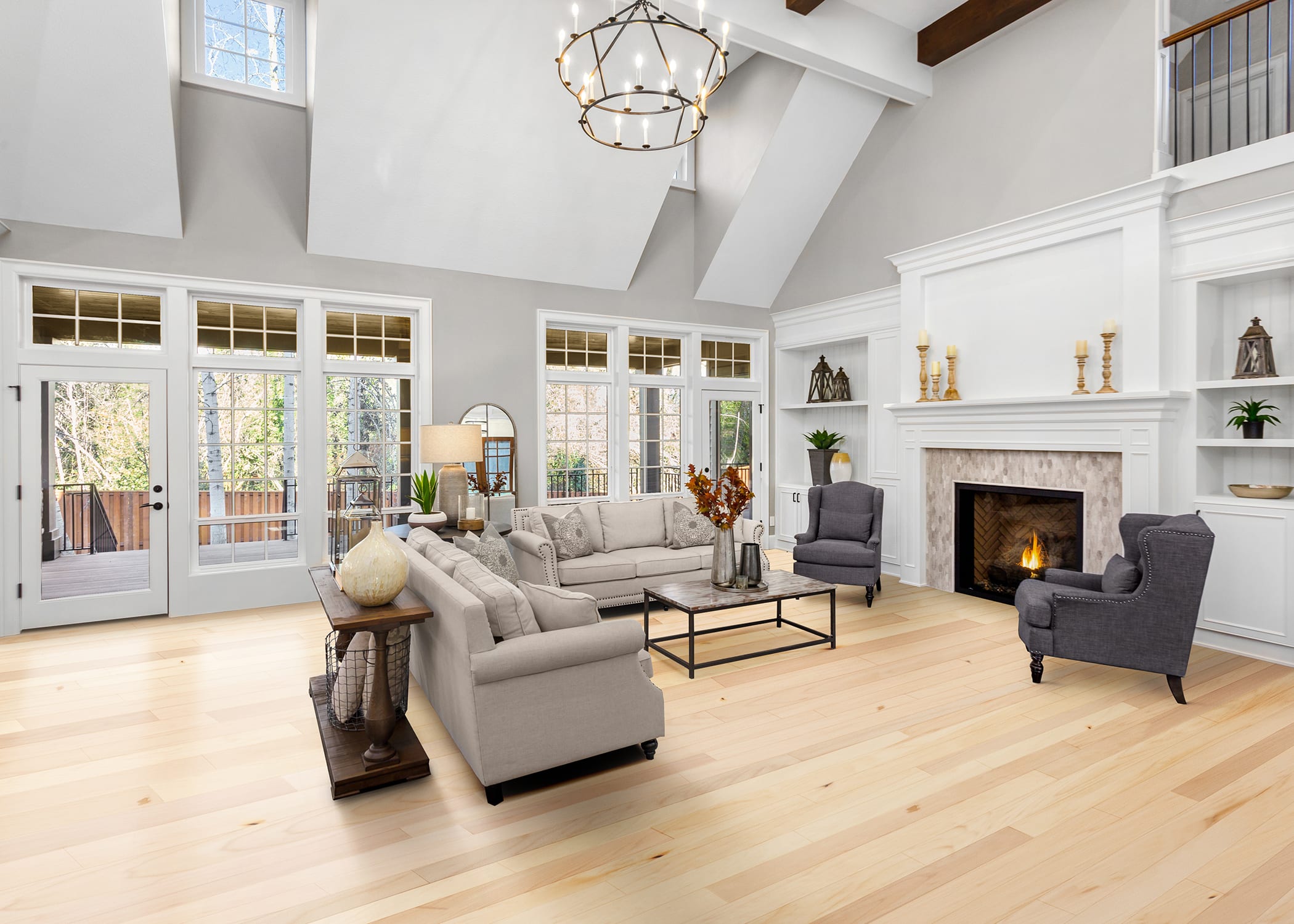 Colors and Finishes
The authentic wood veneer layer is produced in a rich selection of colors, ranging from light creams to cool grays, alluring honeys and deep chocolate browns. Darker woods can lend a dramatic, more formal feel, while brighter and lighter woods offer a more casual airiness. Your floor's finish can highlight its coloring. A high gloss adds a noticeable shine and puts the wood grain center stage, while medium- and low-gloss sheens give a more understated, modern look.
Textures
Browse through the distinct texture options that engineered hardwood provides. A smooth-textured plank brings a sleek, clean feel, with a subtle character offered by wire brushing. And the rustic charm of distressed wood gives you a comfortable texture underfoot.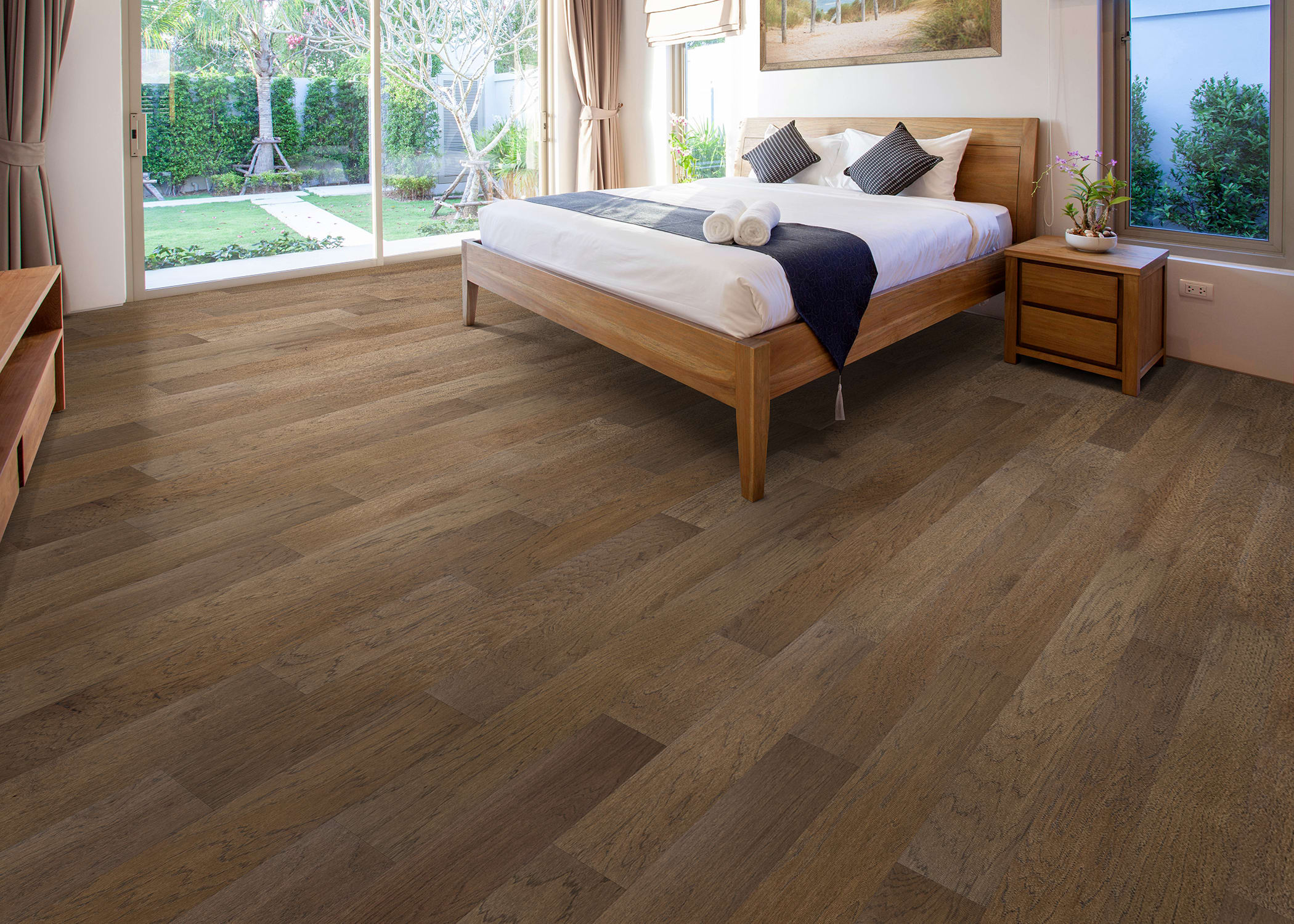 Water Resistance
One of the things that sets engineered hardwood apart from solid hardwood is the fact that we offer water-resistant options of engineered hardwood, including the remarkable Scandinavian-styled Era Collection. The innovative locking core of LL Flooring's entire AquaSeal collection prevents spills from seeping into your flooring for up to 72 hours, so little accidents won't cause damage even if they aren't cleaned up right away. This means that you can install engineered hardwood in areas where you might have been hesitant to lay a traditional wood floor.
Engineered Hardwood Core Types
There are many types of cores to choose from, each with its own advantages, including lumber core, plywood core, medium-density fiberboard (MDF), and stone plastic composite (SPC). MDF is an economical solution to provide a solid backing to engineered hardwood flooring, made up of sawdust and wood shavings that are combined with strong adhesives. Another strong option is SPC, made of limestone and plastics. For another core option, small pieces of wood are glued together to create lumber core, a solid base for engineered hardwood flooring. And cross-grained plywood core is the gold standard for engineered hardwood flooring. This core is stable—it won't warm or flex even in humid climates. Engineered hardwood's core—when composed of plywood, lumber, or SPC—also gives it extra resistance to moisture in the air. The sturdy cross-grained construction is less likely to cup or warp in response to seasonal changes in humidity or temperature. The result is a strong, high-performance floor that looks great all year round.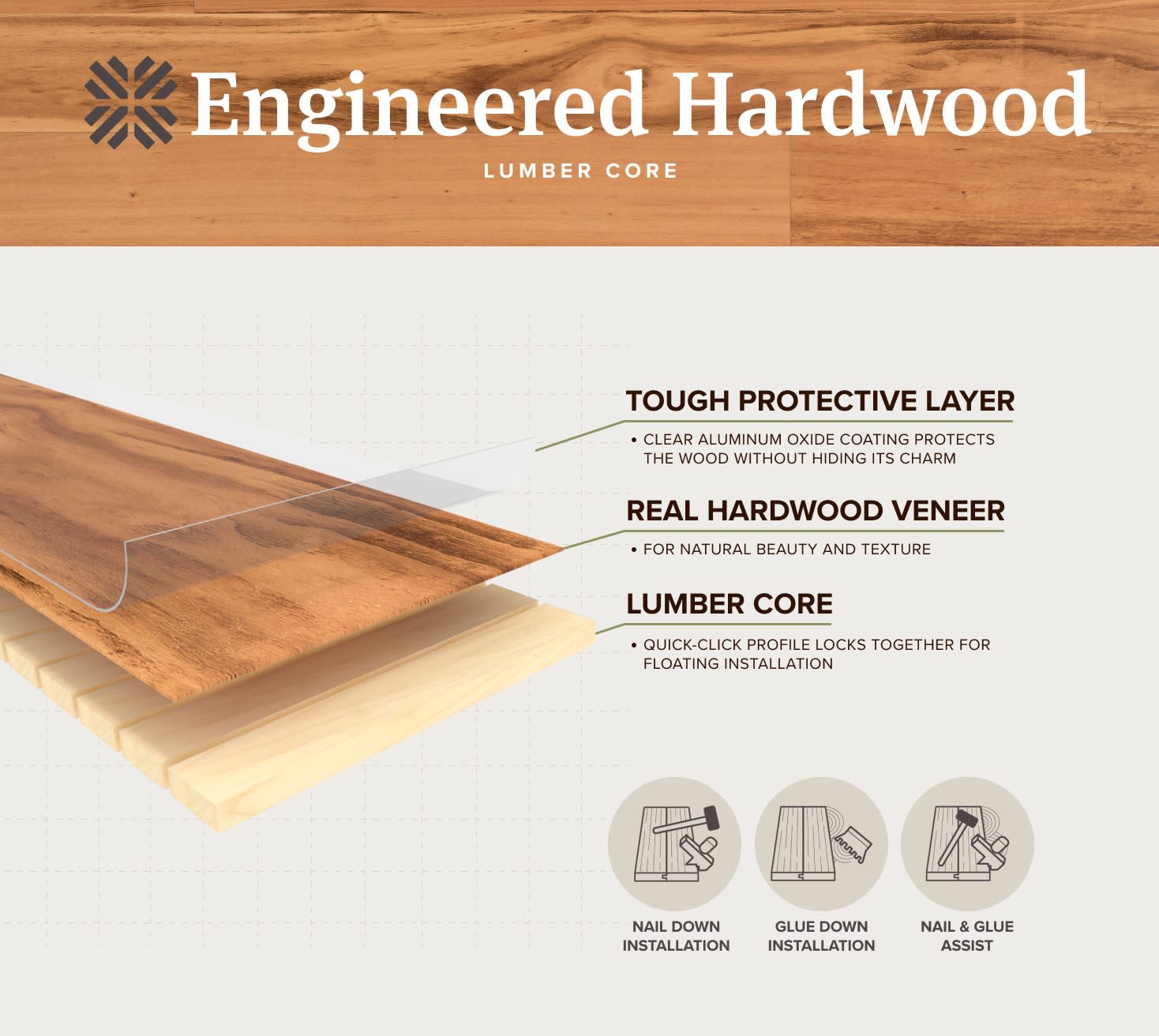 Range of Sizes
Engineered hardwood planks come in a variety of lengths and widths, and the different sizes can have a significant impact on the overall feel of your home. For example, narrower planks lend a classic appeal that's perfect for homes in Colonial, Federal, or other traditional styles. Wider and longer planks, on the other hand, bring a more modern sensibility, offering an open, airy charm to newer homes while giving older homes a trend-forward touch. In fact, engineered hardwood's improved stability allows for ultra-wide planks that are both—visually appealing and strong. It's important to note that the longer and wider your planks, the more susceptible they will be to seasonal gapping that can occur as temperatures change inside the home. Be sure to use underlayment or another moisture-resistant system to help keep moisture from affecting your investment.
Wear Resistance
A number of factors can affect how well your engineered hardwood floors will resist wear and tear. Harder woods are more likely to stand up to bumps and dents, and lower-gloss finishes can more easily mask abrasions. If you're laying flooring in a busy area, consider a matte finish and dimensional texturing, to minimize the appearance of any scuffs.
Where Can I Install Engineered Hardwood Flooring?
Engineered hardwood can be installed above grade, on grade, and even below grade. This sets it apart from solid hardwood, which is more susceptible to moisture and therefore inadvisable for basement settings. With this versatility, you could enjoy engineered hardwood in almost every room of your home—great if you're looking to tie your whole interior design together.
How Do I Install Engineered Hardwood Flooring?
Engineered hardwood planks have either a tongue and groove profile—the same as you'll find in solid hardwood flooring—or a click profile. Click profiles lock together without the need for adhesives or nails, making them the easiest installation of any wood flooring. Although it's achievable for an experienced DIY-er, we still recommend hiring a professional. For something as important as your flooring, which will be the foundation of your home for years, you want to be sure that the job's done right. We certainly recommend professional installation for tongue and groove profiles.
Subfloor Preparation
To get the most out of your flooring, it's essential to prepare your subfloor prior to installation. Your subfloor should be flat, even, and dry. Installing an underlayment between your subfloor and your planking will even out any minor imperfections. It can also help prevent moisture infiltration, create quieter floors, and provide your planks with additional support for longer-lasting performance.
Acclimation
Once you've decided where to install your new engineered hardwood planking, it's important to acclimate your planks to the ambient temperature and humidity of the area. Acclimating your planks will allow the wood to expand or contract in response to the atmosphere, which will help prevent cupping, gapping, or warping after installation. Since proper and complete acclimation can depend on the type of wood, the length of the planks and other factors, it's best to refer to the acclimation section in your flooring's installation guidelines.
How Do I Maintain Engineered Hardwood Flooring?
Once your planks are installed, it's a simple matter of keeping them clean. At LL Flooring, we stock all the cleaning products you need to keep your new flooring in top condition. For daily upkeep, simply use a soft-brush broom or vacuum to clean up any dirt or debris. Our engineered hardwood all features a protective coating that means you can periodically use wet mops and gentle cleansers without risking damage to the wood.
Beauty and Value in One Choice
Along with the beauty and warmth engineered hardwood brings to your home, its luxurious planking also offers remarkable value. With proper installation and regular care engineered hardwood can last for decades, so your family will grow up on the same gorgeous foundation. And to add peace of mind, our flooring is backed by warranties—many for decades.
The Best of Both Classic and Contemporary Style
Engineered hardwood combines timeless charm with modern advances to give you a long-lasting, beautiful flooring option. It offers all the authentic graining, color, and texture of real hardwood, with improved dimensional stability and effective water resistance.
The result is low-maintenance, high-performance flooring that will set your home apart. With an array of species, colors, and plank sizes available, you're sure to find the wood flooring you've always wanted. Find your dream floor by searching the full collection of engineered hardwood flooring available at LL Flooring. Or visit the LL Flooring Store closest to you.
Do you like ideas and how-to videos about design and decor on YouTube? SUBSCRIBE to the LL Flooring YouTube Channel and get notified about new videos!