Round-Up of Top Design Styles
Top design trends for 2022 include cozy, nature-inspired interiors and refreshed traditional designs. Find flooring styles to update your décor.
Published on June 13, 2022
Style Round-up: The Biggest Design Trends for 2022
Updating your décor does more than just improve the look of your space. New colors, textures, and motifs can refresh and reset both your mind and spirit. This year's flooring styles reflect a move toward anything that brings peace and comfort. That includes the reassuring qualities of natural materials, calming neutral tones, and designs that are rooted in tradition. At LL Flooring, we offer a wide variety of flooring styles that you can incorporate into your refreshed design for 2022 and beyond.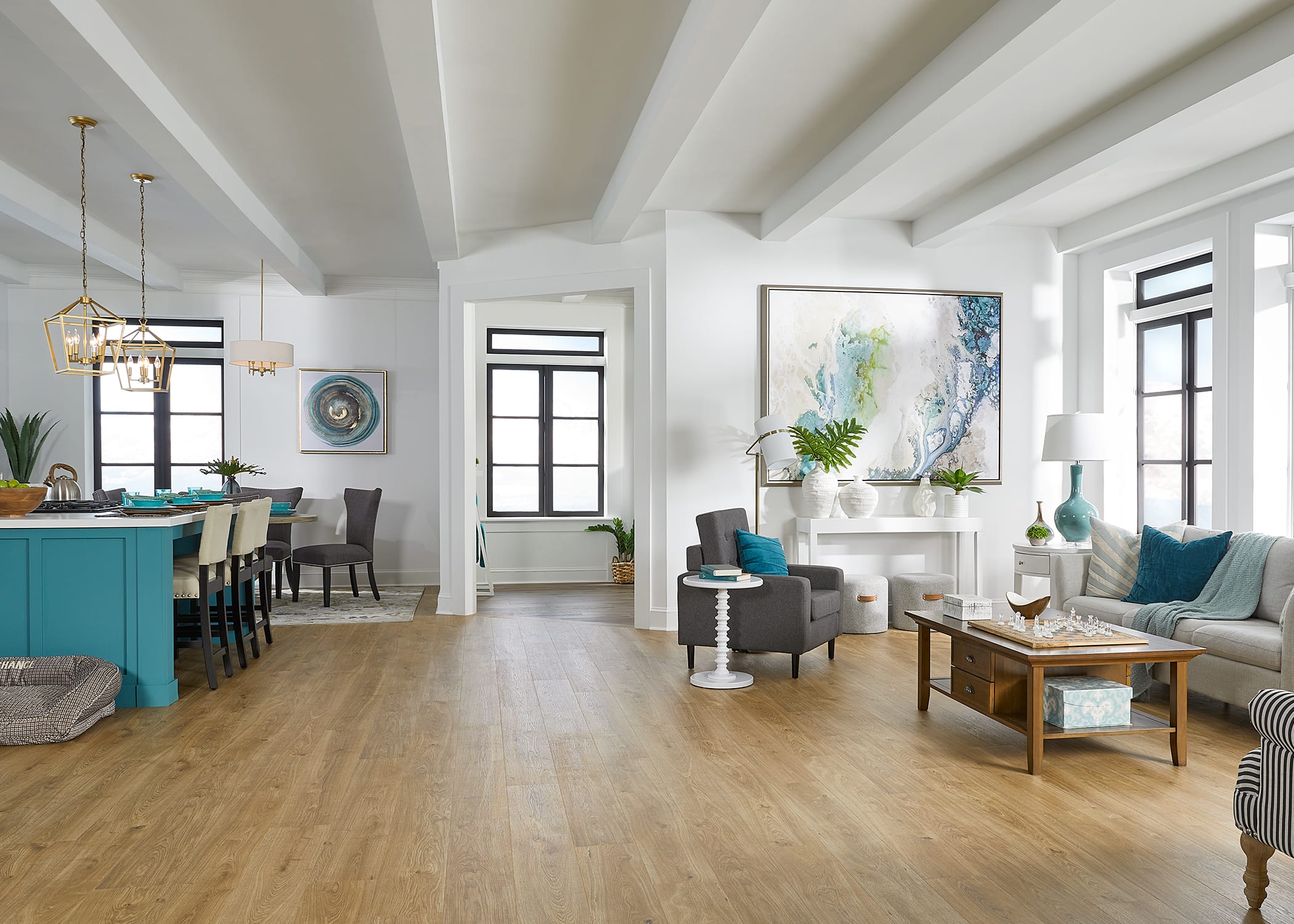 Back to Nature
The outdoors has taken on a new significance over the past few years, a reaction to finding ourselves spending long stretches at home. Our homes have been our havens, and even though we're now venturing out more often, we've realised how important it is to make our space our sanctuary. Bringing the outdoors in produces a spirit of nature's calming ambience. This goes for natural materials as well as nature-inspired designs.
Natural Materials
When you imagine natural flooring, it's probably solid hardwood that springs to mind. You can emphasize the properties of the wood by choosing a low-gloss or matte finish, or by selecting planks with wire-brushed or hand-scraped textures. Bellawood Artisan's Thames Tavern solid hardwood is a great example of wood flooring with an organic appearance and feel.
With engineered hardwood, you also get the charm of authentic hardwood. These planks consist of a veneer of genuine hardwood attached to a sturdy manufactured core, making a dimensionally stable product that can be installed at any level of the home—even in below-grade areas such as basements. Our Bellawood Artisan Claire Gardens Oak engineered hardwood, finished with a popular white oak veneer, has a beautiful blonde color and subtle wire-brushed texture for a natural vibe that's also light and airy. In addition to solid and engineered hardwood, we carry a wide variety of wood-look flooring—from tile, to laminate, to vinyl—for alternative ways to get the appeal of hardwood into your home (and perhaps into areas where solid hardwood may not be the best choice for your lifestyle).
You can bring the outdoorsy feel into your kitchen with natural butcher block countertops, island tops, backsplashes, and cutting boards. These items can soften the feel of your space, and can create a culinary oasis when combined with plants and other nature-inspired décor.
Natural Looks
Enjoy the natural trend even in an active home filled with children and pets. Duravana Bay Bridge Oak Hybrid Resilient Flooring, with its golden hues and realistic graining, gives you the appearance of premium hardwood along with the waterproof technology and additional dent resistance of a manufactured floor. Our Coreluxe Dewey Meadow Oak Rigid Vinyl Plank delivers a cool, clean feeling with its light color and touch of gray.
For a cozy, nature-inspired bathroom, try one of our wood-look tiles in darker brown hues, such as Avella Ultra Smoked Whiskey Oak. Browse our extensive selection of waterproof and water-resistant flooring options for your kitchen, too. For a different kind of natural motif, you could choose flooring with a stone-look instead. Why not combine it with wood accents for an eclectic mix?
Cozy Comfort
The overall trend for peace and comfort leans not only into nature, but also into tradition and roots. This can play out in farmhouse and rustic aesthetics as well as fresh takes on designs from bygone eras. An example that combines both rustic and vintage style is the Tobacco Road Acacia Distressed Solid Hardwood from Virginia Mill Works. With its hand-crafted look, distressed appearance, and deep leathery tones, this floor can evoke the feeling of a rugged homestead, cozy cabin, or early Colonial era home. It also taps into the trend of using darker brown wood flooring to create a cozier space.
Not to be overlooked is the effect that wall décor can have in bringing coziness and warmth to your space. Use hanging plants and nature-inspired artwork to evoke outdoor spaces. You can also accent your walls with wood and wood-look planks to enhance the room's rustic ambience.
Cork, with insulating properties that help create a quieter environment, is a particularly good option. You'll discover different eras represented in the nostalgic trend. For instance, we're seeing a renewed interest in 70s-inspired designs such as curved and rattan furniture, earthy palettes, and printed wallpaper. Mid-century details like peg leg cabinets and tables are also in demand.
A trend dubbed "Grandmillenial" has also firmly taken hold. This is a traditionalist-inspired movement of younger influencers who bring their own fresh take on past designs, from wallpaper and furniture skirts to mixed patterns and textures—anything that creates a throwback aesthetic. The traditional look of narrow-planked wood flooring would complement this style.
Colors to Soothe and Inspire
If there's one color associated with nature, it's green. It's become the go-to color for 2022, with paint brands such as Benjamin Moore, Sherwin-Williams, Dutch Boy, and PPG all picking a calming, natural shade of green to be their color for 2022. Browns are also making a big comeback, specifically deep chocolate browns. Combine the two, and you get a space evocative of a forest.
Cooler tones recall another natural setting—the beach. For instance, the grays and smoky beige tones found in Bellawood Artisan Pasque Island Distressed Solid Hardwood call to mind serene scenes of driftwood and rocky coastlines. You'll also find joy and inspiration in this year's color trends. Pantone's Color of the Year for 2022, Veri Peri, stimulates and brings smiles with its friendly blue tones. Accented against a green and brown backdrop, this color can appear as a patch of periwinkle flowers brightening the forest floor.
Long and Wide Flooring Styles
Planks that are extra long and wide continue to be a popular choice for contemporary flooring because of the clean, streamlined appearance that results from its having fewer visible seams. But that doesn't mean these planks can't be cozy, too. You'll find long and wide planks with both distressed and natural finishes to give you the best of both worlds. The washed browns, oranges, and grays in Duravana Tuscan Range Maple offer a striking earthy vibe that can blend with a variety of décors.
You can also combine subtler wide-plank looks, like Coreluxe Ultra Dover Manor Birch Rigid Vinyl Plank, with vintage touches like floral wallpaper to create a refreshed traditional feel that's growing in popularity.
Different Spaces, Different Looks
In recent years our homes have not only become havens, but offices, rec rooms, and even classrooms. Open floorplans are beginning to give way to distinct and separate spaces, with each dedicated room possessing a distinct style and personality of its own. Cork planks on the floor and walls can help create a quieter space for your office or study room. Hobby rooms can benefit from vinyl flooring for easy clean-up. Beautiful solid hardwood flooring elevates the feel of your living room. You can make life interesting by mixing styles from room to room, giving your senses a refresh throughout the day.
Where to Begin
Embarking on a redesign project is exciting, but it can be easy to feel daunted by the vast number of choices available. At LL Flooring, we offer convenient tools to help you with your decision-making process. Our online Floor Finder makes a simple first step. Just answer a handful of questions developed by our flooring experts, and you'll receive flooring recommendations tailored to your project.
When browsing our extensive selection, you can also use our Picture It! Floor Visualizer to get an idea of how a particular floor will look in your room. Simply upload a photo of your space into the visualizer and watch it transform in front of your eyes. You can also order free samples to be sent to your home.
And of course, you can visit one of our locations to speak to an associate and view a number of flooring choices in person. When it comes to your floor, we strive to make your project as easy as possible—from that first spark of inspiration to installation. Shop our vast selection of flooring options in the latest design trends to update your home.