Gray Flooring: Wood, Vinyl, and Laminate
Gray is a versatile neutral color that sets a calm tone for your space.
Published on June 08, 2022
Calm. One of the big trends in today's world is simplifying our lives to achieve a sense of calm. We declutter, organize our routines, reduce unnecessary possessions, and create open, minimalist spaces where you can take a deep breath and relax. Gray is the perfect neutral color to achieve such an environment.
Why? It's the compromise between the contrasting clash of black and white. It pairs well with cooler, lighter colors, such as blue, green, and pastels—all colors that represent nature and comfort. On the other hand, being a neutral, gray also pairs well with splashes of vibrant colors, such as red, yellow, or teal. So regardless of your style, gray is a versatile neutral color that sets the tone for your space.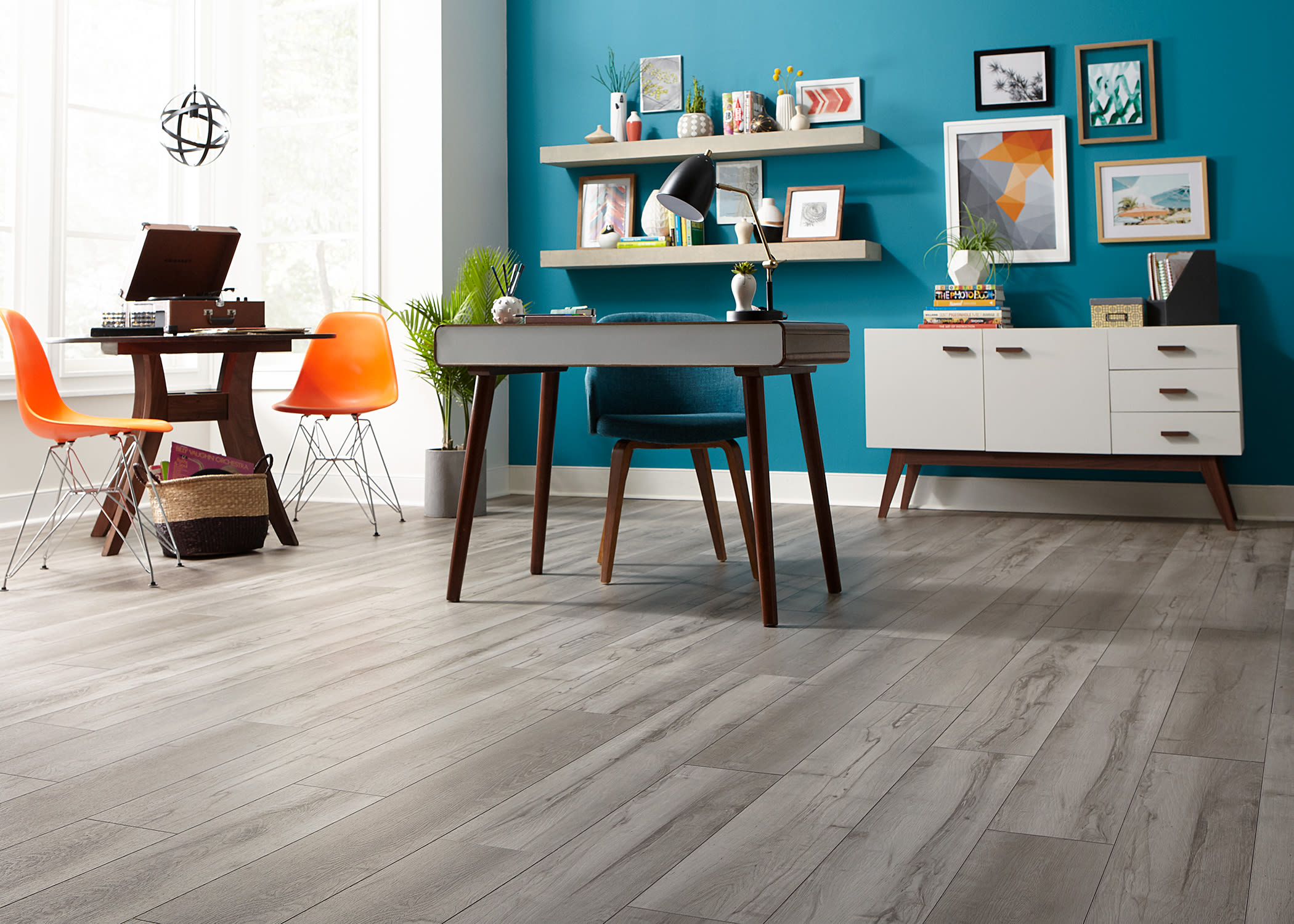 Additionally, due to the demand for gray flooring, a wide array of blends, stains, and finishes are now available to further customize the shade of gray to your preferences and desired décor. So, while gray is a cooler color, there are shades available that take traditional wood colors and add a touch of gray undertone, or vice versa, making the overall color compatible with any style of décor.
Not only is gray flooring a trend-forward choice because of its neutrality—aligning with current top trends, as well as traditional or classic settings—but also because gray flooring actually helps mask the appearance of dust, so it's easier to maintain.
Gray: The Classic Color for Your Space
When you see all the different shades of gray, with various blends and undertones, you'll realize you can mix and match gray with any color theme and décor style. Whether you're aiming for farmhouse rustic, such as with our CoreLuxe French Alps Spruce Vinyl Plank Flooring, or cool and contemporary, which our Onyx Oak Engineered Hardwood Flooring will suit, you'll find a match in our assortment of gray flooring options. If you're looking to create wide, open spaces, consider a light gray floor with beige undertones, such as the Bellawood Artisan Hatteras Hickory Solid Hardwood flooring. Or if you have more traditional furniture and décor, try the Malted Oak Waterproof Luxury Vinyl Plank Flooring, which has a darker, classic wood tone.
Types of Gray Flooring Available
LL Flooring offers multiple flooring types, including hardwood, laminate, and Luxury Vinyl Plank. Each type comes with its own vast ranges of colors, shades, species looks, wood grades, and textures. Furthermore, there are a number of flooring options that include additional features, such as being waterproof or water-resistant—ideal for installing in splash-prone areas such as kitchens and bathrooms—or having an attached pad that helps with noise insulation. You can easily filter and search through our gray flooring options for the best options to match your preferences and criteria.
Solid Hardwood
Solid Hardwood brings in the natural beauty, warmth, and sturdy quality of wood. It's a classic symbol of luxury that has stood the test of time. At LL Flooring we offer gray wood flooring options in oak, birch, and hickory. While not ideal for wet areas, such as kitchens and bathrooms or basements, solid hardwood is a great choice for bedrooms and general living spaces. Our flooring comes in a number of shades and the wire-brushed and distressed textures are great for masking and resisting scratches and stains, while also bringing a natural, rugged elegance into your space.
Engineered Hardwood
If you're looking for the look of solid hardwood, but with more moisture and temperature resistance, then engineered hardwood may be a great fit. Engineered hardwood is made of real wood veneer planks that are attached to a core. Our options are primarily offered in hickory and oak with multiple gray shades and textures.
Laminate
Laminate flooring is a wood-based product that looks, sounds, and feels like solid hardwood or stone, often for a fraction of the price. It is highly resistant to scratches, scuffs, and stains and easy to maintain—making it a great option for spaces with busy families and pets.
Luxury Vinyl Plank
Combine the upscale look of wood or stone with the toughness of plastic and you have luxury vinyl plank (LVP). LVP mimics the look of wood or stone, while providing the waterproof and versatility of polyvinyl chloride (PVC), making this type of flooring ideal for splash-prone areas, such as bathrooms.
Installation and Care
You can install different flooring types in multiple ways. One method is the click-together method, where planks are put together like a puzzle with no adhesives or nails/screws being necessary. This creates what is known as a "floating floor." Another method is to glue down the planks to a clean, dry subfloor. While an experienced DIYer can install floors, we recommend hiring a professional for installation. When it comes to care and maintenance, another great reason to choose gray is its tendency to mask dust and debris, which lighter or glossy colors may make even more obvious. In general, care and maintenance vary for each type of floor. For example, solid hardwood floors require additional care and specialized cleaners, while luxury vinyl plank flooring needs the least amount of maintenance.
At LL Flooring, you'll find a range of cleaning products and tools to help ensure that your flooring, regardless of type, can look as new as the day you installed it for years to come.
Get One of Today's Most Versatile Colors
Gray is one of the top neutral colors in today's design world. Due to its versatility, gray flooring, in particular, can find itself at home in any color theme or décor style, whether you're aiming for a look that is classic or contemporary, rustic or modern, or anything in between.
At LL Flooring, we offer a wide range of flooring types, shades, looks, features, and more. You can use our catalog and our Picture It! Floor Visualizer to find the floors that will fit your preferences and meet the needs of your spaces. Visit LL Flooring and find the ideal high-quality gray flooring that will enrich your space.