Get a Douse of Design with Water Protected Floors
Homeowners are no longer seeking to put water protected flooring just in bathrooms and kitchens..
Published on March 04, 2021
With the snow melting and spring on the way, it got us thinking about slush, mud and rain….and naturally: water protected floors.
Waterproof and water resistant floors are flooding with popularity these days and for good reason.
"What customers tell us more than anything else when they get a water protected floor is how beautiful it makes their room look," says Don Tuttle, category manager for vinyl and tile at LL Flooring. "While people love the peace of mind that water protected floors give them, they are even more pleased with how fantastic their floors look."
What's more, these floors are also more versatile than ever. Homeowners are no longer seeking to put water protected flooring just in bathrooms and kitchens. More and more, these floors are being installed in all sorts of rooms to address the busy and bustling homes — after all, spills and such can happen anywhere in the home.
Water Protection 101: Waterproof vs. Water Resistant
If a water protected floor has whet your palette for your next renovation, here's a first step to understand: there are two types of water protected floors — waterproof and water resistant floors …and dozens and dozens of options.
Water resistant floors — like this beauty, Park Avenue Chevron (as shown in the video above) — are great for 95 percent of the typical spills that happen in the home and give you the time to clean up that spill or splash. Waterproof floors, meanwhile, take that water protection to the next level and give you event more time to clean up, in many cases up to 72 hours. This means you could be away for a long weekend and wouldn't need to worry.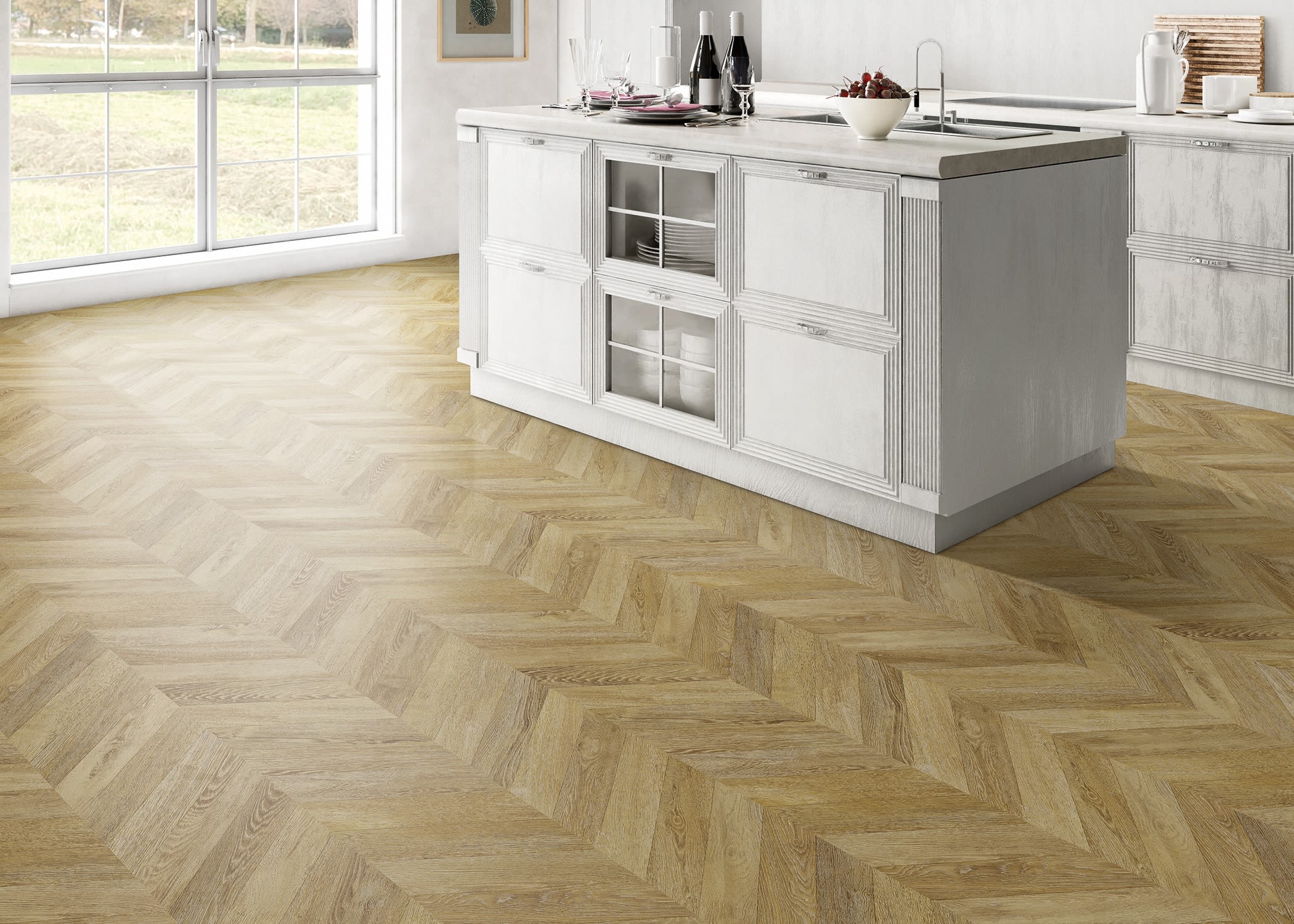 AquaSeal - 8mm Park Avenue Chevron 24 Hour Water-Resistant Laminate Flooring
High-Tech and High Style Floors
Today's water protected flooring has come a long way from even years ago as technology has greatly enhanced the floors.
"Vinyl waterproof flooring that you see today is not the same vinyl flooring that you may have grown up with," says Tuttle. "Today's vinyl has a stone base that makes it very dent and scratch-resistant, and of course, waterproof."
Tuttle adds that the technology has also brought upon amazing looks. Vinyl waterproof flooring comes in array of styles and colors, and the way the floors is created makes it look so much like real wood or stone, often times, customers can't tell the difference. See for yourself by checking out Roman Marble or Firefly Pine rigid vinyl plank.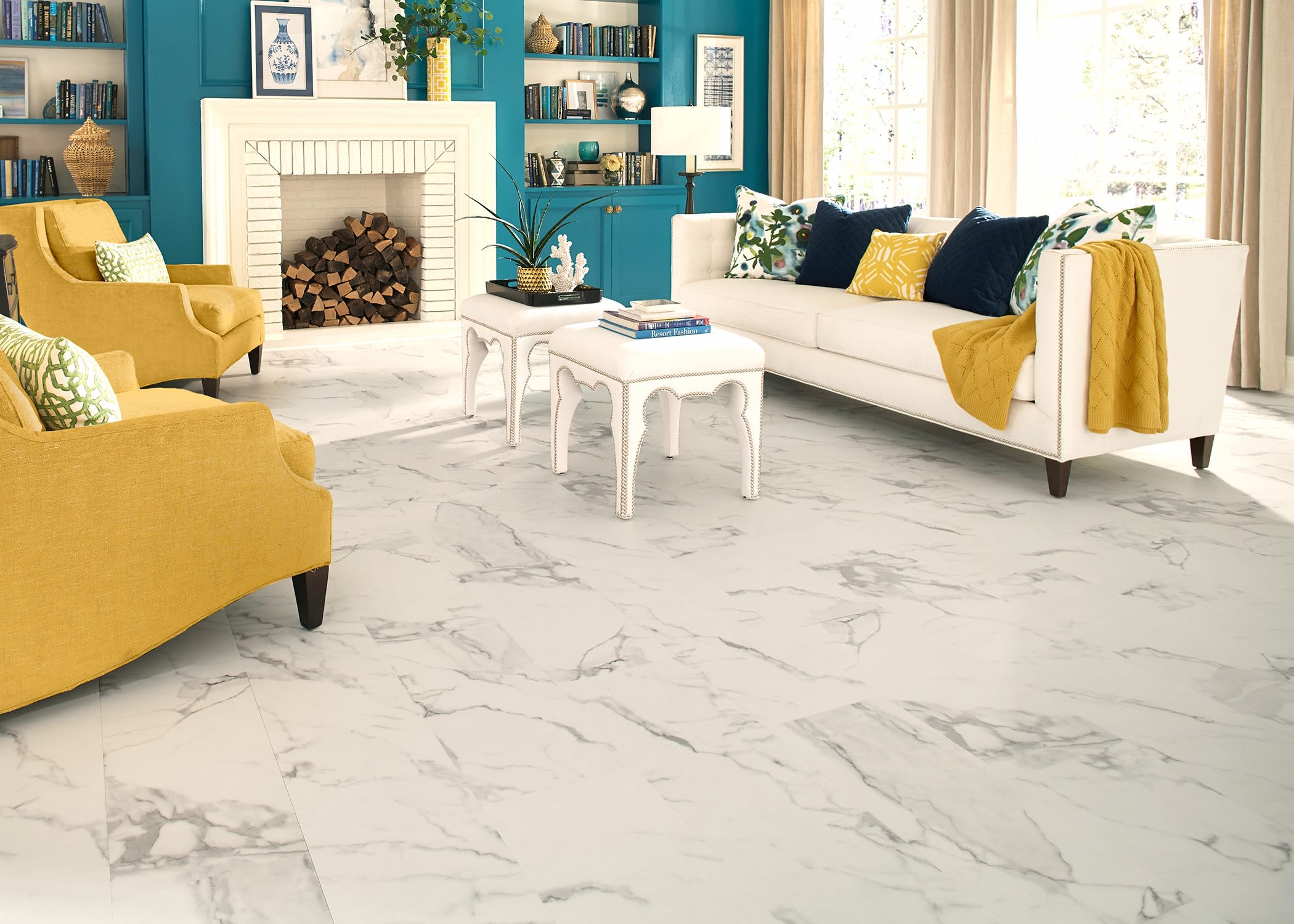 CoreLuxe Ultra - 8mm Roman Marble Rigid Vinyl Plank Flooring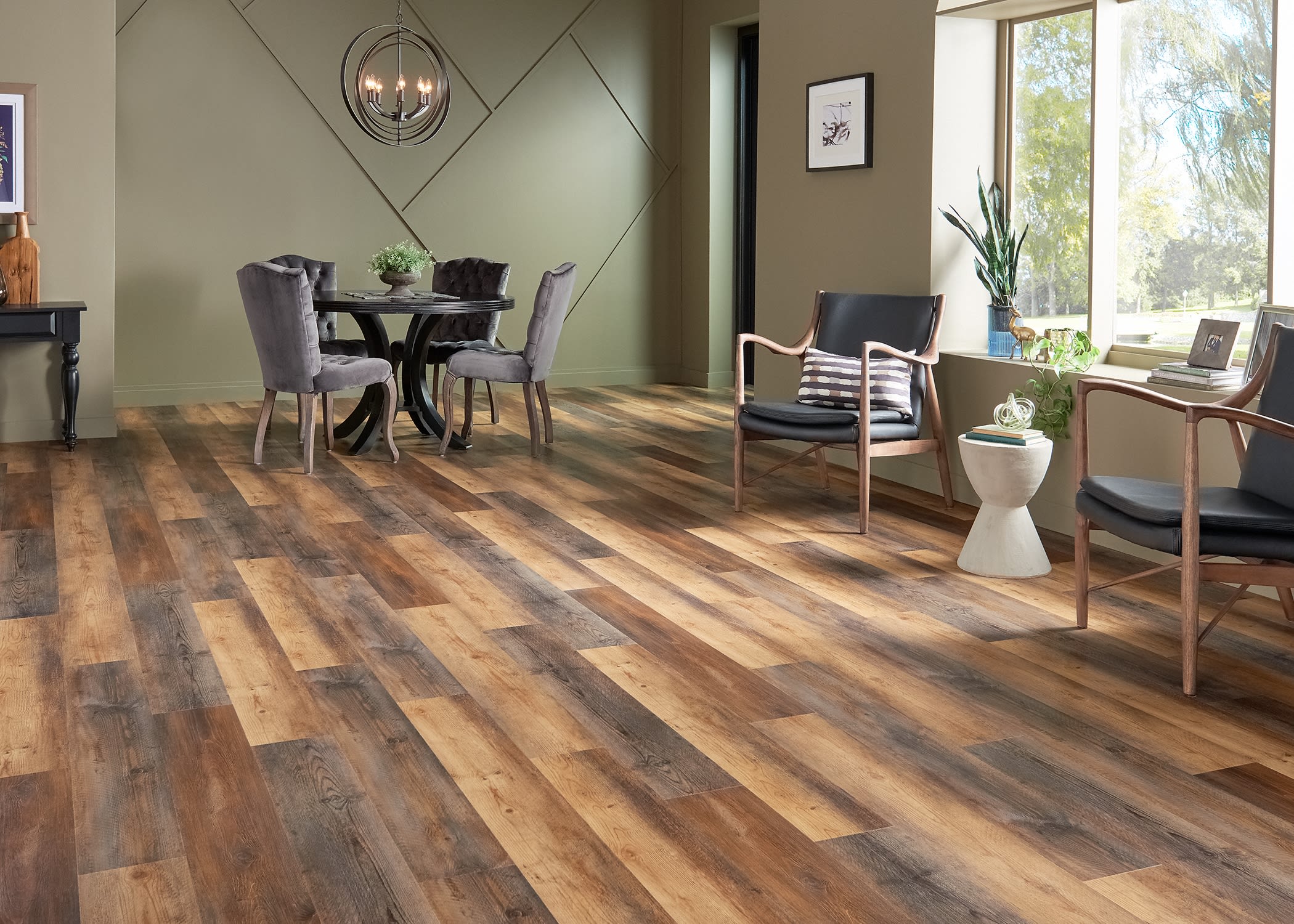 Coreluxe - 5mm Firefly Pine Rigid Vinyl Plank Flooring
There are plenty of options to bring water protected flooring into your home to get the look and function you need — including water resistant floors in laminate, engineered hardwood and bamboo.
"LL Flooring has built a fantastic assortment of water protected floors both in color and style, and we continue to look ahead at the trend so that now and in the future, we'll have the style and design customers are looking for," says Tuttle.
Do you have water protected floors? Tell us where you've installed them and how they've saved you from the spills and splashes using #LLStyle.