5 Reasons to Re-Think Vinyl Flooring
Published on February 05, 2021
Vinyl plank flooring is growing in popularity, for a number of reasons.
At LL Flooring, you'll find vinyl wood plank flooring that is produced from recycled materials, water-resistant for those tricky areas of the home, and so easy to install you can do it yourself - whether click-together or peel-and-stick. So why haven't you tried it yet for your home or investment property?
Here are 5 reasons to rethink using Vinyl Wood Plank from LL Flooring.
1. A range of patterns and colors – with a real wood look, and texture.
Vinyl isn't what it used to be. Now, vinyl comes in "a nearly limitless range of patterns and colors Houzz.
HGTV named luxury vinyl a flooring trend to try. "Luxury vinyl is a new category of flooring that combines the high-end look of hardwood with the durability of vinyl" (HGTV).
Some customers say you can't even tell it's not solid hardwood.
Better Homes and Gardens says vinyl can be available in a wide range of colors, patterns and styles, providing endless options for designing your home!
2. Easy to install – click together or peel-and-stick!
Installing a floating vinyl wood plank floor is as close to 'instant' as flooring gets. Luxury vinyl plank flooring (LVP) works well in moisture-prone areas like bathrooms. LL Flooring's Tranquility Easy Click vinyl wood plank flooring is a floating floor that goes down easily and looks amazingly authentic. "It can be installed with or without underlayment. It's affordable, easy to clean, moisture resistant and durable. And it looks gorgeous." (Family Handyman)
Self Stick Vinyl is another that's perfect for the DIYer who wants a quick, easy upgrade.
Tranquility 'Red Oak' Self Stick Luxury Vinyl Plank Flooring (Pictured)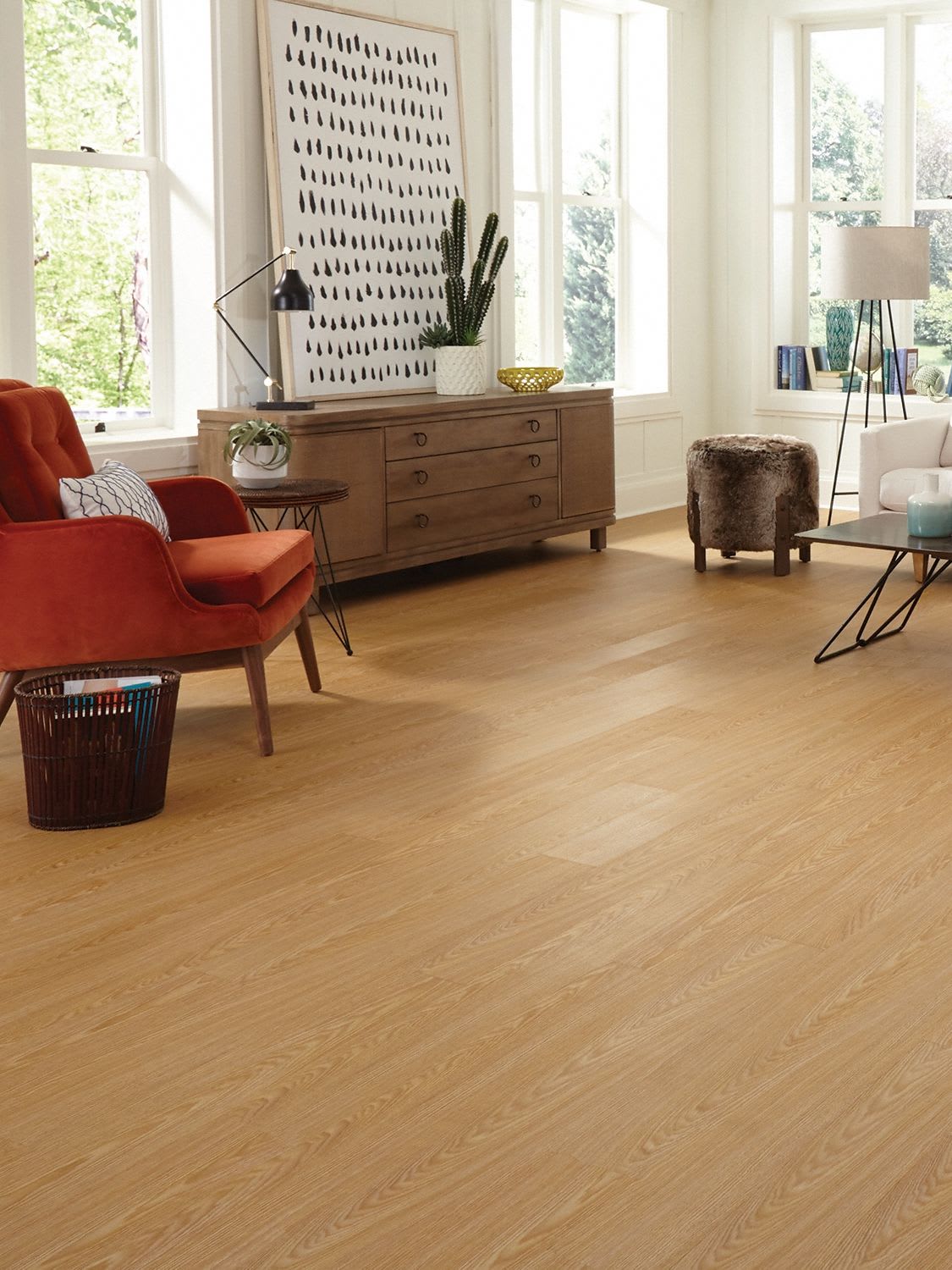 3. Affordable
If you want the look of hardwood, but don't want to pay for it, vinyl is a great alternative with a smaller price.
Plus, "Peel-and-stick vinyl tile can be installed over other materials quickly, requiring less demolition. It's also easier to replace." (HGTV).
4. Soft and Comfortable
Resilient Vinyl is flexible and softer to walk on.
"Although vinyl can give a look similar to tile or hardwood, it is much softer underfoot, thanks to its felt or foam backing.
That 'give' provides a comfortable surface, which is particularly helpful in bathrooms where slip-and-fall accidents are common on wet floors. The softer surface also provides sound insulation and allows vinyl to stand up well to foot traffic." (BHG).
Visade 'Island Sands Oak' Luxury Vinyl Plank Flooring (Pictured)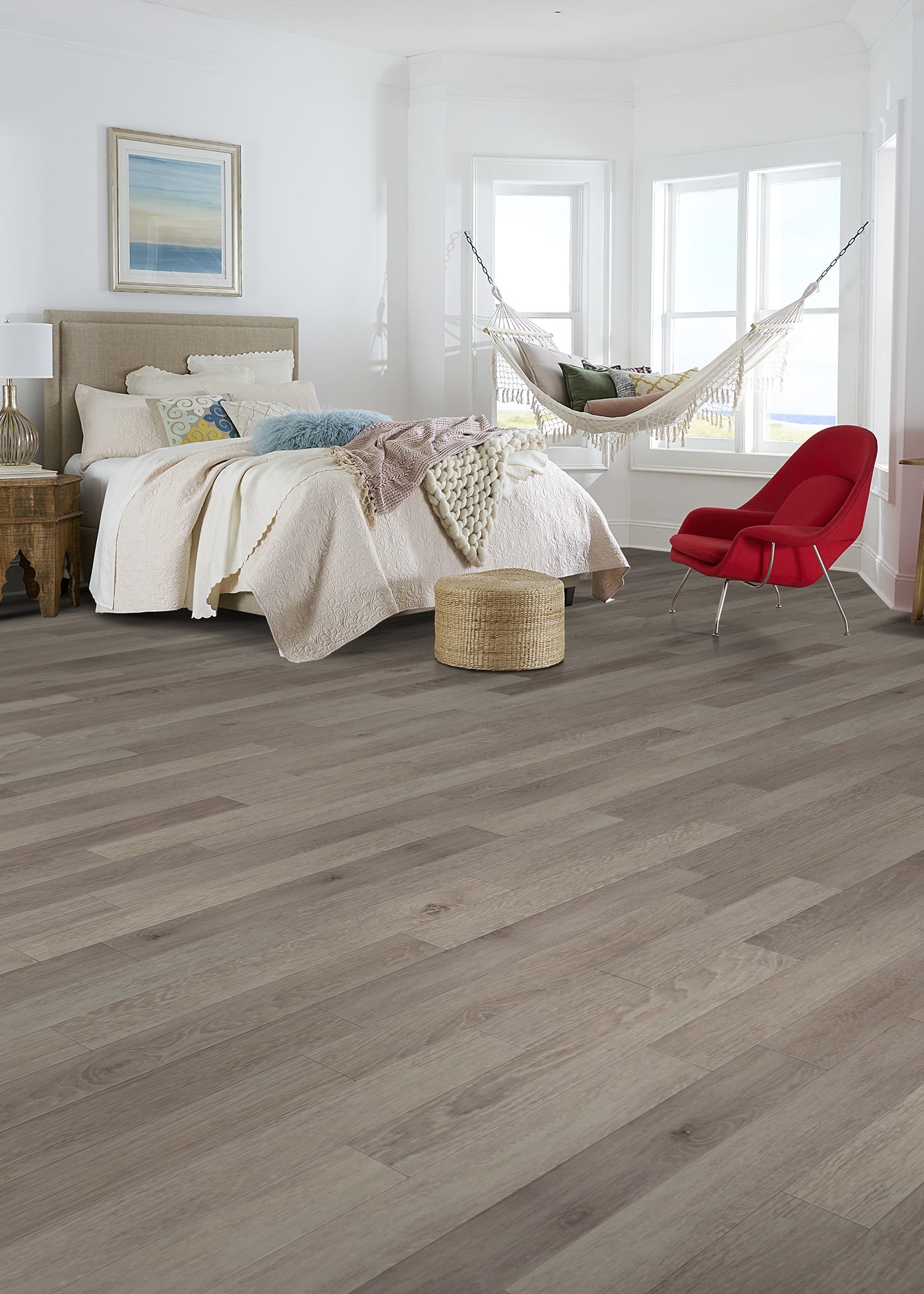 5. Durable
If your Tranquility Vinyl floor is installed correctly and proper care is taken, it can outlast the warranty period, many times of 50 years or more!
Simply follow the instructions in your warranty for care and cleaning, which can be as simple as sweeping!
Visit your local LL Flooring or shop online for NEW looks!