Tile Porcelain and Ceramic General Care and Maintenance
Published on May 14, 2021
These waterproof products are great for bathrooms, laundry rooms, and kitchens, but also work in living rooms, patio areas (Porcelain), or walls. Stone-look tile products are designed with a focus on performance and toughness which makes them ideal for any room and can be installed in residential or commercial projects.
       Tile is versatile and can be used in wet or dry areas.
       Tile is also easy to clean and holds up over time better then hardwood or vinyl.
So what do you need to do to keep your tile looking great?
Cleaning Glazed Porcelain and Ceramic
Glazed porcelain and ceramic tiles are among the easiest flooring materials to clean. Due to their impenetrable glazes, their surfaces are resistant to water, dirt, chemicals, oil, debris, and even germs and bacteria.
Always Remember:
Protect your tile from sand and grit as floors may scratch from debris.
Sweep or vacuum loose dirt and dust from the floor prior to washing with water to prevent the tile from becoming muddy or leaving a residue after cleaning. On textured surfaces sweep in multiple directions to ensure the removal of all foreign material that might be residing in the textured surface. For wall surfaces tile can be gently wiped down with a clean, dry cloth or rag.
Damp-mop your tile floor at least once each week (more frequently for heavy traffic areas) with a mild detergent, degreaser, or tile cleaning solution to decrease wear and abrasion from grit and soil.
For textured floors, the use of a medium bristle brush is recommended. A sponge or clean cloth can be used to apply the cleaning agent to wall surfaces.
Clean the floor with a mild detergent or a pH neutral tile cleaning solution such as Avella Ultra Deep Cleaner.
Rinse the tile thoroughly with clean water to remove any left-over detergents.
Drying with a clean cloth or rag is recommended to increase the shine and to prevent water spots or Streaks.

Do not use wax or use oil-based cleaners.
Do not clean porcelain tile flooring with ammonia or with cleaners that contain bleach and/or acid. Acid and ammonia -based cleaners may modify grout color and product stability.
Do not use steel wool or other abrasive pads to remove tough debris or stains. Steel wool may scratch your tiles and loose steel particles may eventually create rust stains in the grout overtime.
Although glazed surfaces are impervious, the use of a grout release will aid in post installation clean up, especially if the glazed surface has a texture to it where mortar, grout and other construction debris can get trapped inside grooves during and after installation.
Replace hard plastic caster wheels with softer wide rubber wheels.
Use rugs at entrances to prevent dirt and grit from being tracked onto the tile flooring from outdoors. Tiles are scratch resistant but not scratch proof.
Cleaning grout
Grout can absorb soaps and stains, do not clean with oil or wax based cleaners (Murphy's Oil soap, Pine Sol, etc.). These products will leave a waxy, sticky or oily film in the grout. Use a pH neutral grout cleaner made specifically for this purpose such as (Avella Ultra Deep Cleaner). Safe for Urethane, and cement based grouts as well as sealed natural stone.
Read entire label before using.
For best results vacuum or sweep surface to be cleaned, making sure to remove all loose debris.
Apply the solution over the grout joints to be cleaned and allow to stand for 2-3 minutes.
Agitate with a soft bristle brush primarily in heavily soiled areas.
Solution should be changed as needed.
Mop with clean water to remove any leftover cleaner.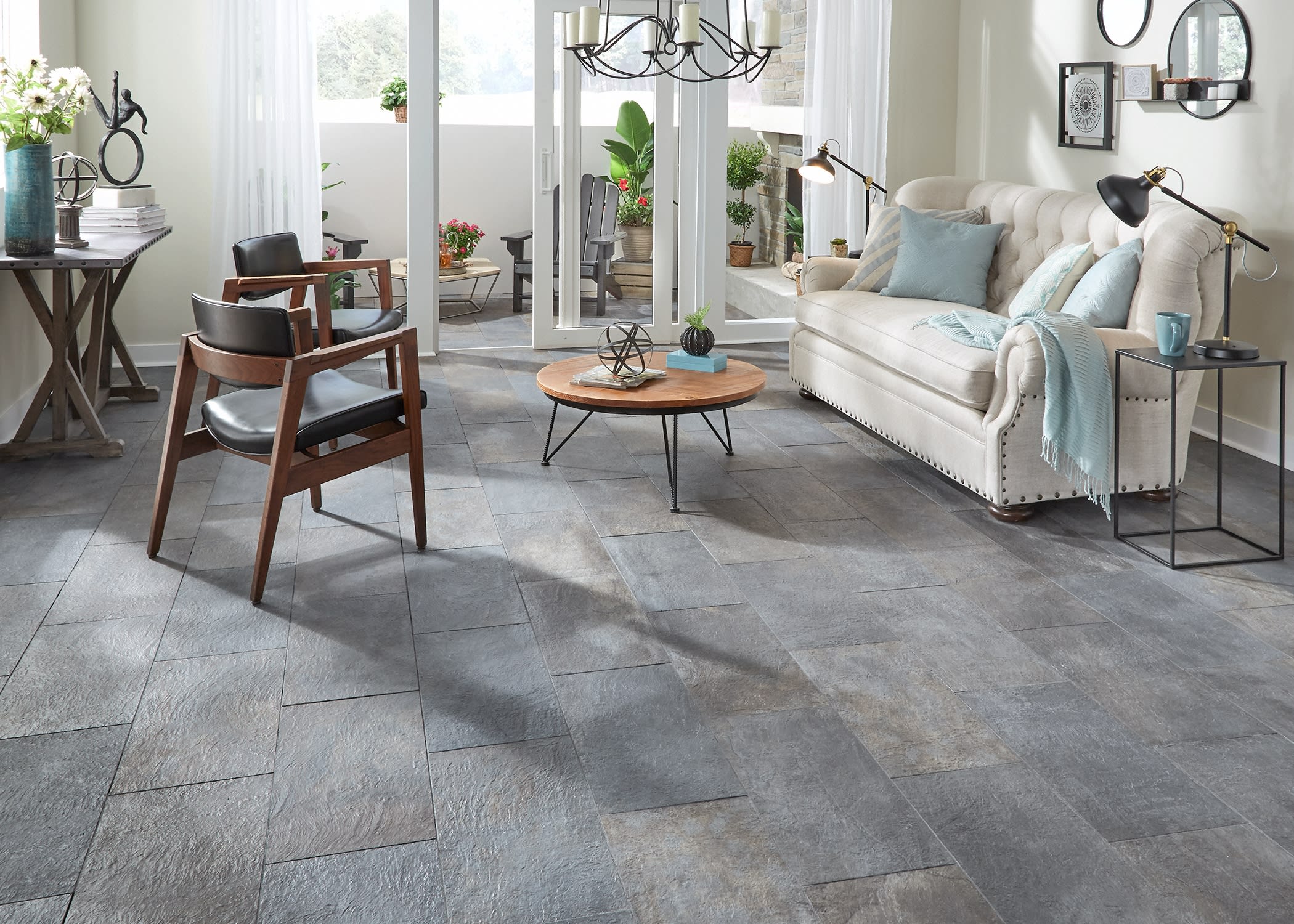 LL Flooring Technical & Installation