A Spring Cleaning Discussion with Dr. Floor Care
We sat down to chat with LL Flooring's floor care expert Alan Beswick to talk through the floor care essentials.
Published on March 30, 2021
With spring cleaning coming up soon, we sat down to chat with LL Flooring's floor care expert Alan Beswick to talk through the floor care essentials.
LL: Al, tell us why is it so important to take care of your floors? 
Alan Beswick: Keeping your flooring investment performing well and looking beautiful can only be achieved by taking really good care of your floors. Daily cleaning to remove abrasive particles — dusting, spot cleaning, addressing spills, dealing with pet accidents in a timely manner — all are essential.
LL: OK, so let's start with some of your most important floor care and cleaning tips!
AB: The first tip is our favorite, and also really easy to do — read the floor care recommendations for your product. It's so important to take the time to review the care and maintenance instructions of your particular floor online at LLFlooring.com.
Another tip is to use felt pads on furniture legs to protect from scratches that comes with the moving of furniture — it's a simple step, but you would be amazed at how many homeowners neglect to do it.
When it comes to cleaning floors, a neutral cleaning solution is a must — no wax or oils ever. We highly recommend a neutral cleaner, like our Bellawood Floor Cleaner, combined with specialized cleaning pads to remove dirt and particles safely — with no sticky residue.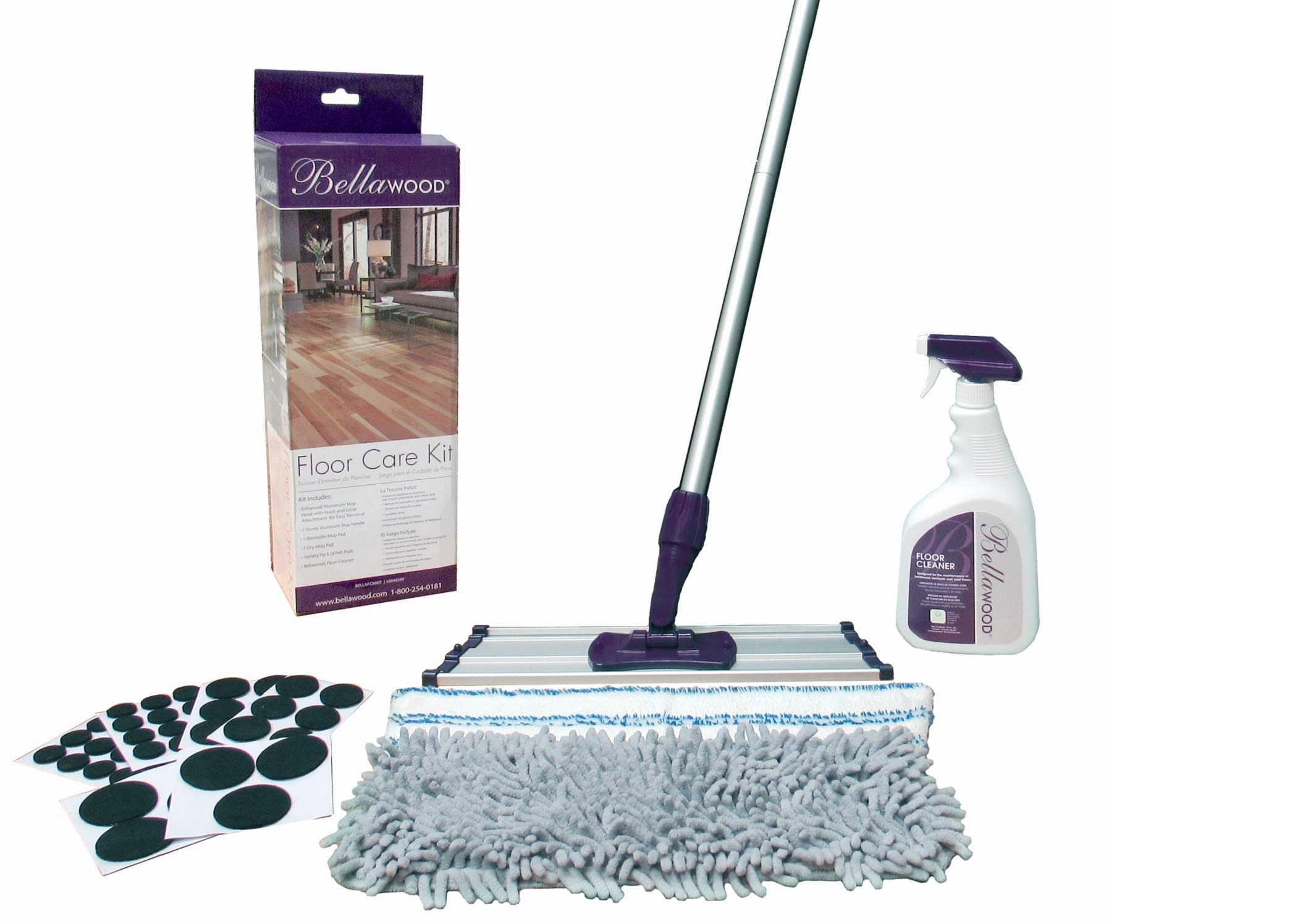 A big mistake homeowners can make is using abrasive cleaners or scouring pads — products like these can damage the finish of the floor.
Of course, standing water can be detrimental to certain floors and should be addressed immediately to avoid damage, and reduce the risk of slipping. So, be sure to clean up spills immediately — some floors are more tolerant of spills but it is a great habit to get into.
Finally the use of steam mops should be done with care but only when recommended for your product, and even then on a low setting.
LL: Hardwood floors need a bit more special care. When it comes to hardwood floors, what do you recommend to keep them looking great? 
AB: Many of the same rules apply: clean up spills immediately, sweep and vacuum (no harsh bristles or beater bars). As for robot vacuums — we love them! Just make sure to check your robot is suitable for your floors. Also, maintain the indoor environment temperature and humidity to the manufacturer's recommended levels — this will help reduce the effects of seasonal gapping.
It's also important to remember that color change is normal and natural for hardwoods, and it varies from species to species. So, move rugs and furniture regularly, or the use of window coverings can even out the effect. But on the whole, embrace the changes and allow the wood's natural beauty to shine through.
LL: It's spring time and that means water, mud and dirt are all around…and in our homes. What can homeowners do to keep their floors in shape? 
AB: If dealt with immediately damage from water can be totally avoided. The key is to remove water, clean the areas and ensure they are dry as soon as possible.
Water can damage certain flooring if left standing, and even soak into your subfloor causing mold and mildew. 
We know that it's not easy with kids running in and out, with so many adventures to be had, and muddy times to enjoy. All this fun can track all sorts into your home. Simple solutions can be a great help: Use barrier mats, encourage your family to clean their shoes outside and take them off indoors. Clean your dog's paws. Will the house rules be followed all the time? Probably not — so have plenty of towels and cleaner on hand.
LL: How often should you clean your floors? 
AB: This really depends on your situation. If you live in a dusty environment or have pets, this can be a daily task. Your best bet is to monitor your floors and adjust your routine appropriately to keep floors in good health.
LL: What are some tips you give active families about floor care?
AB: Get into a routine — the hustle and bustle of an active life style means more challenges for your floor. Keep your cleaning supplies on hand and encourage everyone to join in to keep floors looking great.
So, are you doing some spring cleaning? Tell us about your cleaning projects using #LLStyle.
Also, do you like ideas and how-to videos about design and decor on YouTube? Please SUBSCRIBE to the LL Flooring YouTube Channel to learn more, leave comments or ideas that helped you, and join the community!
In this video, contractor and home improvement TV host Josh Temple explains some important tips about care and maintenance for your floors: