Buying Guide: Shop for Laminate Flooring
Laminate flooring can replicate the look of wood or stone, but with easier installation and maintenance. Find out if it's right for you with our buying guide.
Published on May 19, 2022
Laminate is a beautiful, wood-based flooring option that comes in a wide variety of styles and colors. It's a long-lasting, cost-effective solution that offers the same authentic graining and warm natural feel of hardwood while providing improved resistance to abrasions and water. This makes laminates well-suited for kitchens, bathrooms, laundry rooms and any high traffic areas. Plus, with a quick-and-easy click-lock installation method, it's an ideal choice for inexperienced beginners and seasoned do-it-yourselfers alike.
What is Laminate Flooring?
Laminate flooring consists of multiple layers that have been fused together to create a high-performance plank. The process provides a sturdy foundation for any room, at any level in your home.
Protective Layer
Our laminate planks feature a clear protective layer made of ultraviolet-cured lacquer and aluminum oxide to give your floors a strong resistance against scratches, scuffs, and scrapes. It's thin but highly effective at ensuring the planks stay looking their best.
Décor Layer
This layer is printed with a design — typically a realistic wood or stone look — that gives laminate planks their distinctive aesthetic. Sometimes this layer is textured, so the plank feels just as authentic as it looks.
Wood-Based Core
Beneath the décor layer sits a sturdy MDF core, made from compressed wood chips and fiber combined with adhesive. There are two varieties: a standard core and a low swell core. The low swell option contains a higher percentage of adhesive, which helps to prevent moisture absorption should your floors experience a spill. This is the core you'll find in our AquaSeal collection, which can protect your flooring against splashes for up to 72 hours.
Locking System
It's the locking system at the core of the plank that enables easy installation. Our AquaSeal line features an innovative locking mechanism that forms a tight seal against water, preventing it from seeping between the seams and causing damage over time.
Balance Layer
This structural backer provides the plank with additional support and improved dimensional stability.
Attached Pad
Some laminate planks include an attached pad, meaning you don't necessarily have to install a separate underlayment to enjoy improved insulation and reduced noise underfoot. While an attached pad makes for an easier install option and is perfect for a do-it-yourselfer, we suggest installing a supplemental pad for maximum noise absorption and comfort underfoot.
Types of Laminate Flooring
Laminate comes in a wide variety of styles and finishes, so you can find the perfect match for your home. It comes in an array of color options, including blonde, brown, gray, red and white. This impressive versatility lets you choose between wood, stone, or even tile looks, and the type and shade that you'd like. And we offer a number of gloss levels, including high gloss to add a beautiful shine to your flooring.
You can also choose from smooth or textured flooring styles. Textures include subtle patterns for interest, distressed and hand-scraped details for a weathered or handcrafted effect, and graining that mimics the natural appeal of wood. And the majority of our laminate flooring is embossed in register (EIR), meaning the texture is exactly aligned with the grain of the décor for a more natural look.
Laminate flooring comes in a variety of lengths and widths, too. Narrower planks can bring traditional charm, especially to smaller spaces, while wider planks lend elegance and substance to larger areas. You'll even find ultra-wide styles, which are perfect for giving your space a more open, modern feel. If you go with the AquaSeal Xtend collection, you'll get the premium appearance of longer plank lengths with easier, seamless installation.
Wear Resistance
The abrasion class (AC) rating indicates the wear resistance of each laminate selection. AC ratings range from AC1 to AC6, with the higher ratings denoting a higher commercial grade floor. We offer laminate floors with ratings of AC3 and above, meaning that all of our laminate flooring is suitable for even in the busiest parts of a home. If you're choosing flooring for a commercial space, you'll likely want the extra durability of AC4 or higher.
Where Should I Install Laminate Flooring?
Because of its durability and the range of styles available, laminate flooring makes a great choice for virtually any interior area of your home. That being said, there are certain spaces where laminate floors are particularly welcome.
Bathroom

Given the water-resistant options available, laminate flooring is a natural fit for bathrooms — where splashes from showers, baths, and sinks are common. You could even consider installing it on your walls.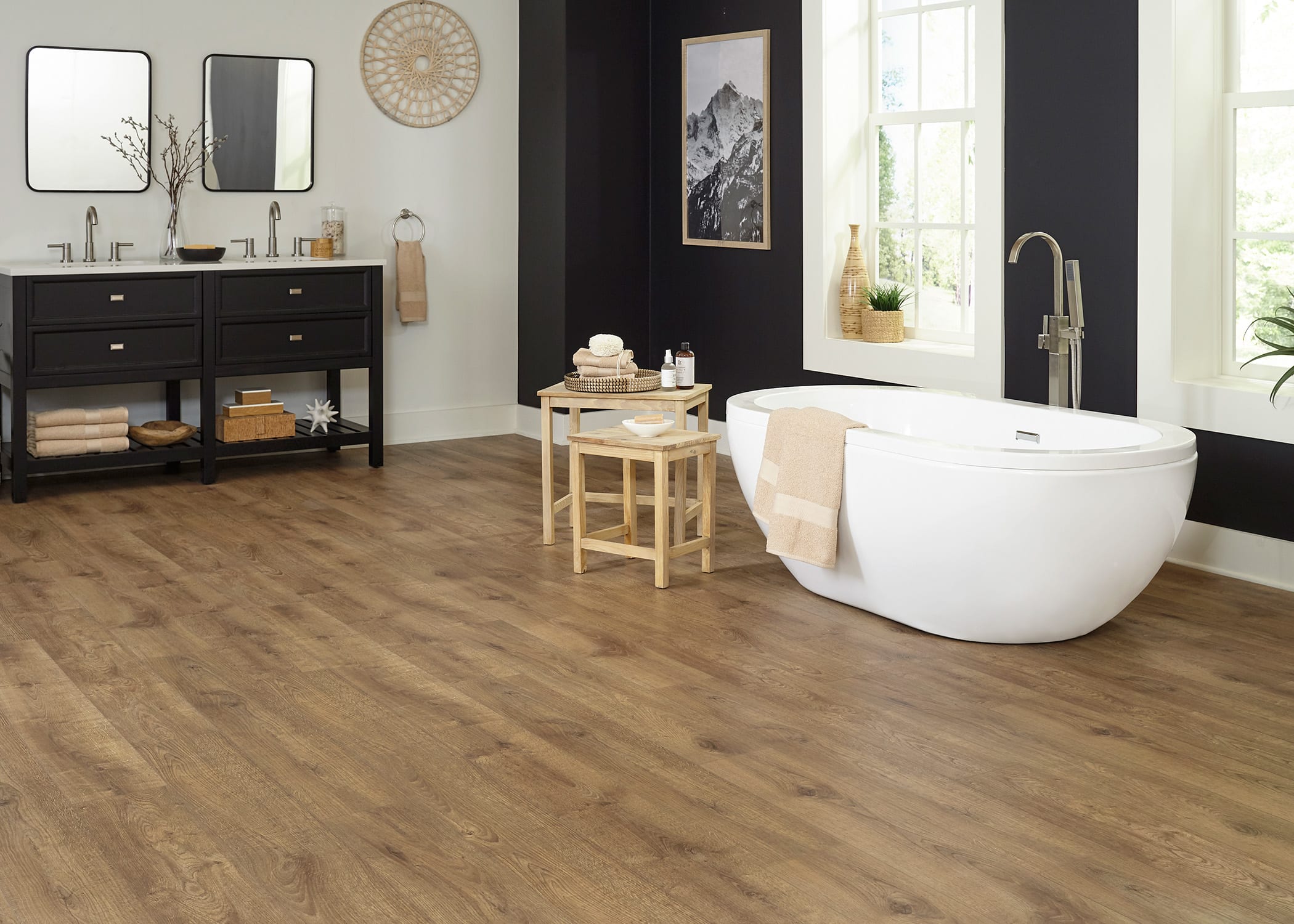 Kitchen

Like bathrooms, kitchens can challenge floors with spills from all kinds of liquids. In addition, your kitchen is likely one of your home's busiest rooms, with plenty of foot traffic that could wear down a less robust flooring option. Choose a water-resistant and wear-resistant laminate floor to solve both these issues.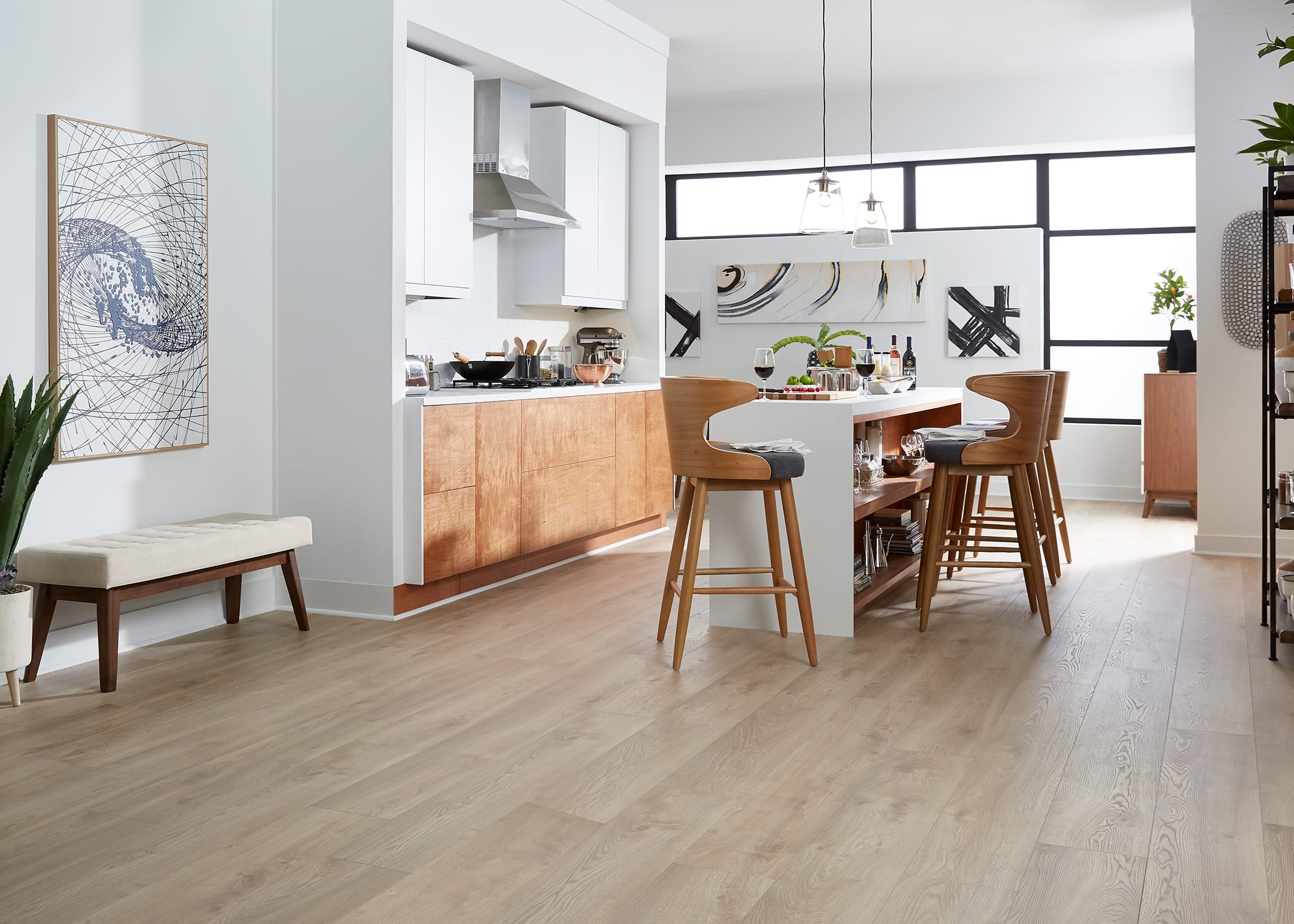 Living Room

With the wide variety of styles available, you'll be sure to find a match for your dream interior design. Pick something with a high AC rating, and you needn't worry about letting your pets or kids roam free and play to their hearts' content.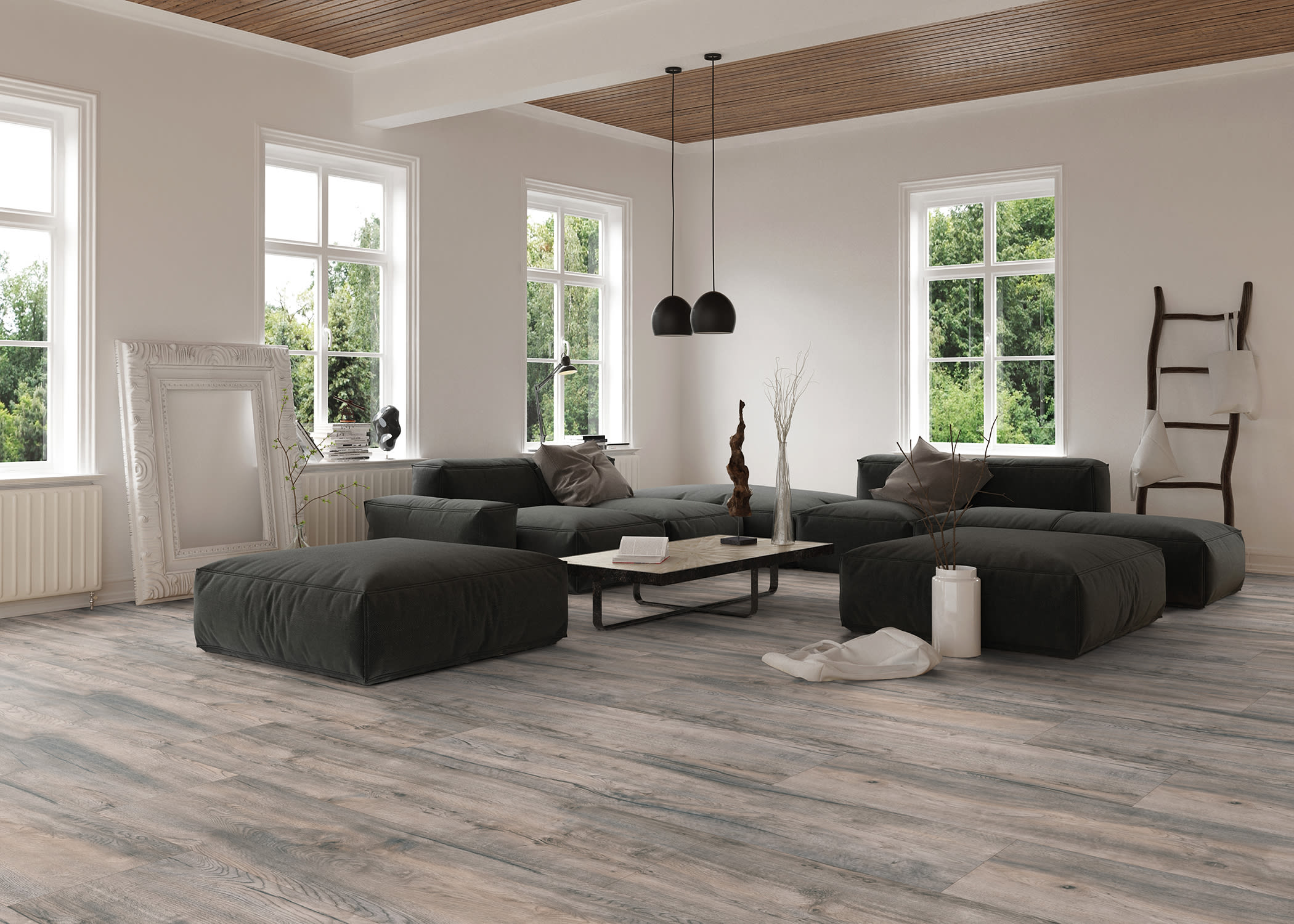 Basement

Laminate floors can turn your basement into a second living room, enticing visitors to come down and stay awhile. Unlike other types of flooring, laminate is suitable for below grade installation, allowing you to create a consistent aesthetic throughout the levels of your home.

 
How Do I Install and Maintain Laminate Flooring?
Installing laminate flooring
Installing laminate is easy enough for even an inexperienced do-it-yourselfer to achieve without a huge investment of time and energy. Still, there are a few things to keep in mind. For example, the wood element of the planks is a natural product that reacts to environmental influences. Humidity, moisture, and temperature can cause expansion and contraction. It's important, then, to acclimate your laminate flooring for at least 48 hours prior to installation so that the planks can adjust to your home's environment. This will help prevent buckling, warping, and gapping down the line.
Once your planks are acclimated, be sure to prep your subfloor. Laminate can be installed over either a wood or concrete subfloor. Your subfloor should be clean, dry, and flat so your flooring can lay level atop it. You may wish to consider laying an underlayment to help smooth over any imperfections, provide further support, or to give your floor a touch more give underfoot. Then simply lay your laminate planking over the top. You might also want to use an adhesive to secure the edge planks, or other planks where a tight fit prevents the planks from being angled and clicking together. A flooring cutter will help you quickly and easily cut planks to fit edges and corners.
Maintaining laminate floors
To keep your laminate flooring looking its best, we recommend a light weekly cleaning with deeper cleans as needed. For your weekly cleaning, a simple vacuuming with a soft brush or wipe-down with a dry dust mop effectively removes dust, dirt, hair, and fur. Once you've swept away any debris, wash your floors down with water. Or simply use a wet mop. Soap and other cleansers can leave streaks and residue, so it's best to use a little water and a soft mop. Then, dry with a cloth to prevent excess water from seeping through the seams. For deeper cleaning, apply a laminate-specific cleaner to your floors and wipe it away with a mop. Try to move your mop in the same direction as the floor's graining so you can be sure to reach any nooks and crannies. Once cleaned, dry with a soft cloth and you're done.
What about cost?
Laminate flooring costs a fraction of what you'd pay for solid hardwoods or stone tiles, and yet it can provide the same visual appeal. For property owners who are looking to rent or invest in a property they can refurbish and sell, laminate offers an excellent return on investment, with low upfront costs and long-lasting durability that limits further flooring expenses.
Laminate Flooring: High-Quality Versatility You'll Love
In short, laminate is an advanced technology that provides you with high-performance flooring, in a variety of styles that can elevate virtually any part of your home. Whether you want the warmth and rustic appeal of a wood or the cool assurance of a stone look, laminate can deliver just what you're looking for. Check out our full line of laminate flooring options to find the perfect match for your home.