Buying Guide: Shop for Luxury Vinyl Plank
Published on May 31, 2022
Hardwood and stone floors are a timeless trend. They are valued for their unique and authentic beauty and longevity and elevate a space's elegance. Luxury vinyl plank is a cost-effective flooring option that still gives you that luxurious feel and look that's so sought after.
What is Luxury Vinyl Plank?
Luxury Vinyl Planks (LVP) are strips of flooring made of polyvinyl chloride (PVC) that replicate the look and feel of wood and stone. Because they are made of plastic, they are 100% waterproof, making them ideal for moisture-prone areas, such as bathrooms, kitchens, and basements. LVP also features an enhanced wear layer that protects against scratches, scuffs, and stains. Installation is streamlined with a quick-click process. You can also find luxury vinyl plank with glue-down or peel-and-stick installation. Additionally, once installed, LVP is incredibly easy to maintain.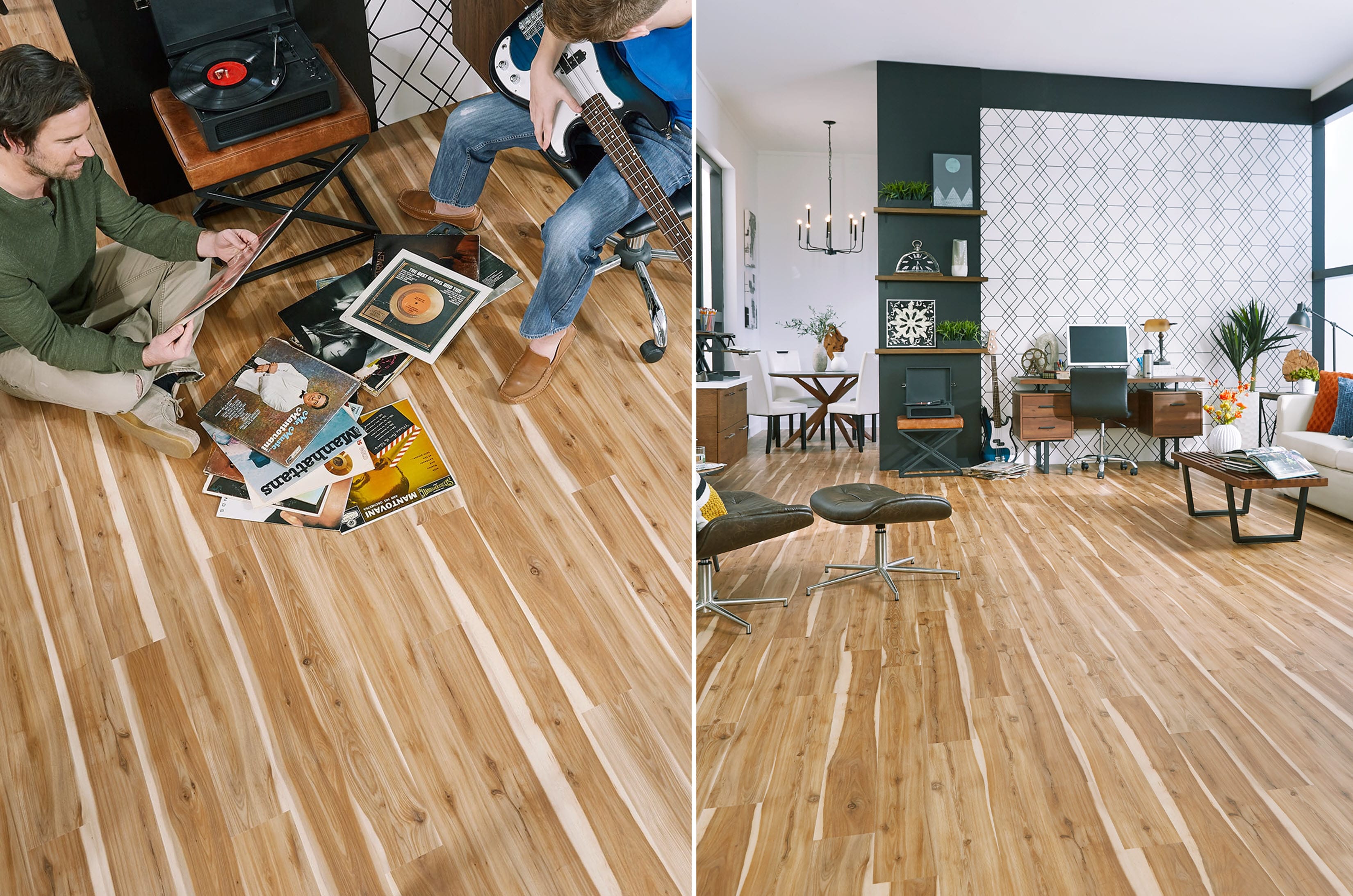 Luxury Vinyl Plank vs. Laminate Flooring
While LVP is made of polyvinyl chloride (PVC) and plastic material, laminate is made of wood byproducts. This makes laminate water-resistant, but not waterproof as with LVP. While LVP and laminate both provide an authentic wood look, the deeper embossing on laminate can give it even more of a realistic hardwood look and feel. Additionally, because laminate has more layers and natural wood content, it can feel softer and warmer than LVP. Finally, while LVP can be almost maintenance-free with simple dry or damp mop cleanups, laminate flooring may require a bit more care with specialty cleansers and immediate cleanups so fluids don't seep through the cracks. Therefore, there are different features and benefits for each type of flooring, and one may be more suitable than the other for different spaces.
Types of Luxury Vinyl Plank
There are many types of luxury vinyl plank, each with its own special features so you can select the option that is best for your space and needs.
CoreLuxe
CoreLuxe products all feature a rigid core that provides waterproof protection and works great for any room, including bathrooms, kitchens, basements, and areas of heavy traffic. This line of products is a great option for homes with busy families and pets. The CoreLuxe XD includes a 50-year warranty. And CoreLuxe Ultra features a stone polymer core for the best stability. It is the thickest vinyl plank, providing superior dent resistance—great for spaces with heavy equipment, such as treadmills. Coreluxe Ultra also comes with a lifetime warranty.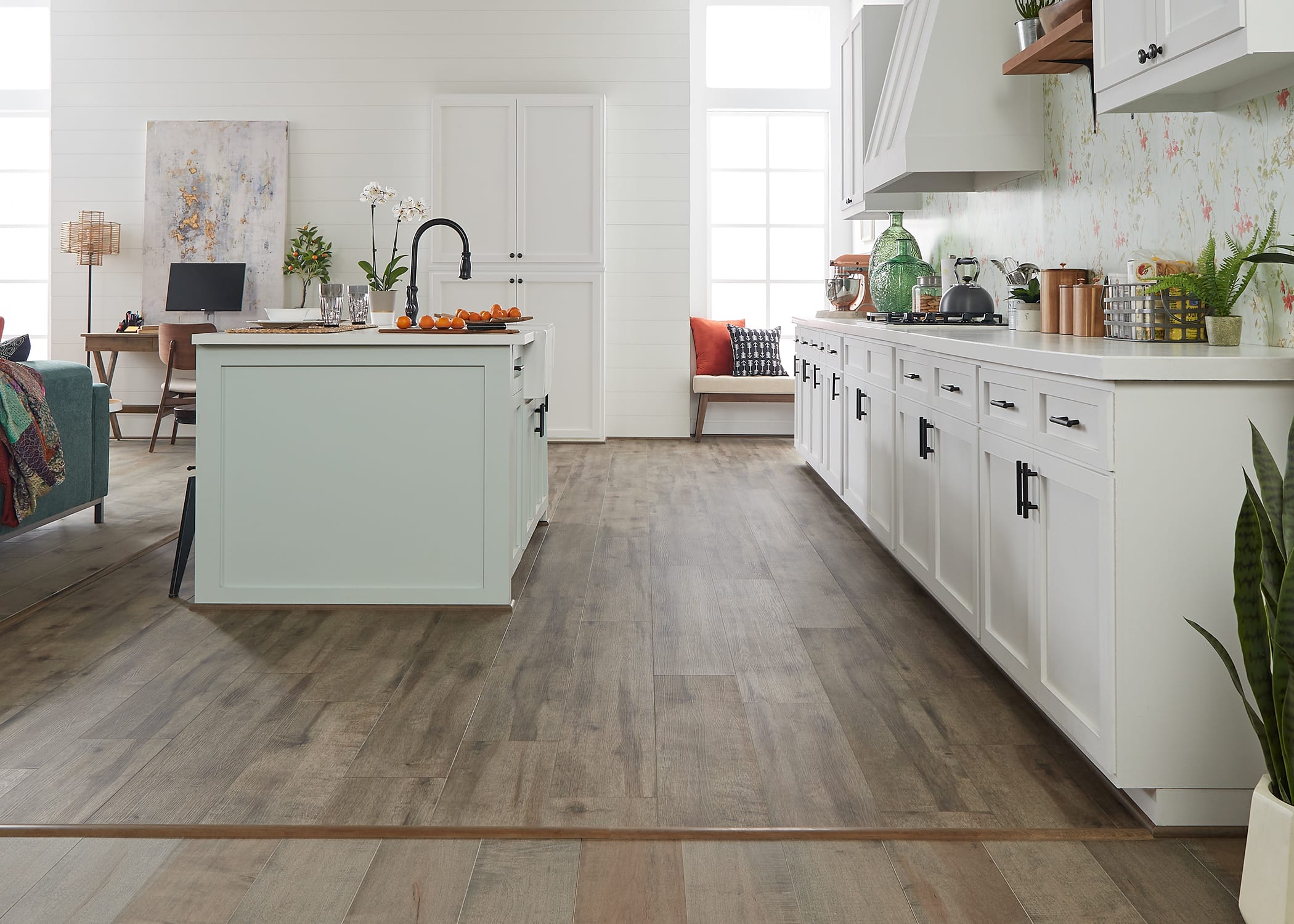 Tranquility
Tranquility floors are waterproof and have realistic wood looks. They're great for bathrooms, kitchens, and mudrooms, offering great warmth and texture under your feet. Tranquility XD and Tranquility Ultra have all the same features, but with additional dimensional stability to prevent curling. These floors can be installed via glue-down, click-together, or peel-and-stick options.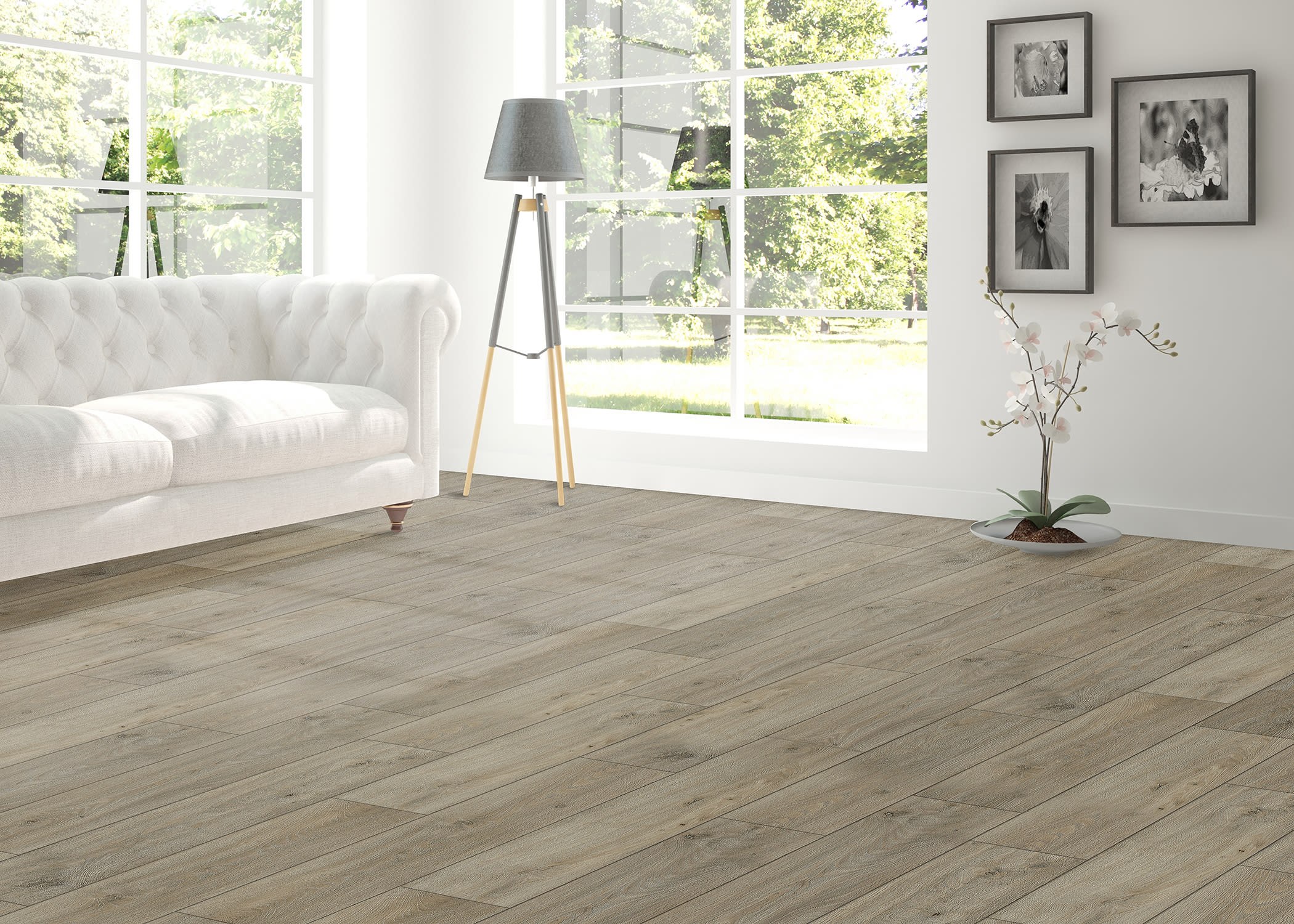 Installing Luxury Vinyl Plank
Luxury Vinyl Planks offer a simplified installation process and, in many cases, if you have an even and workable subfloor (i.e. no carpet or floors with major imperfections), they don't require underlayment, making them a great choice for experienced DIYers. Depending on the type of LVP, you can use three different installation methods: click-together, glue-down, or peel-and-stick.
Click-together
Click-together planks have interlocking grooves or edges that are simple to "click" into place. No need for glue or nails. The interlocking mechanism and the weight of the planks will keep them in place, creating a "floating floor."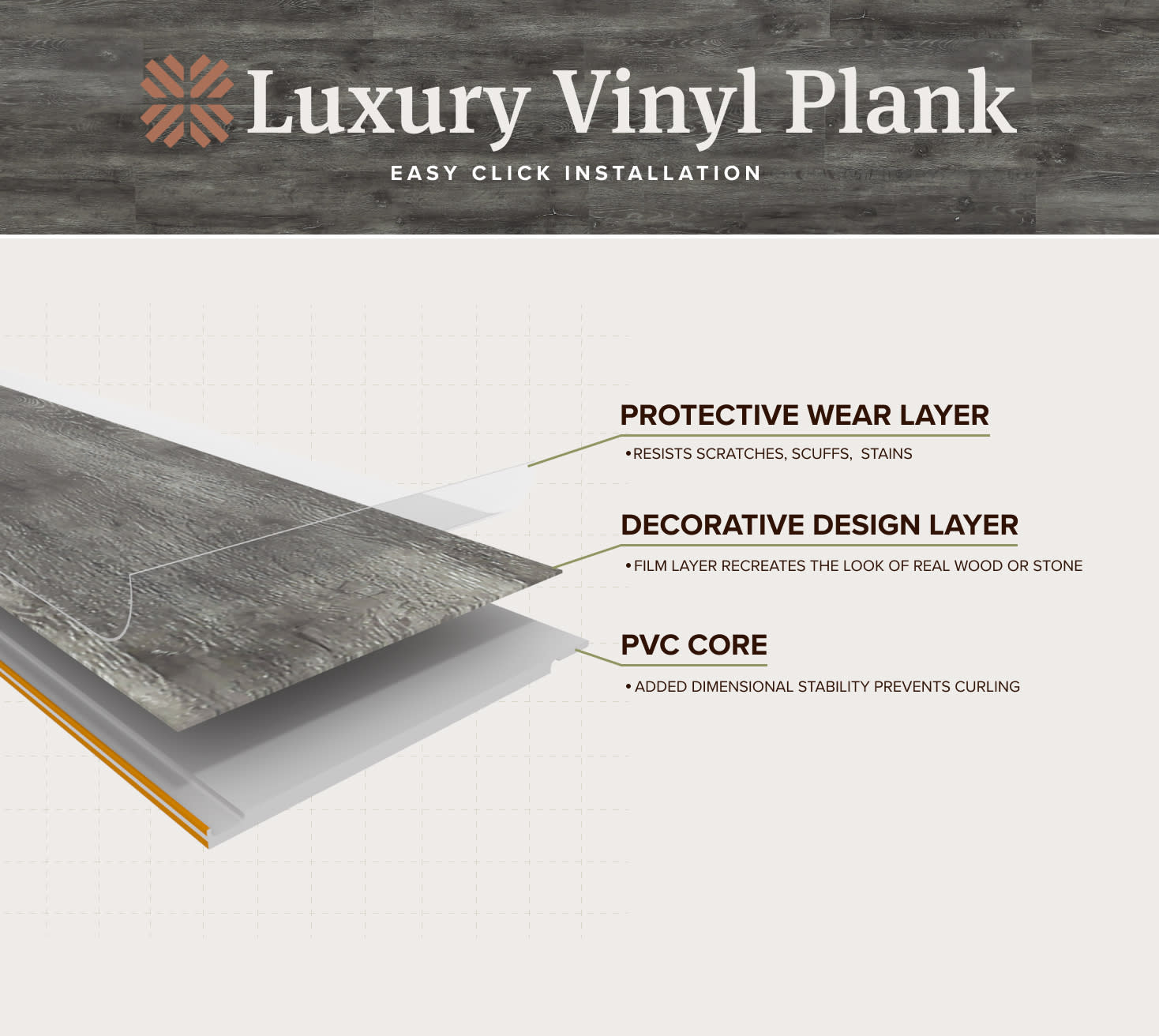 Glue-down
Glue-down vinyl installation refers to when a hard set adhesive is used to stick the LVP to the subfloor. The subfloor has to be clean and free from imperfections so that the planks can properly adhere. This installation method takes much longer than other methods, but results in a floor that stands up to significant traffic.
Peel-and-Stick
Peel-and-stick is when the adhesive already exists on one side of the planks. Therefore, you simply have to peel and stick the planks down onto the subfloor.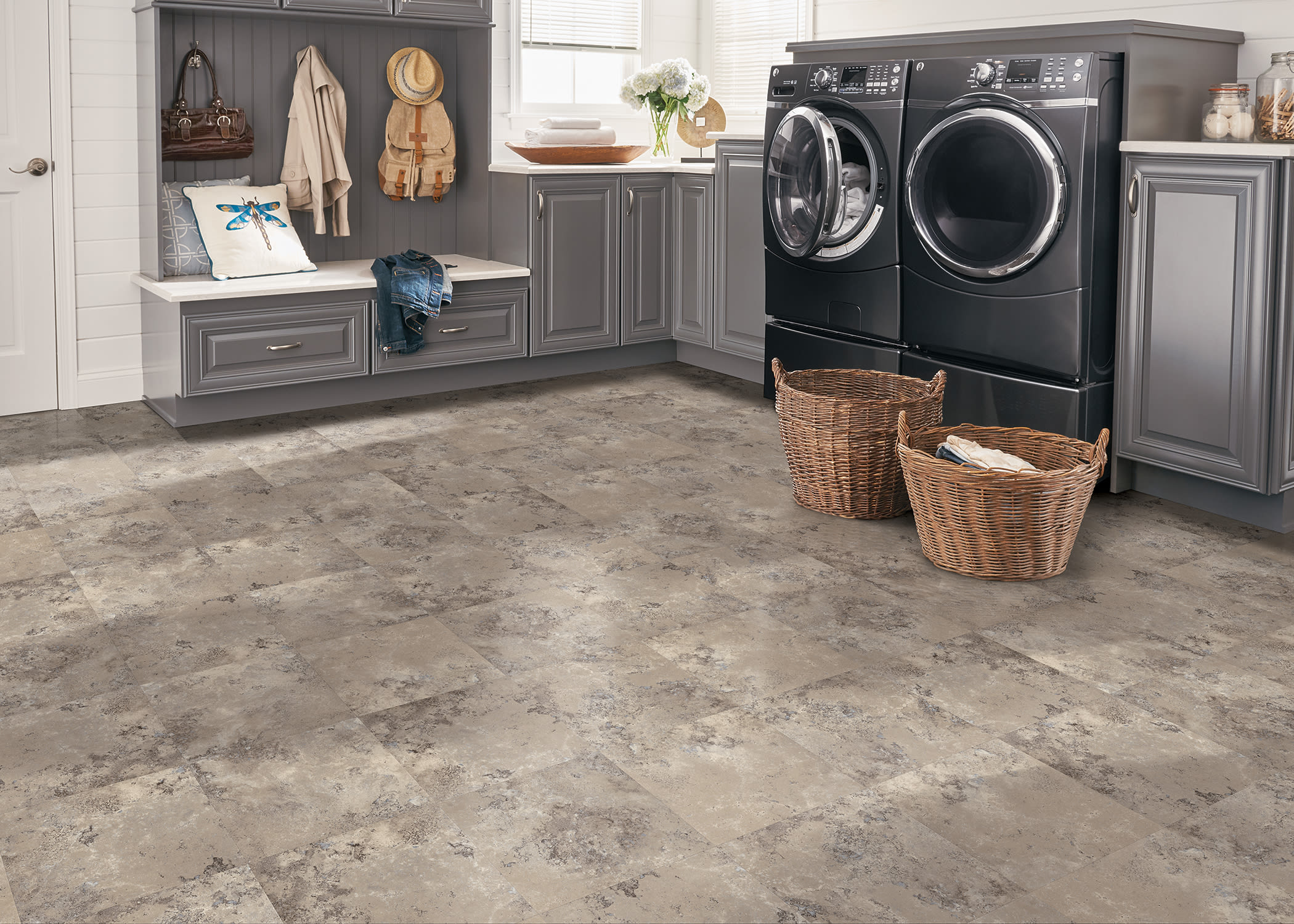 Maintenance
One of the best things about luxury vinyl planks is the fact that they're 100% waterproof. This means you don't have to be on guard, ready to clean up every spill the moment it happens. No need to worry about your floors, especially in areas such as the kitchen, bathrooms, mudroom, or basement. Maintenance is as easy as giving a quick sweep and an occasional damp mop. Special cleansers are not necessarily required, as with other types of flooring.
Confidently Give Your Flooring the Ultimate Makeover
You don't need to sacrifice finances to get luxurious flooring. Luxury vinyl planks give you the best of both worlds by giving you the look of authentic wood or stone, while also keeping installation and care simple. As it's suitable for moisture-prone areas, you can also lay this flooring in all areas of your house for a continuous, elegant look.
At LL Flooring, we provide you with all you need for whichever type of LVP you choose and the installation method, including accessories, such as vent grills, rounds, baseboards, and more—all made from the same quality material as our luxury vinyl planks. We provide professional services, and also the tools and guides to make your DIY experience the best, should you choose that route.
Explore all that we have to offer at LL Flooring to make your dream of luxurious wood or stone flooring a reality today and for years to come.