The Top 7 Reasons for Subway Tile
Whether it's a bathroom wall, or a kitchen backsplash, the sleek style of subway tile offers an ageless touch to take your home improvement project to the next level.
We're going to take a look at the top 7 advantages of installing subway tile.
Published on August 30, 2022
When it comes to wall décor, subway tile has been a style statement for over a hundred years. It's a timeless look that pairs well with any aesthetic, and its enduring simplicity means it will never go out of style. Even a small application of subway tile can brighten the dimmest of spaces. It creates a transformative textural dynamic that lends to a balanced, welcoming ambiance. Whether it's a bathroom wall, or a kitchen backsplash, the sleek style of subway tile offers an ageless touch to take your home improvement project to the next level.
We're going to take a look at the top 7 advantages of installing subway tile.
This kitchen pops with Avella's Carrara Subway Tiles 4 in. x 12 in.
First a little education...
What is subway tile? 
The term 'subway tile' refers to 3 in. by 6 in. ceramic tiles, as invented in 1904 to be installed in New York City's first subway station. 
Designers George C. Heins and Christopher Grant La Farge worked to design the first stations with emphasis on beauty and use. They created tiles with key characteristics. The glossy finish has a brilliance and a function, reflecting light and resisting stain. The flat surface is attractive and faster to clean. Interestingly, the curved edges not only reduce small crevasses that may trap build-up, but they can make installation faster by allowing the installer to apply tiles directly touching the adjacent tiles without the time-consuming need to space out the grout lines. These features all come together for a style that is as remarkable and functional as the city where it began.
The term has since come to mean other sizes of rectangle tiles as well, such as 2 in. x 4 in., 4 in. x 8 in., and more.
What are the benefits of subway tile?
First, while often one of the smaller investments of a home project or update, subway tile brings a stylish, lasting impact to any space. Also, it is easy to keep clean, and is cheaper than many other tile options to purchase. Subway tile can be used in kitchens, bathrooms - including shower and tub walls - and has a look that brings a stylish flair, yet with the refined simplicity to complement any décor rather than change it.
Practical advantages are numerous, including everything from how little space a box takes up at your job site, to how easily replacements can be found, to how quick installation should be for your installer compared to unique, niche tile options – these tiles create a dazzling effect with a relatively straightforward installation, even if the scope of the project is simply a two-row backsplash or accent.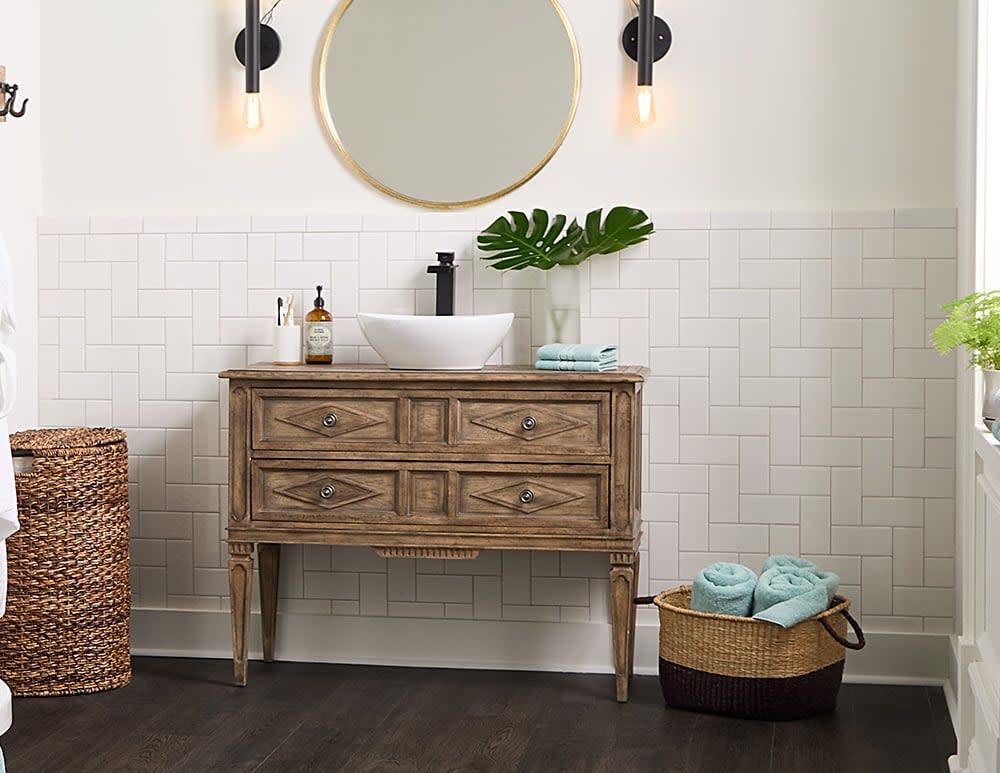 This bathroom captures a classic Hollywood spa feel with mid-century mirror and white subway tiles installed with 90-degree herringbone pattern.
Featured floor: CoreLuxe 'Essex Market Oak' waterproof rigid vinyl plank with attached pad.
Is subway tile out of style?
No. Like the actual subway that has connected the boroughs of New York for over a century, this tile is an advancement that is here to stay. Even if installed on only one wall in the kitchen or bathroom, subway tile can transform any room. Its luster, texture, geometry, and weight result in a presence of substance and permanence you can feel. 
In fact, you've probably seen designs from modern, to rustic, to farmhouse that all look great with a subway backsplash. Your preference of grout color can play a big part in the stylistic effect the tiles may have. And numerous installation patterns, such as herringbone or the definitive offset brick, allow even more options to transcend your interior design.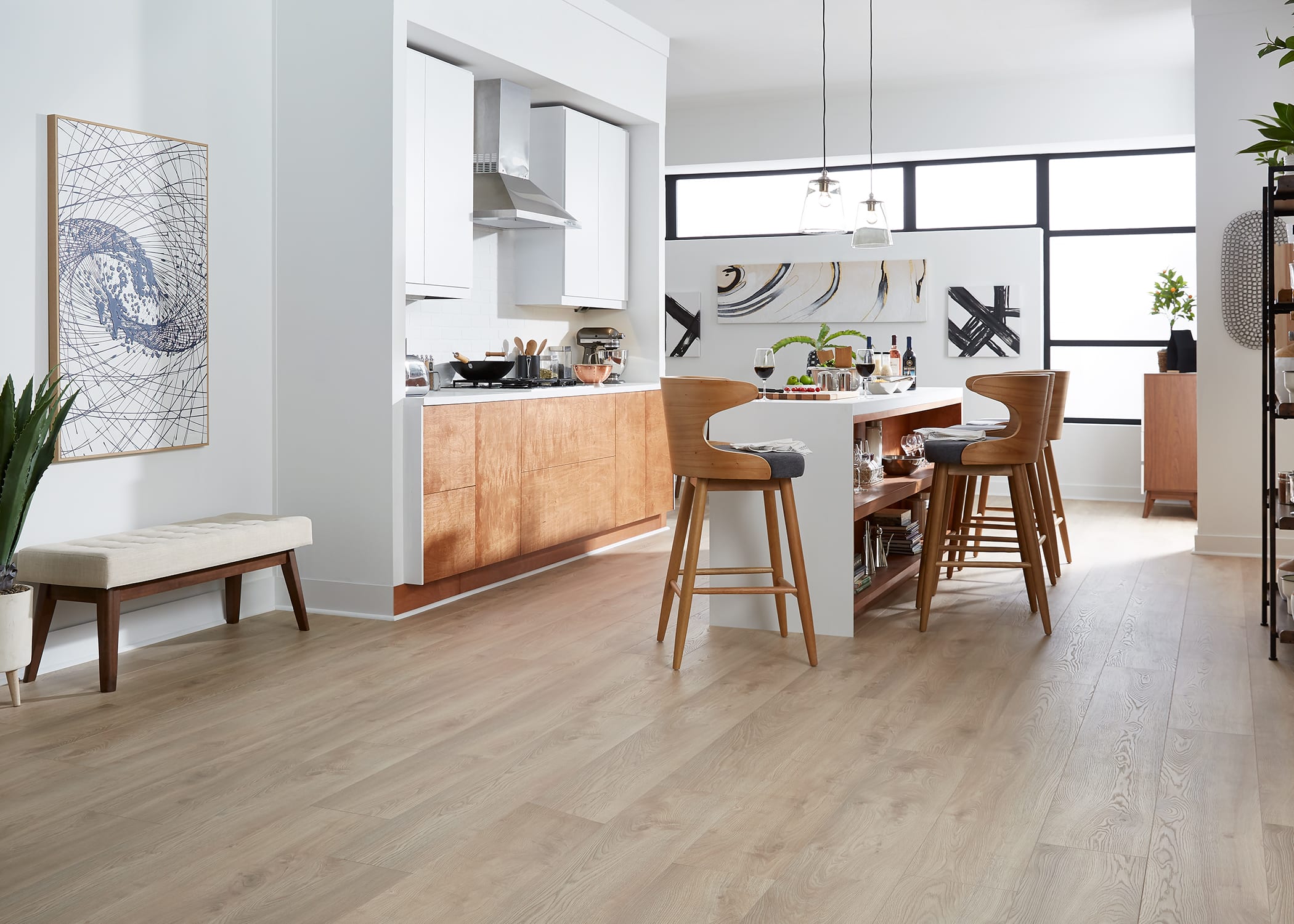 This modern kitchen gives a bright, sleek feel with a backsplash area using 3 in. x 6 in. Vivid White Subway Tile.
Featured floor: Dream Home XD Traverse City Oak Laminate Flooring.
Here are the top 7 reasons to install Subway Tile in the kitchen or bath:
1. The look adds a clean, luminescent touch, bringing brightness to the space
2. The glossy surface and smoothed edges are easy to clean - quickly and frequently
3. Subway tile makes an impact of relevance, providing timeless styles that matches any type of décor
4. Because it is so functional and aesthetically versatile, it will never be out of style
5. Installation pattern options include stacked, center-stacked, herringbone, and more - to choose the best style for your home
6. Grout color can transform the look - from clean, white grout, to dramatic black, neutral grays, or bold colors
7. Storage: boxes of subway tiles are easy to store at the job site or in the garage, so you can have them ready to go for installation and easily transport them
There you have it! There are endless reasons that so many choose to feature subway tile in their design, but these are our favorites!
Where can I buy subway tile?
LL Flooring now offers a selection of the most popular varieties of subway tiles. This can greatly help customers who are renovating, building, or just looking for a quick way to transform a kitchen or bath. It allows customers to buy the tiles for backsplashes, walls, and showers - along with the new flooring or new butcher block counter they are purchasing.
This will add convenience and savings for homeowners and contractors, who in the past had to arrange additional traveling, purchasing, or invoicing for wall tile. It can now be ordered online for delivery or store pickup at LLFlooring.com, or at your closest local store. It can also be purchased from most tile stores and home improvement centers.