Maximalism: Go Big, and Go Home
Published on September 24, 2021
Hear us out. We know minimalism is heralded as the popular kid of interior design, but we can't help but notice the subtle rise of its opposite, maximalism.
Ditch the notions of ugly knickknacks or your grandmother's stuffy, floral-covered living room—modern maximalism is all about fresh color, mixing designs, and having some fun with your choices.
Grandeur Maximalism
There are surely still arguments to be made for minimal, simple design containing clean, sharp lines and neutral color palettes. However, this past year has forced people to really, truly live inside of their homes and find out exactly what they like and don't like in their design choices.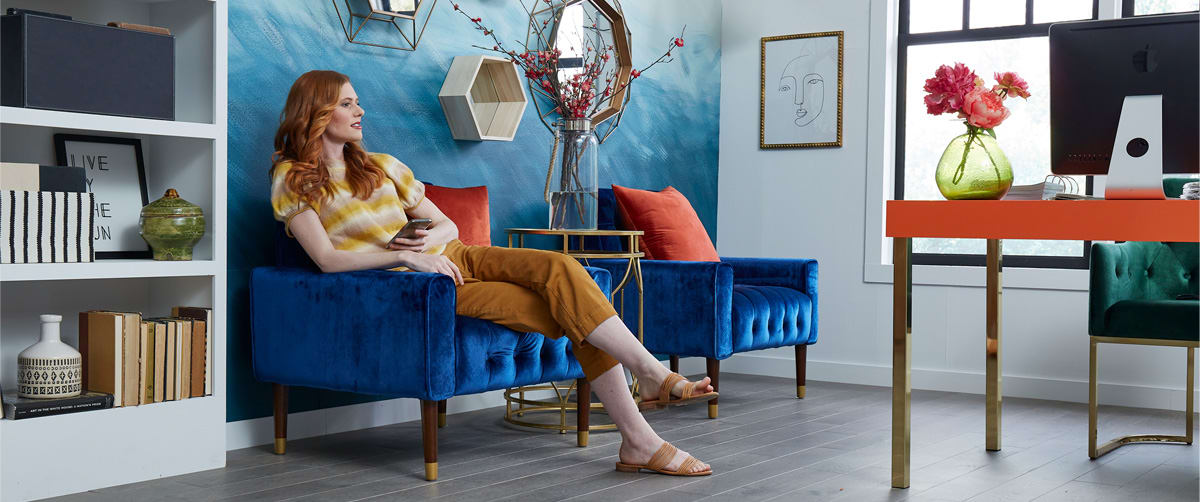 And with more time than ever to consider what brings them joy, it appears that more and more folks are veering toward maximalism: rich color tones, mixing and matching patterns and textures, contrasting styles and eras of wall decor, and adding eye-catching, funky accents that speak to the unique characters and personalities that occupy the space. Just one scroll through the popular Instagram account Apartment Therapy will tell you that (aside from a jungle of house plants) younger people are craving color, and lots of it.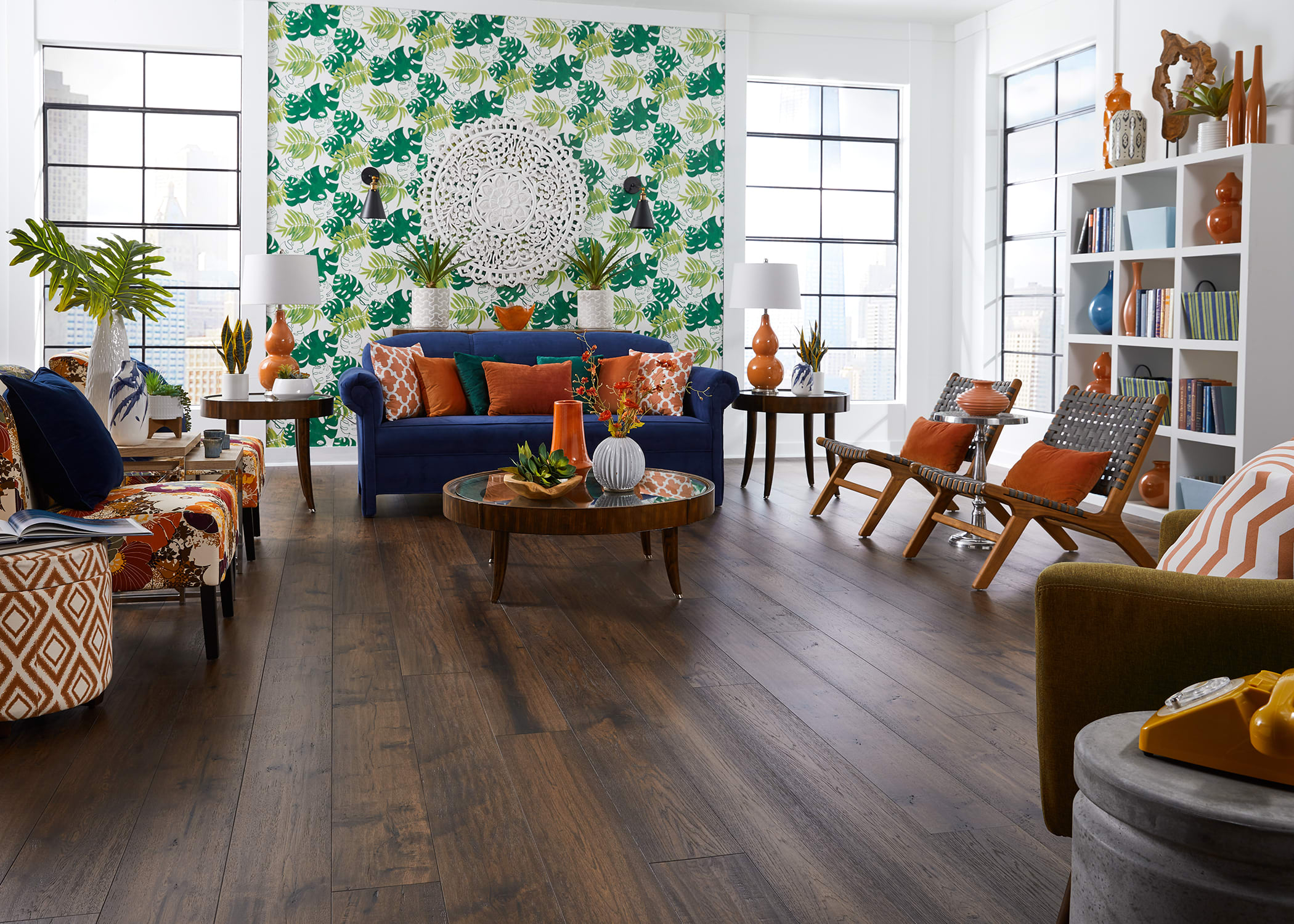 The only rule
The one rule of maximalism is to keep your collections curated and intentional. If you aren't careful, a room can quickly go from eclectic to chaotic before you know it. So when you're thinking about designing a space with character, color, and a little bit of kitsch, consider pinpointing one theme—or perhaps one focal point—from which to frame the rest of the space, whether that be a wall color, a big piece or art, or a funky set of furniture.
If you're a little apprehensive about making the leap to full-on maximalism, start with some basics—neutral walls and classic wood floors—and play around with color and texture in your decor, or a bold floor like Porter House Hickory Distressed Engineered Hardwood.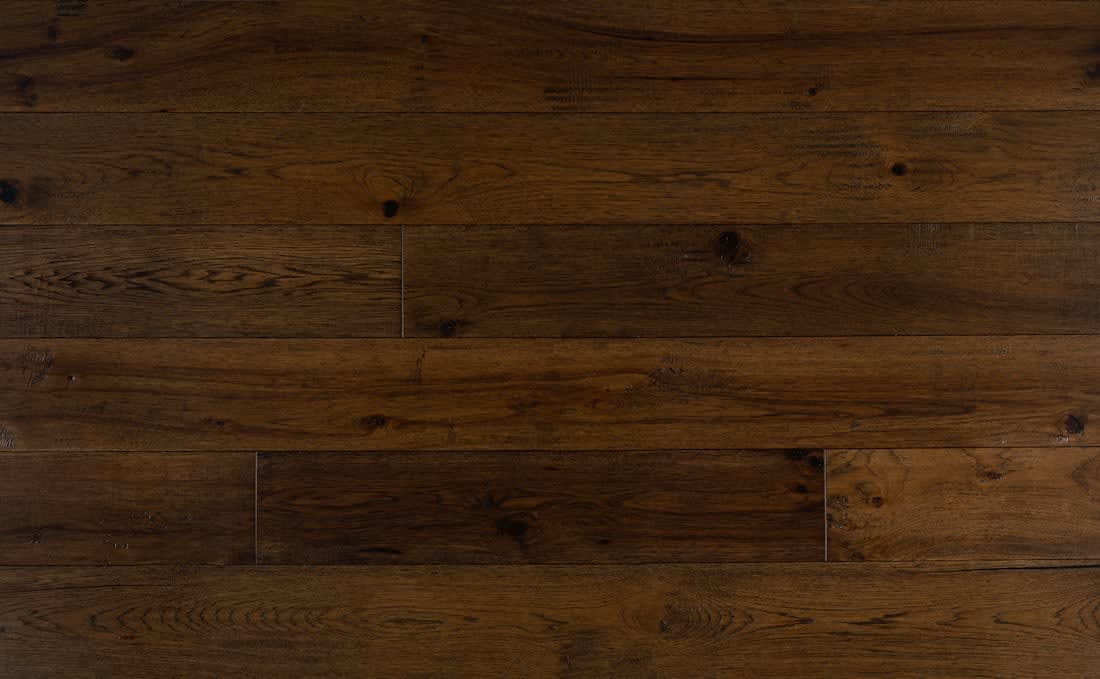 Take your time
It's also key to shop with patience. Maximalism isn't necessarily buying everything you see at an estate sale and cramming it in your living room—it's thoughtfully taking bold colors, textures, and patterns and forming a cohesive aesthetic. It might require a little bravery if you haven't delved into decorating with color or unfamiliar styles, but if you start small and build gradually, you'll land with a style that is uniquely yours.
Get familiar with your local thrift and flea markets; they're treasure troves for cool, unique decor that you won't find in any other home, and won't break your budget.
Have FUN!
The best part of maximalism is that it never takes itself too seriously. Once you let go of your constraints and start to trust your gut, you can start to explore patterns and styles that you might have never thought you would enjoy in your home. And with your walls and flooring as a timeless, neutral backdrop, such as a Burgess Gray Brick Water Resistant Flooring, you can mix and match decorative items until you find a combination that brings more life into your home.
What's your favorite idea for maximalist style? Tell us—and tag us—on Facebook or Instagram at @LLFlooring and use #LLStyle.