Floor Focus: 'Extending' Your Home's Style with New Xtend Series
Published on June 03, 2021
Designing a space can be a challenge: Is this the right color for the walls? Are we sure about that furniture? What are the right cabinets to choose? Will this trend be dead in a few years? Adding to it all, there's all the (friendly) discussions with our partners about style choices. 
The good news is there are plenty of resources offering creative tips and amazing looks to give you inspiration to make it happen, no matter the space to be reimagined. Flooring is a great place to start the design process. Your floors give your spaces a stylistic foundation that can set the course for your home's looks. LL's newest line, the Xtend Series, does just that.. 
Image
Xtend is an exclusive water-resistant laminate flooring that features an innovative, invisible joint locking system to seamlessly connect standard 4-foot-long planks together to achieve elegant runs of flooring up to 8-feet long, without the sight of plank breaks.
The result is a sophisticated style to elevate any space and connect beautiful looks across rooms. Xtend not only elongates, but also offers ultra-wide 9-inch planks.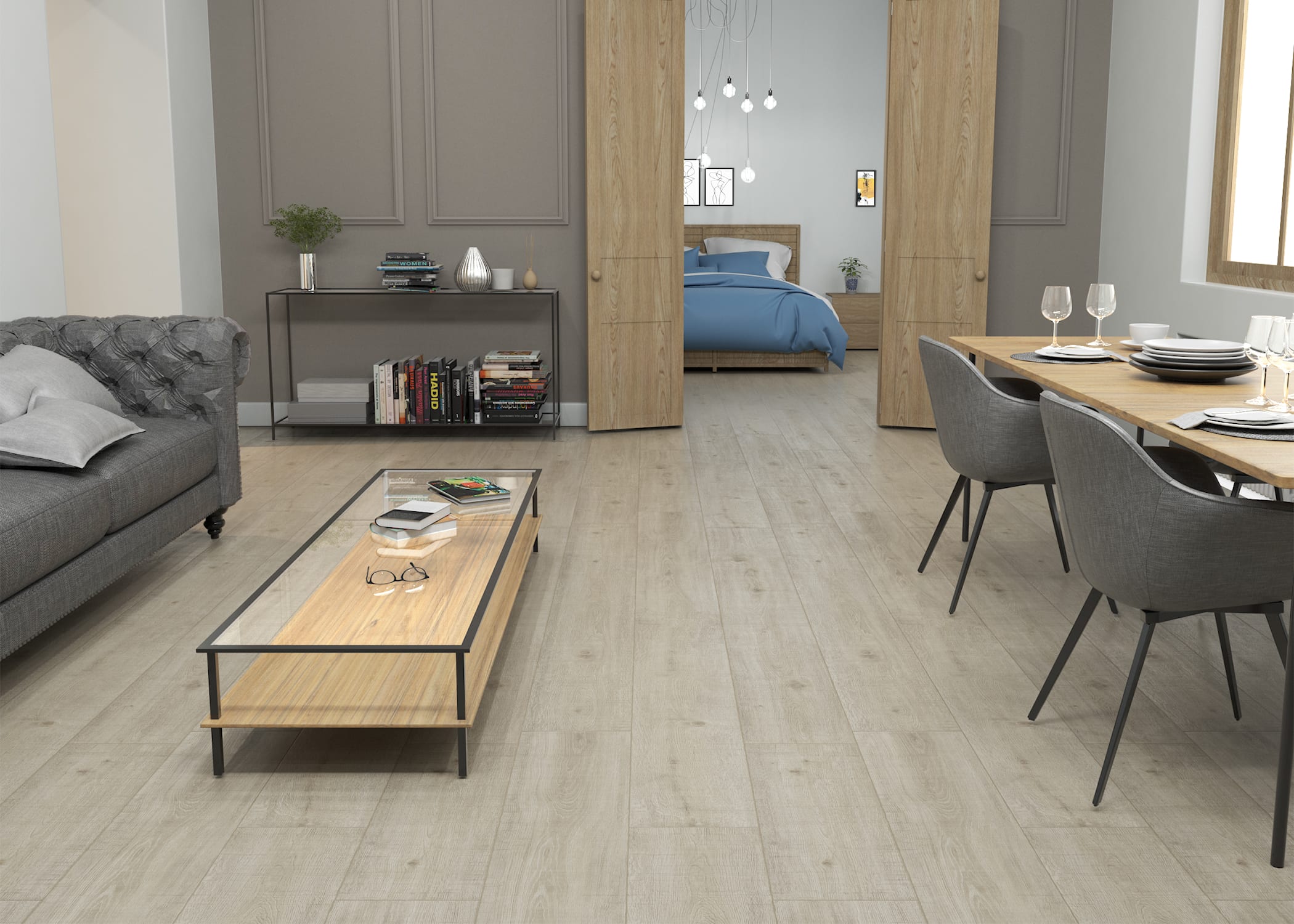 "In recent years we've seen the movement toward wider-width floors and the desire to create spaces that are clean and tranquil,"
said Jennifer Meska,
Director of Merchandising & Design at LL Flooring.
"Xtend is a wonderful collection of floors that can connect multiple rooms with one foundational style to give homes an expansive and contemporary feel."
The three Xtend Series floors present trend-right flooring styles: the blonde Medallion Oak; the brown-hued Orchard Oak; and the light grey Eclipse Oak. You can preview how these floors will look in your home using LL Flooring's Picture It floor visualizer. (And get free samples sent right to your door.)
In addition to presenting great looks, AquaSeal's technology protects the floors from everyday spills and splashes for up to 24 hours, supported by tight-locking joints that help prevent water from seeping between planks. AquaSeal is tested to a higher standard than conventional laminate flooring and does not allow any leaks through the joints to subfloor. 
This water-resistant technology means homeowners can have the same beautiful floor flowing across multiple spaces, including bathrooms, kitchens and living rooms.
Check out how the latest from AquaSeal will look on your floor, or as a Wall Decor or Shiplap, using LL Flooring's Picture It floor visualizer. (And get free samples sent right to your door.)
"The Xtend series gives homeowners a premium, long-plank look with all the ease and affordability of a standard floor," Meska said.
"Adding to the elegant styles of these floors, homeowners will appreciate Xtend's scratch, dent, and water-resistant qualities, making these floors perfect for active lifestyles."  
We invite you to take a look at the new Xtend Series and tell us your favorite! Post the Picture-It photos of your home, use #LLStyle and follow @LLFlooringOfficial on Instagram and Facebook